Even when her lids are heavy with exhaustion, Tiana Lankford watches her three girls with a mother's eye. In Flint, Michigan, long plagued by poverty, poor schools and one of the country's highest murder rates, she's had to. But she wasn't looking out for the water coming through her tap.
Now with every stumble, every frustration, every cry, she wonders what the water has done to her kids, especially her baby Carlina, who is one of hundreds of Flint children confirmed to have been poisoned by lead in the city's water.
"I'm always looking for something, watching them all the time," she said. "My youngest daughter is almost two. She's been drinking that water her whole life."
About 9,000 Flint children were exposed to lead after the city switched from Detroit's water system to pulling water from the Flint River to cut costs. The corrosive water leached lead from the city's old pipes and pulled it into resident's taps. Lead has proven time and again to be highly toxic, particularly to children. At low levels, it can knock points of a kid's IQ, hinder learning and cause behavioral problems. At very high levels it can cause kidney damage, seizures or death.
It also harms communities. Lowering the IQ of an entire generation could have a devastating economic impact on Flint, where 40 percent of residents already live in poverty. Some research has linked lead exposure to crime, another blow to a city that in the last half century went from making cars to making headlines for homicides.
To counteract the effects of lead exposure, for which there is no cure, Flint's children will need better nutrition, better access to healthcare, a rich education as they grow up. All are things Flint struggled to provide even before the city's water went bad.
"My youngest daughter is almost two. She's been drinking that water her whole life."
"These kids already had every barrier to their success and then we give them lead," said Dr. Mona Hanna-Attisha.
The Flint pediatrician was among the first to make the link between the change in the water and the growing number of lead-poisoned children in the summer of 2015. State and city officials largely dismissed her findings as a seasonal blip. At a press conference Jan. 27, Gov. Rick Snyder appointed her to serve on the team of medical experts that will identify long-term solutions to the crisis in Flint.
Two days prior, she told NBC News the state had thus far done too little to meet the needs of its exposed kids.
"Nothing has been committed as of yet for the most pressing need, which is children and health," she said.
Any solution for Flint's kids will need to be long term. When children are exposed, their bodies suck up lead like a sponge. The lead moves into their soft tissue—liver, kidney, brain, and lungs—and settles in their bones. From that point on, a child may test negative even though the substance is lodged in the body.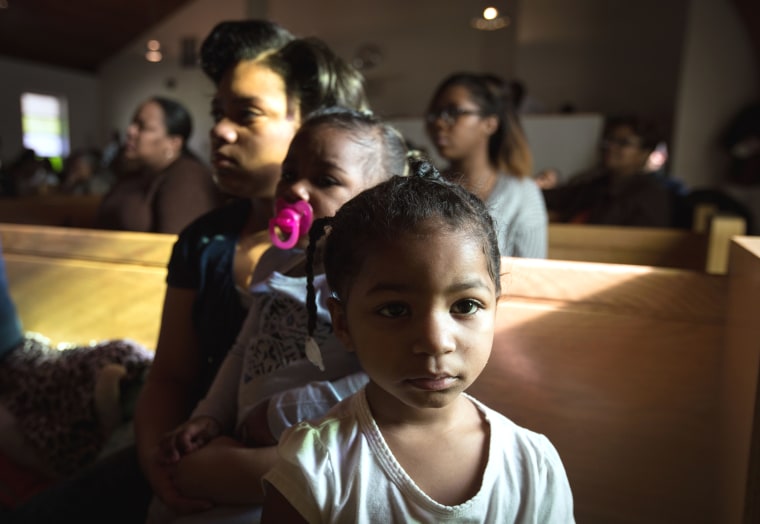 But the heavy metal and its effects remain. Mothers exposed years prior can pass the lead along to their unborn children. It may even cause genetic changes in their grandchildren, according to a study released by Wayne State University researchers in October.
Tiana Lankford didn't know to be worried about her baby last fall. She went to a routine appointment required by WIC, the government's nutritional program for low-income women and children. The program provides formula for mothers who don't breastfeed.
Tiana, a single mother who works full time, formula-fed little Carlina just as she'd fed Amoni, who is nearly 3, and Dasani, 13, before her. Mostly she used bottled water, but when she ran out, she turned on the tap. Remembering lessons passed down, she boiled it to kill bacteria before mixing up the bottles. No one told her there was lead in the water. No one told her boiling the water could make things worse by concentrating the lead.
In November, Lankford got a letter in the mail saying Carlina had a lead level of seven micrograms per deciliter. While there is no safe level of lead in the blood, the Centers for Disease Control suggests seeking medical care for anything over five.
"I didn't get a call, I didn't get a call to come in, sit down, talk -- I had a letter," she said. It recommended she get Carlina to a family doctor. Lankford now lives outside Flint in a nearby township with more open space and different water. When she went to a nearby doctor to get her girls checked out, she said she was turned away for being rude.
"Why is it so hard for me to get them to see a doctor just to know what their levels are right now?" she said.
Preschool Director Jennifer Rivera hears a lot of those questions these days. As kids tumble through the door of Richfield Early Learning Center every morning, reaching for Play-Doh and blocks, anxiety follows. Nearly a quarter of Rivera's 64 students have trouble with speech or articulation. Many have behavioral issues that surprised the 25-year veteran last fall. Now she, and many parents, wonder what role lead played in that, and what they will need to do to counteract it.
"It breaks my heart because they already have a struggle," she said. "People need to come in and help them to show them what they need to do with their children."
In her office in the state capital of Lansing, Dr. Eden Wells faces the largest public health crisis of her career. The top medical officer of Michigan's Department of Health and Human Services, she has been thinking about how the state will address the future health of Flint, a city of nearly 100,000. That charge makes the massive problem of how the city is going to replace around 25,000 pipes that contain lead look comparatively manageable.
"There is no pill for lead," said Wells. Counteracting lead means calcium, vegetables, early childhood education and regular monitoring, she added, requiring regular monitoring by a doctor. It means providing a child "a very healthy growing environment" –- a tough task in a nearly bankrupt city.
"We're going to treat every child as though they were exposed," said Wells.
Tiana Lankford is working on that assumption. At the end of long days of work, braiding hair, cleaning up and making dinner, she gets on her phone, her only internet access, and reads everything she can about how to help her children. She's angry. She's tired. In the harder moments, she feels guilty.
"Because as a parent you're always the one that's responsible to make sure you do the right thing for them," she said. "They don't want to hear, 'Well, mommy had you in a bad place with bad city officials that wouldn't do the best for you.' Kids don't care about your excuses."
But she's also a Flintstone, as people here call themselves, and Flintstones survive.
"We're just going to revive from this stronger than we ever were," she said. "I think the whole city is just going to prove everybody wrong that's been trying to blot us out."