President Barack Obama made a long-awaited visit to Flint, Michigan, Wednesday, seeking to bring unity to a crisis over lead-contaminated water that has left residents furious with local, state and federal leaders — and taking sips of filtered water to show it is safe to drink.
Inspired to visit by a letter from an 8-year-old Flint girl, Obama told an audience of about 1,000 that he came to listen to their concerns about a water-contamination crisis.
"That's why I'm here," he said at Flint Northwestern High School. "To tell you directly that I see you, and I hear you."
He added, "I also came here to tell you that I've got your back. That we're paying attention."
The city of nearly 100,000 was exposed to high levels of lead after Flint switched from Detroit water to the Flint River in a money-saving move.
The federal and state government are spending millions to try and fix the problem and to offer health care to those affected. A city official and two state environmental officials have been indicted in the water crisis, and other investigations are ongoing.
Lead can cause developmental problems in children and brain damage and memory loss in adults.
Related: Flint Residents Hope Obama's Visit Will Stir Waters of Change
Obama did not announce much new policy during his day-long visit, but on two occasions he sipped from a glass of filtered water to show it is safe to drink for most people.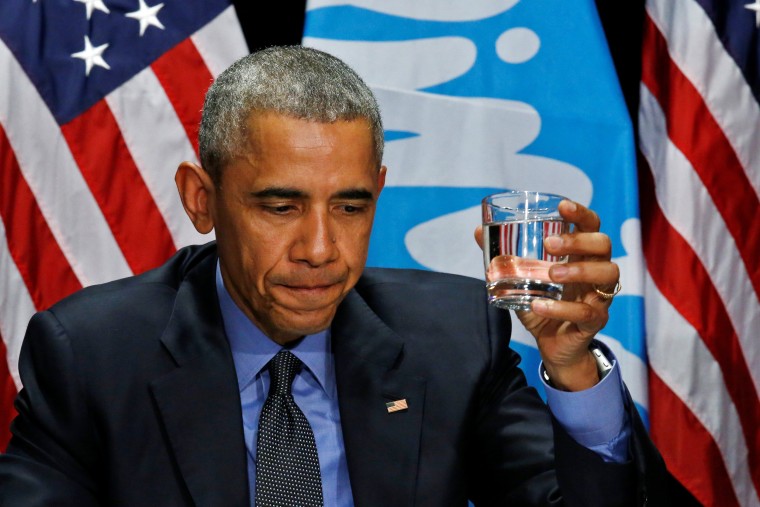 "Filtered water is safe, and it works," he said at the Food Bank of Eastern Michigan.
He acknowledged that there was a "lot of suspicion" about whether the water was drinkable. But he added, "Working with the state and the city, filters are now available for everyone in the city."
Obama said anyone over 6 years old and women who are not pregnant can consume filtered water and promised, "The scientists who work for me — if they tell me something which I'm saying in front of all of those cameras, turns out to be wrong — that person will not have a job."
Obama portrayed Flint's lead-pollution crisis as the result of a "corrosive attitude" in American politics that derides government regulation and feeds neglect of poor communities.
"It's a mindset that says environmental rules designed to keep your water clean or your air clean are options, or not that important, or will unnecessarily burden businesses or taxpayers," Obama said.
But he also warned that it would take a long time for Flint to rebuild its water system, including a massive pipe-replacement program. He urged residents to install filters in the meantime. And he encouraged the city not to fall into despair, or believe that Flint's children were now doomed to lifelong struggle.
"Don't lose hope," Obama said.
Related: Here's What Lead Can Do to You
The president's visit was prompted by a letter from 8-year-old Mari Copeny, a young activist who said of the water, "it smells like bleach and old fish."
Obama urged officials in the state to stop finger-pointing. At the start of his speech at Northwestern High School, the president listed a number of Michigan officials who were in attendance.
When the crowd started booing at the mention of Michigan Gov. Rick Snyder, a Republican who many in Flint blame for the crisis, Obama said "no, no, no," noting that he and Snyder are working together on trying to fix the water problems.
The contaminated water in Flint has become a national symbol of ineffective government, and Obama's administration is not blameless.
The city, under the leadership of an emergency manager appointed by the state government, changed its water source from treated water in Detroit to the Flint River in 2013.
The river's high salt content corroded pipes, allowing lead to leach into the water. Children started testing positive for dangerously high levels of lead in their blood.
Related: A Timeline of the Flint Water Crisis
The Environmental Protection Agency has come under fire for not getting more involved in Flint, with numerous lawmakers calling for its chief, Gina McCarthy, to resign. McCarthy is an Obama appointee.
Both McCarthy and the governor have expressed remorse for the water crisis, but McCarthy said because it happened under a state-appointed emergency manager, "that precluded us from being able to jump in to the rescue."
In her presidential campaign, Hillary Clinton has made the crisis in Flint a central issue, calling for Snyder to resign and arguing that the contaminated water is an example of racial inequity. Bernie Sanders has also called on Snyder to step down.
Flint is a majority-black, low-income community, and Clinton says the residents' warnings about water problems would have been heeded more quickly if Flint were a richer, whiter town.
Obama avoided such a directly political tone and did mention the issue of race at all.
"I emphasized to the governor and I emphasized to the mayor that my job here today is not to sort through all the ins and outs of how we got to where we are," the president said after one of his meetings with Flint officials.
He called the water crisis "a tragedy that should have never happened in the United States of America."
Officials have tried to assure residents that filtered tap water is safe to drink, and state lawmakers have put millions of dollars of funding into helping the city since the public health emergency was confirmed seven months ago.
Obama declared a federal emergency in Flint in January, which gave $5 million in federal aid to assist with the crisis, but due to federal law restrictions, he denied Snyder's request for a disaster declaration — a designation that only natural disasters, such as hurricanes and floods, qualify for.
Obama largely tried to be upbeat, arguing that the water problems in Flint were bringing attention to the community, and that could result in the city receiving more investment from the state and the federal government.
"We can turn this into an opportunity to rebuild Flint even better than before," Obama said. "The problems of water were a symptom of a broader issue, and that is a city that had lost a lot of resources, lost a lot of its tax base, was cutting a lot of services, and increasingly, didn't have capacity.
"And so our goal here is to use this moment in which everybody's attention is focused to see if we can start rebuilding and moving Flint in a better direction," Obama said.