Several members of Congress called for Michigan Gov. Rick Snyder and the chief of the Environmental Protection Agency to resign Thursday in a tense hearing over the Flint water crisis.
"In February is when you first arrived on the scene, and it wasn't until January of the next year that you actually did something. That's the problem," Rep. Jason Chaffetz, chairman of the House Oversight Committee, said to EPA administrator Gina McCarthy. "You didn't take action. You didn't. You could have pulled that switch."
Both McCarthy and the governor expressed remorse for the water crisis, but McCarthy said because it happened under a state-appointed emergency manager, "that precluded us from being able to jump in to the rescue."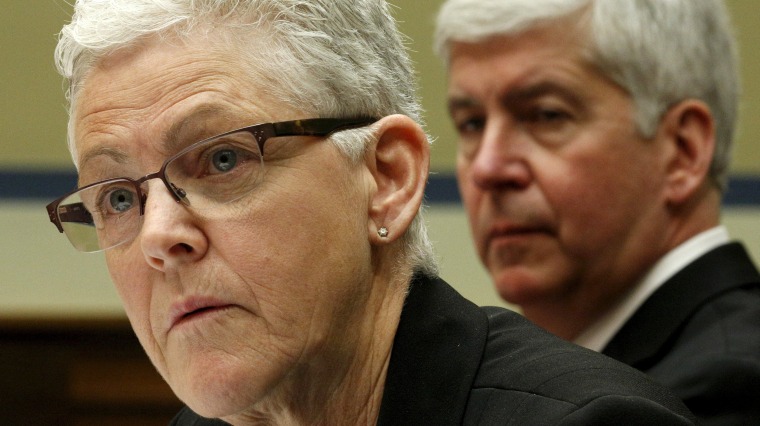 ""Wow. You just don't get it. You just don't get it. You still don't get it," a furious Chaffetz said, and asked her why she hasn't resigned over the public health emergency.
"You didn't take action. You didn't. You could have pulled that switch."
McCarthy said the agency "took action from that point forward," adding it shouldn't have been "so trusting of the state."
Rep. Brendan Boyle, D-Pa., called Flint "possibly the largest and most glaring failure of government since Hurricane Katrina" and asked Snyder why he didn't act sooner, either.
"When people reported rashes, hair loss, odor and even sewage, your administration said the water was safe. When E. coli and and fecal bacteria were found in the water and boiled water alerts were distributed, your administration said the water was safe," he said. "Governor, don't you have a moral responsibility to resign?"
"I'm making a commitment to solve this problem," Snyder replied.
Snyder said he was given incorrect information about the water for over a year.
"Not a day or night goes by that this tragedy doesn't weigh on my mind — the questions I should have asked, the answers I should have demanded," he said.
Related: Seven Lead-Poisoned Families File Flint Class Action Lawsuit
Again and again. the Michigan Department of Environmental Quality insisted water from the Flint River was safe, Snyder said. It wasn't until Oct. 1, 2015 — nearly 18 months after the city started taking its water from the Flint River as a cost-cutting measure —that Snyder said he learned the water was contaminated.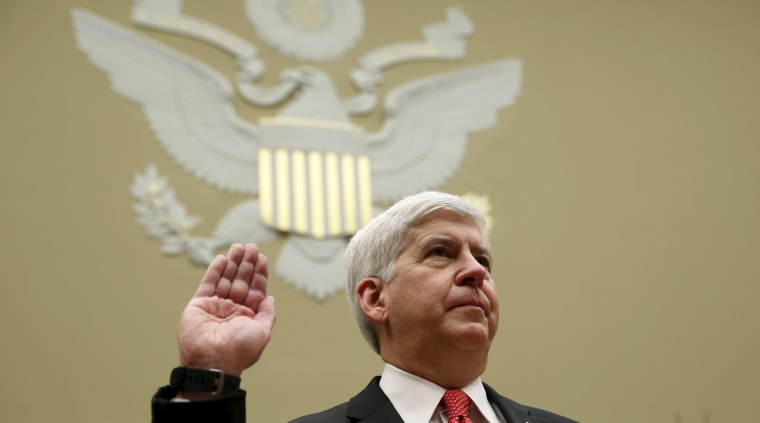 "Let me be blunt. This was a failure of government at all levels," he told the hearing.
Snyder told Congress he then took immediate action: sealing damaged pipes, distributing water filters, and testing residents, particularly children, for high lead levels.
Rep. Matt Cartwright, D-Pa., balked at that.
"I'm not buying that you didn't know about any of this until October 2015," he said. "You were not in a medically induced coma for a year and I have had about enough of your false contrition and your phony apologies."
"People who put dollars over the fundamental safety of people do not belong in government, and you need to resign too, Governor Snyder," he said.
Flint resident Broghan MacIntyre told the committee Thursday the situation in Flint has stripped the city of basic modern conveniences taken for granted by others.
"Just to brush our teeth — we can't just use the faucet like we do here in Washington," MacIntyre said.
Rep. Elijah Cummings, D-Md., said while the EPA should have done more, it was Snyder's administration that bears the majority of the blame.
"The EPA should have done more, they should have rushed in sooner to rescue the people of Michigan from Governor Snyder's vindictive administration and his utter incompetence at every level," Cummings said.
Flint began drawing water from the Flint River in April 2014. This is the second time in a week the congressional panel has drilled Michigan and EPA officials about the water.
Related: Michigan Aide Wanted Environmental Director to Stay, Even After Flint
In a hearing Tuesday, former city and federal officials placed the blame on each other, as a former EPA official who resigned over the water crisis defended the agency's actions.
At the end of Thursday's session, Cummings reiterated his call to Snyder.
"I've got to tell you: You've got to resign," he said.
Bishop Bernadel L. Jefferson, of Flint, told the hearing that she wants action.
"I pray that what we've done today, what we've done this week, the voices that have been heard, that change will come, that something will happen," Jefferson said. "And that's what hope looks like to me."
"You don't know what it's like to live out of a bottle until you have to do it," she said.