Michigan's top prosecutor said Monday that it's an "outrage" that residents of Flint are being forced to pay for water that's unsafe to drink — and his office may take action to stop the billing.
"Words can barely describe this tragedy. Things went terribly wrong," AG Bill Schuette said. "I would certainly not bathe a newborn child or a young infant in this bad water and if you can't drink the bad water you shouldn't pay for it."
Schuette said his office has begun investigating what steps it could take to provide financial relief to the people of Flint, who were subjected to chemical byproducts, E. coli, Legionnaires' disease and lead after the city's water source was switched to the corrosive Flint River in 2014.
Although the city has now switched back to Detroit's water supply, health officials say so much damage was done that the water coming out of the taps is still not safe for children in the economically depressed city, where water bills average $140 a month, according to the Flint Journal.
Many residents of Flint — where 40 percent of the residents live in poverty and the average household income is just $25,000 — are relying on donated bottled water.
It was unclear if Schuette could stop Flint from shutting off water to families who don't pay their bills. The city has previously said that hindering its ability to raise water rates and put liens on those delinquent on bills could push Flint toward bankruptcy.
Schuette's office has launched a criminal investigation into the water emergency to see if any laws were broken, and he announced Monday that a former FBI chief and an ex-prosecutor will lead the probe and report directly to him.
Todd Flood, who was a Wayne County prosecutor before going into private practice, and Andy Arena, who headed the Detroit FBI office and now helms the Detroit Crime Commission, will operate in a bubble, separate from other AG staffers who represent the governor and other state offices in legal matters.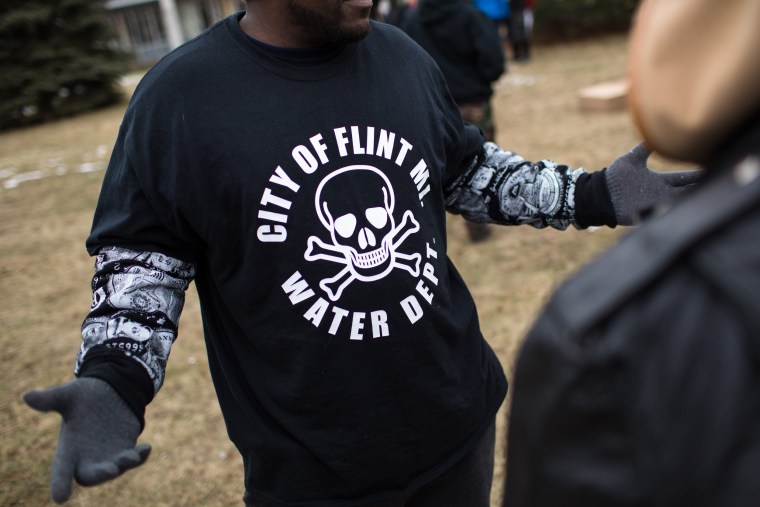 "Make no mistake about it, without fear and without favor, this independent investigation will be high performance and the chips fall where they may," said Schuette, who had balked at a state investigation until after the Department of Justice began its own probe.
Flood said he could not put a timeline on the investigation.
"It's not about time. It's about doing it right," he said.
"We're going to open up every door. We're going to ask the tough questions — 'What did you know and when did you know it?'"