Gina McCarthy sat inside the U.S. House chamber Thursday, a coffee cup on one side of her desk, bottles of water neatly lined up on the other. In front of her were fuming lawmakers. Behind her were residents of Flint, Michigan, who had bussed into Washington, D.C., overnight to attend a hearing on the dangerous levels of lead they had been exposed to for 18 months.
"You need to take some responsibility," Rep. Jason Chaffetz, chairman of the Committee on Oversight and Government Reform, said to McCarthy, the head of the Environmental Protection Agency. "You screwed up, and you messed up 100,000 people's lives."
Related: Lawmakers Call For EPA Chief Gina McCarthy, Michigan Governor to Resign Over Flint
For more than three hours, representatives grilled McCarthy and Michigan Gov. Rick Snyder in a tense hearing. Blame shifted between the two of them for the public health emergency created in Flint as a result of a cost-cutting measure to draw water from the Flint River by the state-appointed emergency manager.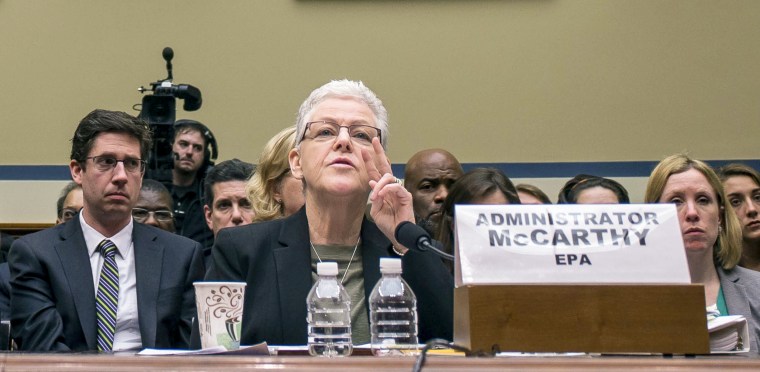 It's hardly the first time McCarthy, the woman behind some of the most aggressive air quality policies of the Obama administration, has come under fire.
She's been a lightning rod since the moment President Obama nominated her to replace former EPA administrator Lisa Jackson in March 2013. McCarthy's confirmation was stalled so long in the Senate, mainly due to concern about her efforts to limit greenhouse gas emissions, that the EPA had no one at the helm for 136 days — the longest the agency has ever gone without an administrator.
Throughout her career, McCarthy has had support from environmental advocates, many of whom say she implemented long-overdue policies. But her rapport with entrepreneurs and conservative politicians has been more contentious: They've accused her of crippling the coal industry, among other things.
"There's a strong case to make that the United States of America has never had a better administrator of the Environmental Protection Agency than Gina McCarthy."
The Obama administration stands by her, White House press secretary Josh Earnest told reporters after the Flint hearing Thursday.
"She understands how serious this is, and the truth is, when you take a look at the record that she has compiled just in her few years as the administrator of the EPA, there's a strong case to make that the United States of America has never had a better administrator of the Environmental Protection Agency than Gina McCarthy," Earnest said.
McCarthy was not available for an interview with NBC News, and the EPA did not comment.
Bob Durand, a former Massachusetts Secretary of Environmental Affairs for whom McCarthy served as undersecretary nearly two decades ago, said she has a "great" sense of humor, and frequently relies on jokes, told in her thick Boston accent, to bridge gaps.
"Gina got the fact that you can have a clean environment and a strong economy, and they're not mutually exclusive," Durand told NBC News. "A friend of mine in the pesticide industry said once, 'I know we were on the wrong side, and I was prepared to hate her, but I just couldn't do that because she treated us well. She respected us, and at the end of the day, even though we didn't agree, she made us do the right thing.'"
A graduate of the University of Massachusetts at Boston, McCarthy got a masters from Tufts University in environmental health engineering and planning and policy. Her first job was as the first full-time health agent in Canton, the Boston suburb she grew up in; in 1985, Democratic Gov. Michael Dukakis appointed her to the state hazardous waste safety council.
After climbing her way up to top environmental positions in Massachusetts and working under governors of both parties, McCarthy served as commissioner of the Connecticut Department of Environmental Protection from 2004 until 2009, when Obama appointed her assistant administrator for the EPA's Office of Air and Radiation. Through a series of regulations on carbon emissions, she's become the face of Obama's fight against climate change.
McCarthy, 61, lives in the Boston area with her husband Kenneth McCarey, a wholesale floral salesman, close enough to her three children that she can just go on a short bike ride to visit them.
"I cannot shy away from controversy."
In Thursday's hearing, she was apologetic but steadfast in her denial that the EPA could have known Flint's water was contaminated.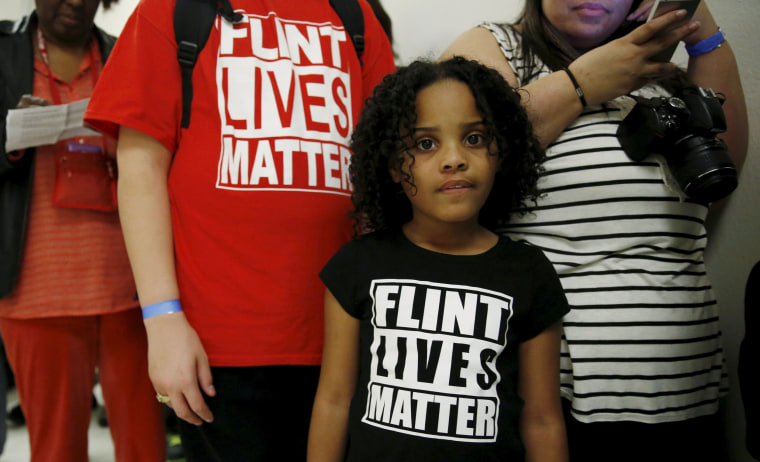 "I will take responsibility for not pushing hard enough, but I will not take responsibility for causing this problem," she said. "It was not EPA at the helm when this happened."
Durand said that response didn't surprise him,
"Gina wears her personality on her shoulder," he said. "She's going to fight back."
In November 2009, McCarthy told a panel of EPA advisers that she doesn't mind being a lightning rod.
"I cannot shy away from controversy," she said, according to the New York Times. "I don't know if it's my Irish blood, but I love it. I love disagreements. I love the democratic process. If I'm in a room where everybody agrees, I start to nod off."