The soldier who shot three people to death at Fort Hood apparently did not see combat during a tour in Iraq three years ago but was clearly troubled, under treatment for depression and anxiety and being evaluated for post-traumatic stress disorder.
As authorities tried to piece together a motive on Thursday for the rampage, a picture began to emerge of the gunman, identified as Spc. Ivan Lopez, 34, a married father.
Lopez joined the Army National Guard in Puerto Rico in 1999 and entered active duty in the Army in April 2010, according to military records. He was promoted to specialist from private first class six months later. Lopez was assigned to Fort Bliss, Texas, before transferring to Fort Hood two months ago.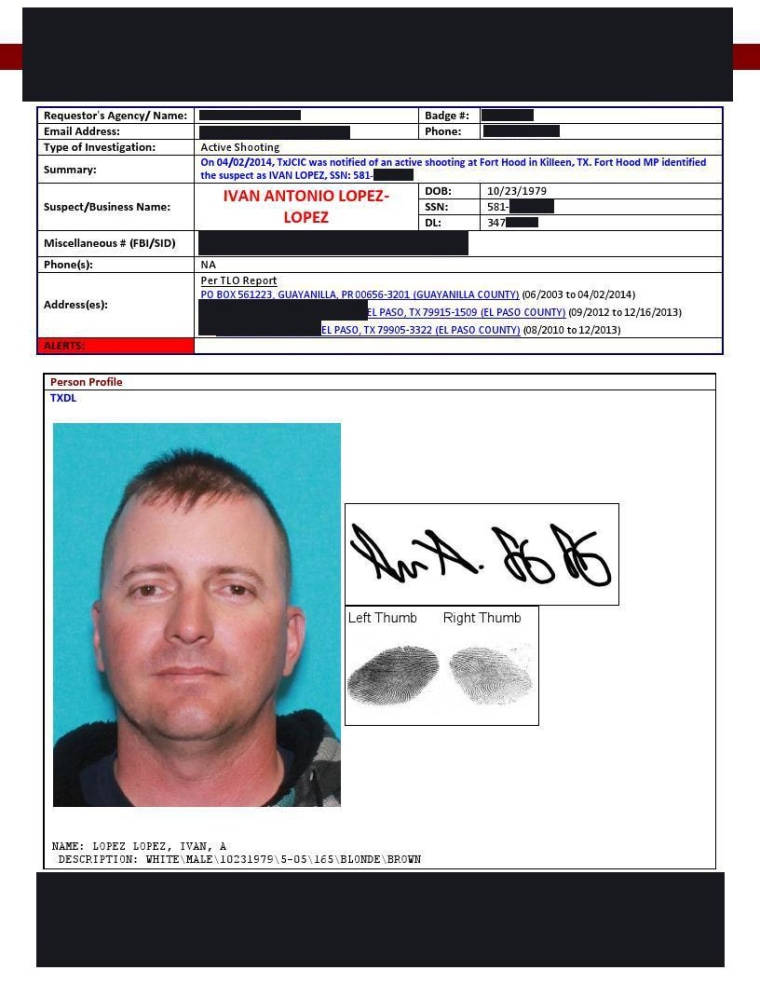 As Facebook photos offered a glimpse into the soldier's civilian and military life alike, investigators began digging into his background.
The commanding officer of Fort Hood, Lt. Gen Mark Milley, told reporters Wednesday night that the gunman was being evaluated for PTSD but had not been diagnosed. Besides the depression and anxiety, Lopez had trouble sleeping and was taking Ambien, Army Secretary John McHugh told the Senate.
There is no record that Lopez saw combat or was injured during a four-month deployment in 2011 to Iraq, where he was a truck driver, military officials said. At that time, American forces were withdrawing from Iraq.
Records show no combat citations or ribbons, the officials said. They stressed that it did not mean Lopez was not suffering serious psychological problems — only that they did not appear combat-related, as is often associated with soldiers suffering from PTSD.
They said there was also no medical confirmation the Lopez suffered a traumatic brain injury. Milley said that the soldier "self-reported" a brain injury.
Lopez, who lived near the post, lost his mother in November, the mayor of his hometown in Puerto Rico told a radio station there.
At the address believed to be Lopez's apartment, in Killeen, a woman answered the door Thursday morning. Asked by NBC News whether she was the gunman's wife, she nodded but did not answer.
"I'm sorry. I don't feel well," she said. "I've been talking to police all night."
A short time later, family members came to the apartment and escorted her to an unknown location.
Neighbors told NBC Dallas-Fort Worth that Lopez moved into an apartment about three weeks ago with his wife and daughter, about 3 years old. One neighbor said that the family "seemed real sweet."
A neighbor told NBC Dallas-Fort Worth that Lopez's wife became hysterical when his name surfaced in television reports as the gunman. She left with investigators, the station reported.
The Puerto Rican newspaper El Nuevo Dia reported that Lopez was from the town of Guayanilla and was a percussionist. Sources described as knowing Lopez from childhood told the newspaper that his grandfather died in October, the month before his mother died.
"Ivan was very loving toward his mom, and her death really hurt him," one neighbor, Aidé Merlo Irizarry, told the newspaper. "Pray a lot for this family and for the victims of the incident."
The mayor of Guayanilla, Edgardo Arlequin Velez, told the Puerto Rican radio station on Thursday that Lopez was "a peaceful young man and especially talented." He said he taught Lopez for six years while he directed the school band.
The mayor said Lopez's parents were always taking care of him, and that he had a tight-knit family and friendships.
"He had an excellent life, which I witnessed," the mayor said on Radio Isla 1320 AM. He said the news of the attack "has shaken us, and we regret it very much."
Lopez's mother was a nurse in Guayanilla, and Lopez attended her funeral, the mayor said.
He joined the island National Guard in 1999 and went on a peace and security mission to Egypt in the mid-2000s, a guard spokeswoman told The Associated Press.
McHugh, the Army secretary, said background checks turned up no involvement with extremist organizations. But he said investigators were not making assumptions and would follow the facts.
Erik Ortiz and Erin McClam of NBC News contributed to this report.