The French truck attack quickly became fodder in the White House race, with both presumptive nominees trumpeting their terror-fighting credentials and Newt Gingrich calling for Muslims in the U.S. to be tested on their beliefs.
"This is war," Donald Trump told Fox News' Bill O'Reilly on Thursday, adding that the NATO military alliance should be doing more to get "rid of ISIS."
The Republican presidential nominee, who has said that Muslims should be barred from entering the country, linked the Nice attack and previous ones in the U.S. and around the world to migrants and refugees.
"We're dealing with people without uniforms ... we are allowing people into our country — we have no idea where they are coming from. They have no paperwork, no documentation," he said. "This may be the great Trojan Horse of all time."
French President Francois Hollande has called the attack during Bastille Day celebrations "obviously a terrorist attack," and pledged to step up efforts to fight terror in Iraq and Syria.
O'Reilly and other commentators have called for a Western intervention in Syria to defeat ISIS. There has been no claim of responsibility for the Nice attack by ISIS, international terrorism research organization Flashpoint Intelligence said.
Mike Pence, the former congressman and the current governor of Indiana who NBC News has learned is Trump's pick for running mate, also swiftly weighed in on the Nice attack.
"We must resolve to bring to justice all those responsible and defeat this enemy of civilization at its source," he said.
Trump's Democratic rival Hillary Clinton followed him in calling into Fox News.
"When I was secretary [of state] I started the first ever international group to deal with global terrorism and to bring everybody to the table," she told O'Reilly, who has repeatedly called ongoing international terror attacks "a world war scenario."
Clinton criticized American allies, some of whom she said were not doing enough to battle terrorism.
"There has been a reluctance on the part of some of our friends in Europe in sharing information for example like airline passenger lists," she said. "In Europe, one of their problems is and they need to address is they don't share enough information across their own borders."
She added: "We need strong, tough diplomacy starting with our friends."
Newt Gingrich, the former Speaker of the House who had been muted as a potential Trump running mate, took his GOP colleague's proposal to ban Muslims from entering the U.S. a step further in an interview with Fox News' Sean Hannity.
"Every person here who is of a Muslim background" should be tested to determine whether he or she believes in Shariah, a legal code based on the Quran and other Islamic scriptures.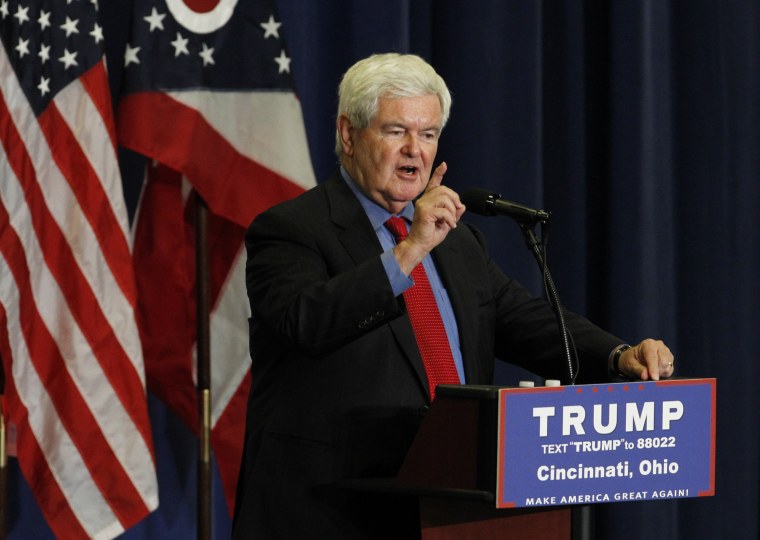 If they do, he said, they should be deported — even if they're U.S. citizens. Gingrich added that anyone who simply visits any website "favoring ISIS or al Qaeda or other terrorist groups" should be guilty of a felony, "and they should go to jail."
The Council on American-Islamic Relations condemned Gingrich's call to "test" Muslims in the U.S. as well as the truck attack.
"When former House Speaker Newt Gingrich suggests that American Muslims be subjected to an Inquisition-style religious test and then expelled from their homes and nation, he plays into the hands of terror recruiters and betrays the American values he purports to uphold," CAIR National Executive Director Nihad Awad said.