NICE, France — The truck driver killed by police after mowing down dozens of revelers in the French seaside city of Nice had a "violent" past, but was not previously the subject of a terrorism investigation, French prosecutors said Friday.
Officials at a news conference described what they knew about the suspect while confirming that at least 84 people were killed — including 10 children — while 202 others were wounded. Of the 52 people in critical condition, 25 remained on life support, said French prosecutor Francois Molins.
French President Francois Hollande earlier said that those in critical condition were "between life and death."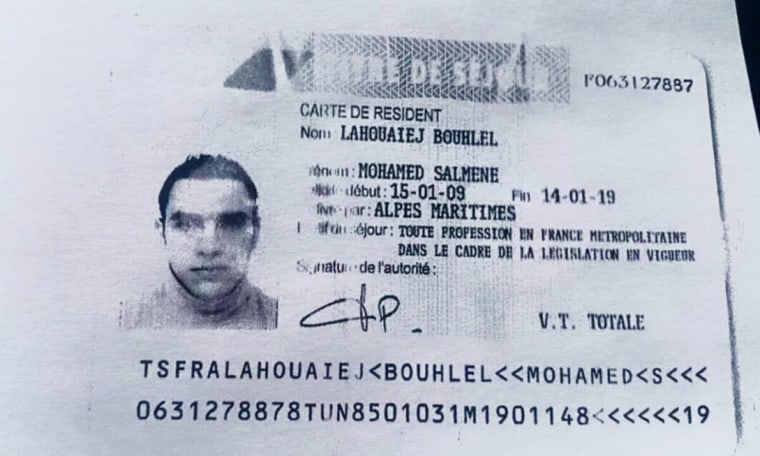 The 31-year-old driver, Mohamed Lahouaiej Bouhlel, had been detained in March and convicted of voluntary violence with a weapon. The minister of justice said the arrest involved a road rage incident in which Bouhlel used a wooden pallet as a weapon against another person, and he was given a six-month suspended sentence and fined 1,000 euros.
Prosecutors said he was also known to police "due to threats, violence and petty theft" between 2010 and 2016.
But it was unclear whether Bouhlel, a Tunisian-born delivery man and married father living in Nice, had any ties to terrorist groups.
Related: No 'Magic Way' to Prevent Nice-Style Attacks, Experts Say
"I must remind you that this type of action is very much within the framework of the permanent call for murder of terrorist organizations," Molins said.
Bouhlel had used a bike to get to a refrigerator truck rental company before setting off on his rampage around 10:45 p.m. local time, prosecutors said. He barreled the truck down a packed street in the coastal city for just over a mile, as crowds were gathered for Bastille Day.
The celebrations were transformed into scenes of chaos and carnage after the white vehicle careened down the packed promenade, creating a trail of death and destruction.
People were knocked down and thrown about like bowling pins and blood stained the pavement. Sirens and screams filled the air.
Amid the pandemonium, Bouhlel shot at three officers who confronted him in his truck near a hotel. He continued to drive for several hundred feet before exchanging gunfire with police, officials said.
When the hail of bullets subsided, they "eventually found the driver dead in the passenger seat," Molins said.
Bouhlel's bicycle was discovered inside the truck and an automatic handgun and a magazine and cartridges were located inside the cabin — along with a fake Kalashnikov, a fake M-16, a malfunctioning grenade, a map and a phone. An identity card and credit card were also retrieved.
The phone was being examined for any evidence, including whether Bouhlel might have traveled to Syria, officials said.
A senior U.S. counterterrorism official confirmed to NBC News that there is no evidence showing that Bouhlel was on a U.S. watch list or that he ever visited America.
On Friday, his truck was still parked where the deadly spree ended. Investigators pored over the scene under a hot sun as authorities maintained a wide perimeter.
One witness said that the truck driver pulled out a handgun and recounted how he found himself "in the middle of the gun shooting."
It was unclear whether the driver acted alone, and police arrested Bouhlel's ex-wife on Friday, although charges were not known, a senior French official told NBC News. One neighbor described Bouhlel as "a handsome man" who was "always alone."
No terror group has claimed responsibility for the massacre.
The promenade, typically teeming with tourists, was quiet Friday and people laid flowers at makeshift memorials. Signs of the previous night's horror were everywhere: a purse lying on the ground, a trampled bicycle, broken glass in the street.
The timing — equivalent to striking the U.S. on the Fourth of July — hit especially hard, one local business owner told NBC News.
The owner of Le Queenie, the oldest brasserie on the promenade, said his restaurant was full when the truck began its deadly drive. Hours later, bodies still lay where they fell.
"It was like a riot with people screaming," he said.
Earlier Friday, Hollande declared three days of national mourning and flew to Nice immediately after chairing an emergency meeting of the security and defense council.
"Terrorism is a threat that weighs heavily upon France and will continue to weigh for a long time," Prime Minister Manuel Valls said after the emergency meeting. "We are facing a war that terrorism has brought to us."
Valls and Interior Minister Bernard Cazeneuve joined the president in Nice, where they met with police and local officials before going to a hospital to visit the wounded.
France has been under a state of emergency since a deadly spree of terror attacks in Paris in November.
It was due to be lifted on July 26 — but those plans were put on hold in wake of the slaughter in Nice.
World leaders were quick to offer solidarity and condolences over the attack, with President Barack Obama offering "any assistance" that France might need to investigate and "bring those responsible to justice."
Pope Francis also lent support, with the Vatican saying: "We condemn in the strongest way every demonstration of senseless violence, of hatred, terrorism and any attack against peace."
As investigators hunted for clues behind a potential motive, the identities of those he killed began trickling out.
Interpol said it was sending a team to Nice to assist with victim identification — and carry out real-time checks on the agency's terrorism databases.
Two Americans — a father and his 11-year-old son — were among the victims.
The State Department said it was working with French officials to determine if other U.S. citizens were injured in the attack.
Nearly 40 injured people were brought to the Lenval children's hospital following the incident — all but nine were children and teens. The youngest victim was just around 6 months old, according to hospital spokeswoman Stephanie Simpson.
"They were in a bad state ... A lot of trauma, broken legs," she told NBC News, adding that two of the children did not survive.
Because the hospital only treats children, the adults who came in were transferred to other hospitals. Three have since died, Simpson said.
She praised hospital staff for their response to the unprecedented crisis.
"Our staff was really ready for this and really prepared — even expecting, because Nice was really on a red mark for attacks," Simpson said. "We were really ready."