LONDON — Truck drivers who plowed into a Christmas market in Berlin and a crowd of pedestrians in Nice perpetrated exactly the kind of low-tech, vehicular attacks on soft targets that terrorism experts say are almost impossible to prevent.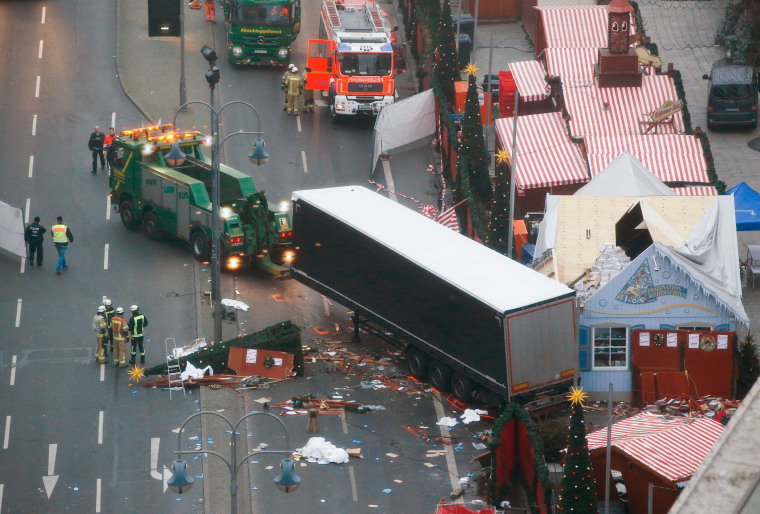 Vehicle-borne improvised explosive devices are a well-established threat in Afghanistan and Iraq, where motorcycles and pick-ups laden with explosives are driven towards security checkpoints or convoys of soldiers.
But the European incidents underscore fears that the use of vehicles as weapons in themselves is a growing threat in the United States and elsewhere in the West.
"Vehicle ramming offers terrorists with limited access to explosives or weapons an opportunity to conduct a Homeland attack with minimal prior training or experience," the Department of Homeland Security warned in 2010, urging vigilance against "attempts to infiltrate closed areas where traffic usually moves but where crowds are gathered, such as for street festivals or farmers' markets".
"You can't protect every event from an attack like this"
But aside from ever-greater intelligence gathering, experts say there is little that can be done to stop a determined attacker from "killing by car" in main streets or other busy areas.
"This is what authorities fear the most — a low-tech weapon than can be obtained by anyone and used at any time," said Shiraz Maher, senior research fellow at the International Centre for Study of Radicalization and Political Violence (ICSR) at Kings College, London.
"Anyone can prepare and carry out this kind of attack, you don't need to take the risk of becoming part of a terror cell or traveling to Syria or anything like that," he added, speaking to NBC News in the wake of the Nice massacre. "There is no plot to be intercepted or plan to be thwarted. These attackers are already behind enemy lines, as ISIS sees it."
Security was stepped up at busy spots in New York City on Monday night following the Berlin incident.
"Absent intelligence, the same way you can't stop someone from shooting into a crowd, there isn't a magic way to stop someone from driving into a crowd," NYPD Deputy Commissioner John Miller told the New York Daily News in July. "What we seek to do is minimize that threat in pedestrian malls like Times Square, where you have the largest crowds".
Attacks like those in Berlin or Nice are easy to replicate.
Matthew Henman, head of IHS Jane's Terrorism and Insurgency Research Center foretold further attacks by truck in the wake of the one in Nice: "The high-impact/low-capability nature of the attack raises the risk of the repeated use of the tactic in France and allied countries in the coming months, as well as copycat attacks in the following days".
The Nice atrocity was at least the fourth politically or militant-inspired vehicular assault in France since 2014. Two attacks took place with motor vehicles in Dec. 2014 in the towns of Nantes and Dijon, killing one person and injuring more than 20. In January, an attacker rammed French soldiers who were guarding a mosque in Valence, although none were killed.
An ISIS video circulated in July called on followers around the world to run down Westerners, according to the International Center for the Study of Violent Extremism (ICSVE).
"Fill your cars with gas…" the video instructs, according to ICSVE, showing images of an SUV driver preparing to run over crowds in Australia.
Al Qaeda's Inspire magazine suggested to militants in 2010 that "running over them with your cars and trucks" was a method of attack. And in 2014, ISIS spokesman Abu Mohammed Al Adnan implored followers to kill disbelievers "in any manner or way, however it may be ... run him over with your car."
The threat comes not just from jihadis but anyone with a grievance and a car. Lakeisha Nicole Holloway was accused in December of killing one person and injuring dozens more by mowing down pedestrians on the Las Vegas Strip, while Army veteran Shawn Nelson stole a tank and went on a rampage in San Diego in 1995 before a police officer shot and killed him. Last year, a man described by authorities as mentally ill killed three people by plowing his car into a crowd then stabbing passers-by in Graz, Austria.
Michael Leiter, counter-terrorism analyst for NBC News, said low-tech attacks were more difficult to thwart than conventional plots. "There is no doubt — and this is where ISIS has surpassed al Qaeda in its brilliant simplicity — this is much, much harder," he said following the Nice attack.
Ramming of passers-by has been the modus operandi for Palestinian attacks on Israeli civilians for some time, including when an excavator was used in a deadly attack on a bus in Jerusalem in 2014 and a stolen taxi smashed into a checkpoint near a Tel Aviv nightclub in 2011, injuring seven.
Authorities there installed metal bollards to protect sidewalks close to traffic lights and bus stops where pedestrians gather.
When a Jeep Cherokee laden with propane cylinders was driven into the check-in area at Scotland's Glasgow Airport in 2007, British authorities called for a rethink in the design of public spaces and "structural measures that prevent access to, or close proximity of, unscreened vehicles to the building or space … and measures that reduce the speed of vehicles … like bends or chicanes."
So-called "hostile vehicle mitigation" has already seen airport approach roads rerouted away from terminal entrances, installation of concrete bollards on sidewalks and the introduction of checkpoints away from busy terminals.
Britain's counter-terrorism strategy includes the creation of "safer places and buildings that are less vulnerable to terrorist attack and, should an attack take place, where people are better protected from its impact." Older, unprotected terminal buildings, such as the check-in hall that was destroyed in the March 22 attack on Brussels airport, remain more vulnerable.
But while buildings and roads can be redesigned, it is much harder to protect soft targets such as crowds — a headache for organizers of public events such as fireworks displays, sports tournaments and festivals.
Relatively simple technology could provide a solution. A British firm says it has developed a system that can disable the engines of moving targets such as boats or cars by emitting radio frequency pulses that overload the sensors in a vehicle's electronic controls. For as long as it emits the pulses, the engine cannot be restarted.
Yet the covering public spaces with anti-terror measures could be counter-productive for governments and authorities.
"If you turn up to a family event and see barriers everywhere and bomb-proof glass or detector arches, you can create a culture of apprehension," ICSR's Maher said. "The reality is, you can't protect every event from an attack like this."