The dazzling Bastille Day fireworks over the Bay of Angels in the southern French city of Nice had just ended on Thursday night, and the palm tree-lined Promenade des Anglais, which hugs the horseshoe-shaped waterfront, was jammed with people — young, old, French, foreign.
Parents pushed strollers past posh hotels as dance music thumped from nearby clubs. Young partiers strolled toward the bars.
The scene, on the day France celebrates the birth of its democracy, was as close to carefree as things get in a country perpetually on alert to terror.
PHOTOS: Scenes of Devastation After Truck Kills Revelers
Not far away, Mohamed Lahouaiej Bouhlel, a 31-year-old small-time criminal from Nice, allegedly climbed into a white 19-ton refrigerator truck he'd rented three days earlier. It was 10:45 p.m.
Driving slowly, the young father maneuvered past the Fondation Lenval children's hospital and on to the promenade, which police had closed to cars for the celebration.
That's when authorities say he revved the truck's engine and began running people down.
At first, it seemed like a terrible mistake. "Nobody knew what to make of it," Ryan Hubbs, an American on vacation, said.
But as the truck kept barreling forward, and witnesses heard gunshots, it became clear that this was no accident.
German tourist Richard Gutjahr noticed the chaos from a first-floor hotel balcony and grabbed his camera. His footage captured police officers running after the truck, and a motorcyclist, perhaps an officer, leaping from his bike and onto the truck's driver's side door before falling off. The officers fired on the truck in a desperate bid to stop it.
Bouhle hit the gas.
The truck plowed on through the crowd, crushing pedestrians and sending debris flying. People screamed and ran, scooping up kids and grabbing friends and loved ones. Some leaped over a rocky barrier to the beach a few feet below. Others, unable to move quick enough, dropped to the ground and cowered.
"He was mowing people down," Dominique Molina, vacationing with her husband and son, told NBC San Diego. "I can't even tell you how many people I saw die in front of my eyes."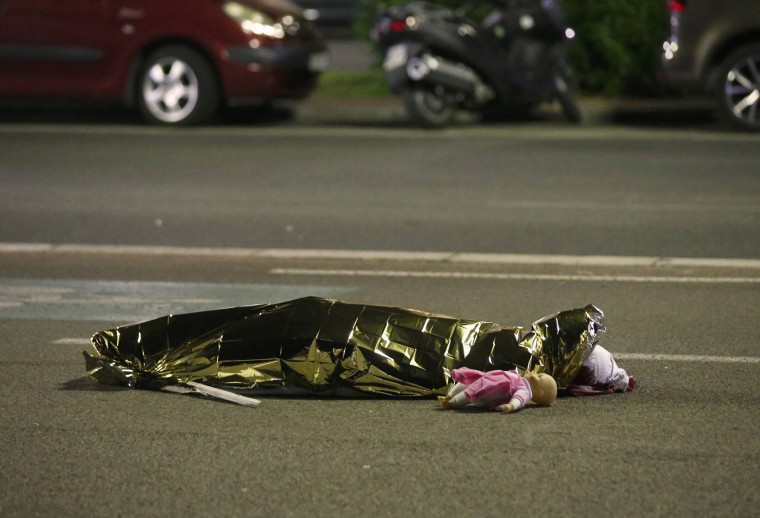 Melka Tinkel, visiting with her 17-year-old daughter, along with her sister and infant niece, heard what they thought were gunshots. Unsure who, or how many, were attacking, they threw themselves down and tried to stay quiet, covering the baby's mouth. "We literally were crying and praying," Tinkel told KNBC in Los Angeles. "I mean, we were terrified."
The truck kept driving, swerving at his targets as a mass of people in front of him ran, witnesses said.
"I looked behind me and there was this huge wall of people rushing up behind us," said Simon Saunders, an Englishman who lives in Nice. "Yelling and screaming. I grabbed my friend and pulled us into a bar out of the way of the crowd rushing up the street. "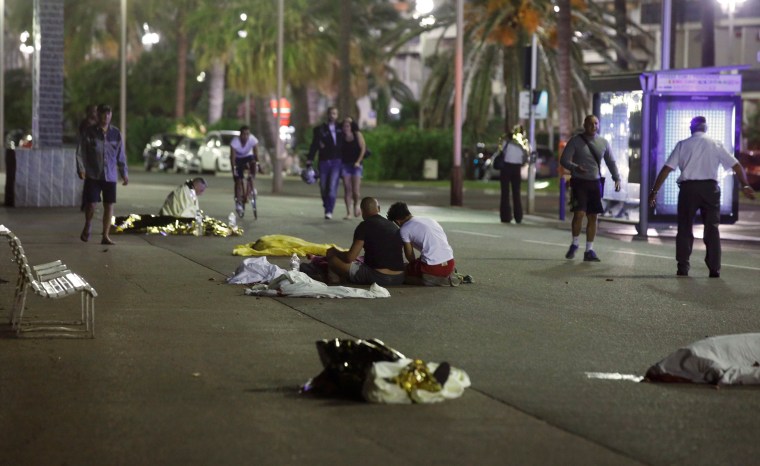 Eric Dratell, an American lawyer who lives in London and was on vacation with his wife, was having dinner at a restaurant on the beach below the promenade. They were paying the bill when they heard gunfire. "We started running for cover," he said. "People started jumping from promenade level onto the beach. A guy jumped on my wife."
PHOTOS: World Shows Solidarity with Nice Rampage Victims
"All of a sudden, thousands of people started running toward us," Australian tourist Sophie Sanderlands told told the local morning show Sunrise. "We had no choice but to run with them." Along the way she saw abandoned strollers, people crammed into restaurants for shelter, people pulling curtains across their windows.
Simon Coates, a British lawyer, told the BBC that he got separated from his wife and as he searched for her, he saw horribly disfigured bodies, torn apart, stripped of clothing, shoes and purses scattered about. He said he saw mothers next to dead children.
He came across the truck, stopped now, with police officers approaching, guns drawn. Nearby, he found his wife.
Bouhlel had traveled about 1.2 miles, the onslaught lasting just a few minutes. In his wake, people wept over bodies. Lampposts lay shattered in the street, road signs crushed.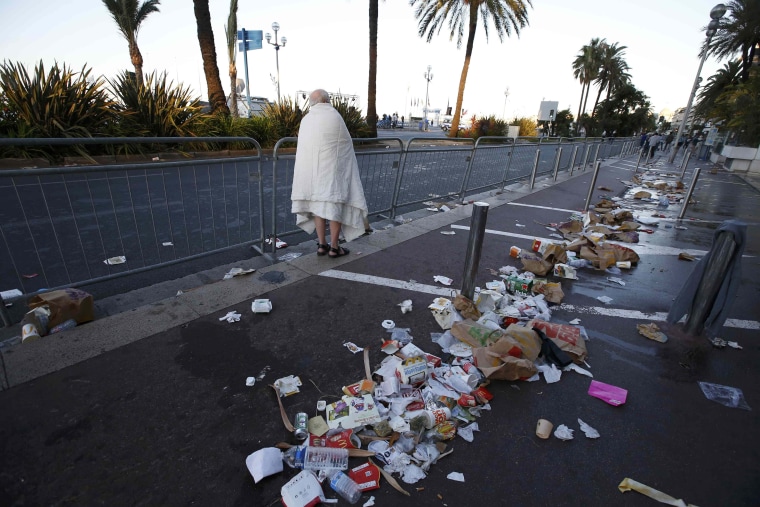 Later, authorities tallied the toll: 84 dead, including 10 children, and 202 wounded, with more than 50 in critical condition. Among the dead were a father and young son from Austin, Texas.
Outside the Hotel Mercure, Nader El Shafei, a former banker from Cairo, saw the truck come to a stop after rolling over a girl. Thinking it had been an accident, he stepped in front of the truck. "I was waving to the driver, 'Stop, there's a girl under the truck,'" he recalled.
El Shafei said the driver then picked up a gun, and police began to fire on him. Frozen in fear, El Shafei filmed the final assault in which Bouhle was killed.
Then police, perhaps worried that the truck contained explosives, shouted to everyone to run.
There were no explosives; the attack was over. Medics arrived by ambulance and helicopter, wheeling away victims. Bodies were covered with sheets.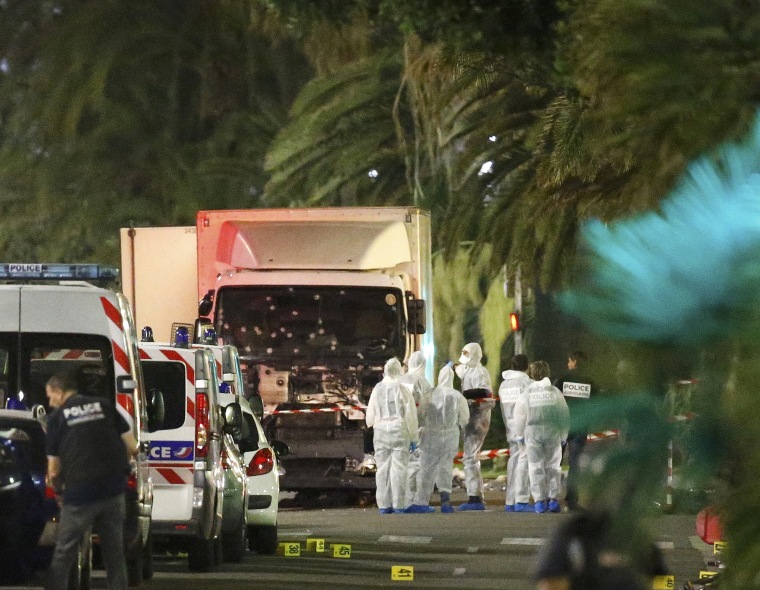 By dawn, a stunned silence hung over the promenade, the crime scene still being examined, people still searching for lost loved ones and friends. A national holiday, and Mediterranean resort, had been ruined by terror.
"I heard about it (Nice), that it's very peaceful, very nice place, so my friends advised me to come, and they told me it's like a paradise," El Shafei said. "So I wanted to see the paradise, but I saw something else."