In the chaotic seconds after a gunshot rang out on Friday's train ride from Amsterdam to Paris, passengers ducked for cover, pulling tray tables down over their heads as protection, an American eyewitness said.
Christina Cathleen Coons, a social worker from New York, told NBC News she heard a gunshot go off around 5:45 p.m. local time, as the high-speed train was passing near Arras, France.
"Myself and others ducked for cover. I went underneath my seat and curled up very small. I pulled the tray table down for a cover over my head, and I saw that others did that as well," she said.
Airman 1st Class Spencer Stone, Oregon National Guard Specialist Alek Skarlatos and fellow American Anthony Sadler, a college senior, were hailed as heroes after tackling the gunman and subduing him.
RELATED: Three Americans Hailed as Heroes For Stopping Train Attack
The shooting left two people seriously injured, including Stone. A third person received minor injuries.
Coon described seeing a duffle bag splattered with blood and seeing a man bleeding profusely.
"He was lying on the floor, bleeding in agony. He was moaning, groaning. Obviously hurt. His wife had come running and she was standing over him panicking," she said.
Coon said she relaxed a little once she heard one of the servicemen — who were on personal leave from the military and were not in uniform — say he was a paramedic.
"I was praying essentially for my life and thinking, "Oh my God, am I next? Are we all next? Are we all going to die today?'"
"Once I found that I out, I felt a little more safe, because they had said to everyone in our car, 'We took him down, we took the gun away. You guys are essentially safe.' I mean, you still didn't really feel safe. But they tried to assure us that they had taken him down."
Slowly, passengers poked their heads out from under the seats to scope out the situation, Coon said. The injured man was bleeding on the train car floor, and the servicemen called for someone's tie to use as a tourniquet.
RELATED: Dad of U.S. Train Hero 'Stunned' and 'Relieved'
"He acted pretty quickly," she said. "It looked like he was losing a lot of blood."
The incident was "terrifying, absolutely terrifying," she added. "I was praying essentially for my life and thinking, "Oh my God, am I next? Are we all next? Are we all going to die today?'"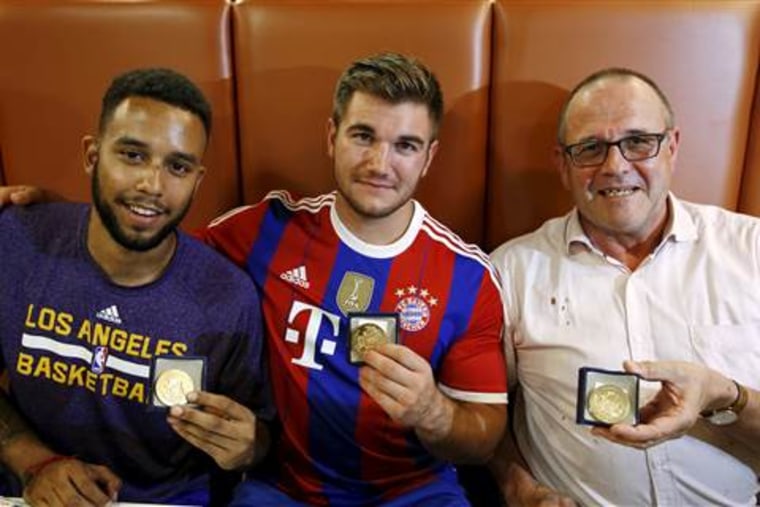 The Americans, along with a British traveler who also jumped in to help, have been praised for thwarting what could have been a much worse massacre. The alleged attacker, who authorities believe is a 26-year-old Moroccan man flagged by Spanish authorities in February 2014 because of his connections to radical Islam, is being questioned.