PARIS – Facebook shut down the account of train attack suspect Ayoub El-Khazzani for "terrorist content" within hours of the shooting, a spokeswoman for the social media giant said Tuesday.
The account was deactivated Saturday for "violating policies and community standards that forbid content promoting terrorism" and "terrorist content," company spokeswoman Michelle Gilbert told NBC News. She did not provide further details.
Police reportedly believed the 26-year-old Moroccan's account might have been deleted by an accomplice after Friday night's attack and ensuing struggle, which left an American in hospital with gun wounds.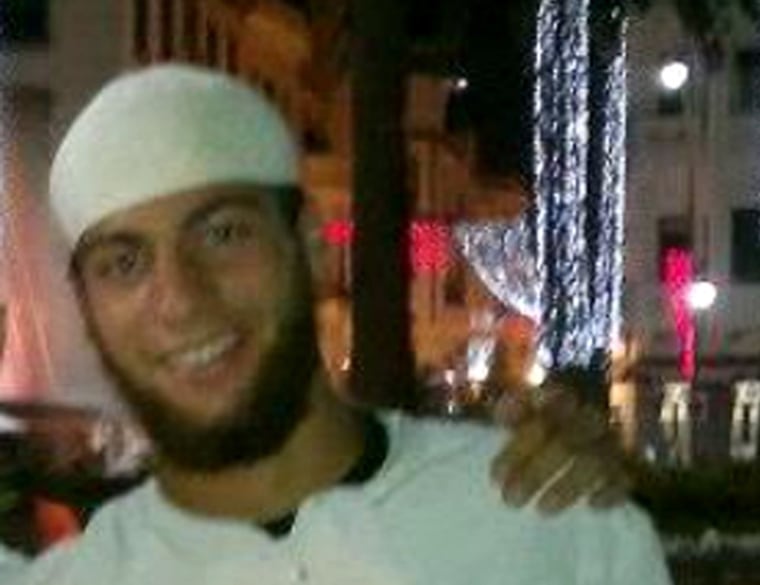 Prosecutors in Paris were expected to announce later Tuesday whether they would bring charges against Khazzani or request an extension to his police custody.
Local television news channel BFM-TV showed pictures of a police convoy as Khazzani was reportedly brought before a judge.
He was disarmed as he emerged from a toilet cubicle armed with a Kalashnikov rifle, a pistol and a knife on a train from Amsterdam to Paris on Friday.
Four American passengers helped to overpower him, including two off-duty members of the military, their friend and a language teacher who was shot. He remained in a hospital early Tuesday where his condition was reportedly described as "worrying."
Khazzani told a lawyer Sunday that he denied terrorism, had found the assault rifle in a park in Brussels, Belgium, and only intended to rob passengers in order to get money for food.
Khazzani's father, Mohammed, expressed shock at terrorism allegations and insisted his son was "just like others his age, having fun, going to the beach, working."
Speaking from the blue-collar district of El Saladillo in Algeciras, Spain, where the family has lived since 2013, he said: "My son is not a terrorist. He's a poor boy, he loves to play soccer, go fishing, but he is not a terrorist."