Three Americans who helped thwart an attack by an AK-47-toting gunman on a high-speed train received France's highest honor on Monday.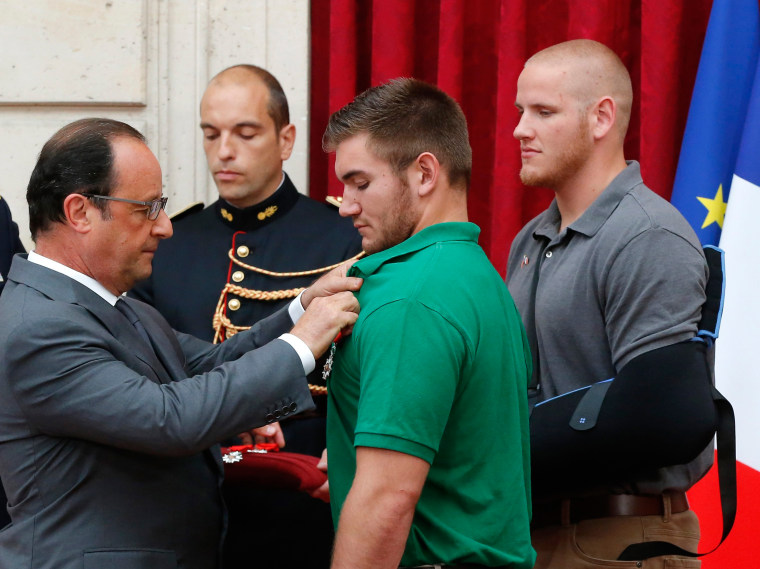 French President Francois Hollande gave childhood buddies Alek Skarlatos, Spencer Stone and Anthony Sadler the Legion d'Honneur. British businessman Chris Norman, who joined the trio and rushed the assailant on the Amsterdam to Paris train Friday, also received the award during a ceremony at the president's official residence.
Wearing polo shirts and khaki trousers, the Americans arrived at the Élysée Palace in two black SUVs flying U.S. flags along with American Ambassador Jane Hartley.
"Here are four men who with the help of others acted not just to save their own lives but who also came to help others and saved the lives of others," said Hollande, who added that the actions of the brave few helped prevent "true carnage" aboard the train carrying around 500 people.
The group tackled the gunman and helped stopped an attack that could have turned into a bloodbath. They stripped the suspect of an AK-47, pistol, a blade and a bag of ammunition. The 26-year-old Moroccan told a lawyer who that he only intended to rob "wealthy people" on the train.
"We are giving you the highest distinction of the country to show you how much we appreciate what you did," Hollande said at the ceremony. "So this Legion d'Honneur is representative of your courage and also your incredible act of humanity … to save those also on the train."
Hollande made reference during his speech to Mark Moogalian, a French-American academic who was also involved in foiling the attack but remains hospitalized. He praised Moogalian's "courage" by intervening.
The president also praised a 28-year-old French banker who reportedly was the first person to try and stop the attacker but did not want to be identified.
Hollande singled out Stone, a 23-year-old first-class airman, and Skarlatos, a 22-year-old Oregon National Guardsman.
"Spencer and Alek you are soldiers but here you were simple passengers ... you behaved like military, but more than anything you behaved like men who defend liberty."
Belgium's Prime Minister Charles Michel also attended the ceremony and praised the group.
The train was speeding through Belgium when the attack occurred.
Although they have been hailed as heroes, they have been quick to share the accolades.
"Everyone played their own part. No one is specifically to praise," Stone said during a press conference at the U.S. ambassador's residence on Sunday.
He and Skarlatos have said their military training had not come into play until after the gunman was subdued.
"In the beginning, it was basically just gut instinct," Skarlatos said Sunday. "We just kind of acted. There wasn't much thinking going on.
He added: "The guy had a lot of ammo. His intentions were pretty clear."