PARIS — A French-American academic shot by the Amsterdam-to-Paris train gunman has telephoned a U.S. airman who stopped his bleeding to thank him for saving his life, his wife told TODAY on Friday.
Mark Moogalian, 51, was shot in the back after trying to apprehend the attacker who had just emerged armed with an assault rifle from the train's toilet.
Moments later, 25-year-old Ayoub El-Khazzani was subdued by three vacationing Americans, including Airman Spencer Stone, who also attended to Moogalian's injuries.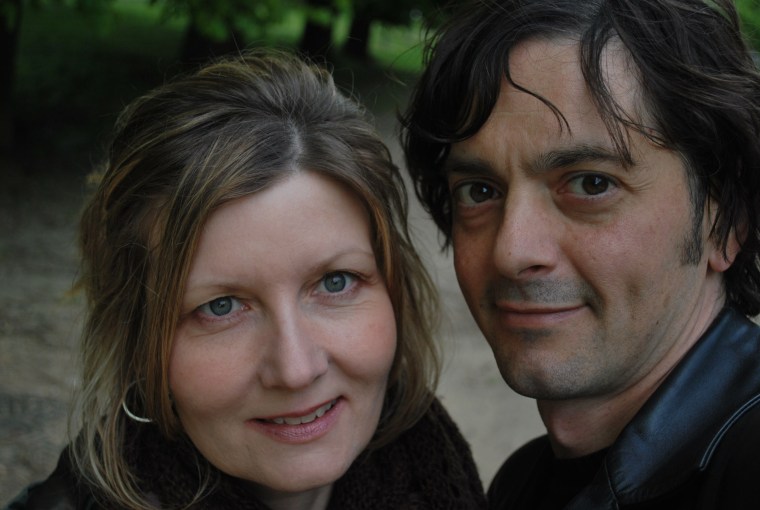 "My husband was able to talk to Spencer on the phone a couple of days ago and he was very emotional," Isabelle Risacher-Moogalian said. "That's the first thing he told him, he said, 'Hey man, thanks for saving my life.'"
She added: "I went to see Spencer and I gave him a big kiss and I said, 'Look, you know, thank you. I will never be able to thank you enough for what you did. You saved his life.' Spencer was like, 'Yeah, you know, no problem!'"
Stone, along with Oregon National Guardsman Aleksander Skarlatos and college student Anthony Sadler, were awarded France's highest honor, the Legion d'Honneur, by President Francois Hollande in recognition of their bravery.
"We're both very grateful to Spencer and we hope that he will come back to Paris and we can show him a good time and take him to dinner, and also of course Aleksander and Anthony," Risacher-Moogalian said.
Moogalian had wrestled the attacker's AK-47 from him but not realizing he was carrying a pistol was shot in the back as he tried to flee, his wife said. The bullet traveled through his shoulder-blade and through his collarbone. It also pierced his left lung.
"I saw my husband through the chairs…and he told me, 'I'm hit, I'm hit, it's over,'" she recalled. "And I saw he was bleeding and it was really hard, it was horrible. And I rushed to him right away."
She added: "After that point, I hear coming from the back, 'F*** this s***!' really loud and I see two guys, three guys ... running towards the gunman."
While the American trio and British businessman Chris Norman subdued the attacker, Risacher-Moogalian quickly became aware of the severity of her husband's wounds.
"Blood was really shooting out his neck," she said. "Fortunately Spencer was there... I don't know first aid …even if I tried to do something I probably would not have succeeded because I don't know what to do. I am sure that he saved his life."
Risacher-Moogalian said her husband had been through surgery and was now being treated in intensive care. She hoped the English professor and musician would be transferred to a regular ward soon.
"Physically he is doing better…emotionally [he is] in very good spirits," she said. "He wants to do all kinds of things already. So he's very anxious to get out of the hospital."
Prosecutors say the Moroccan-born El-Khazzani was carrying an assault rifle, a Lugar pistol, a knife and at least 270 bullets. The suspect reportedly told a lawyer on Sunday that he had found the AK-47 in a park and only intended to rob wealthy passengers aboard the high-speed train.