FUTABA, Japan — The dried yellow flowers sit in the ruined living room five years after grateful students gave them to a well-loved teacher.
"I brought them home, put them in here, [but] we weren't allowed to bring anything organic because it could have been contaminated," said Anthony Ballard, who taught English in a town 12 minutes' drive from the Fukushima nuclear power plant.
He was forced to flee his home after meltdowns at the stricken facility following the devastating earthquake and tsunami of March 11, 2011.
Related: Japan Marks 5th Anniversary of Devastating Tsunami
"I thought about taking them out and getting them pressed and framing them but we weren't allowed to," Ballard said.
So the faded blooms have sat untouched in Ballard's home for five years, along with the remains of the 51-year-old's life.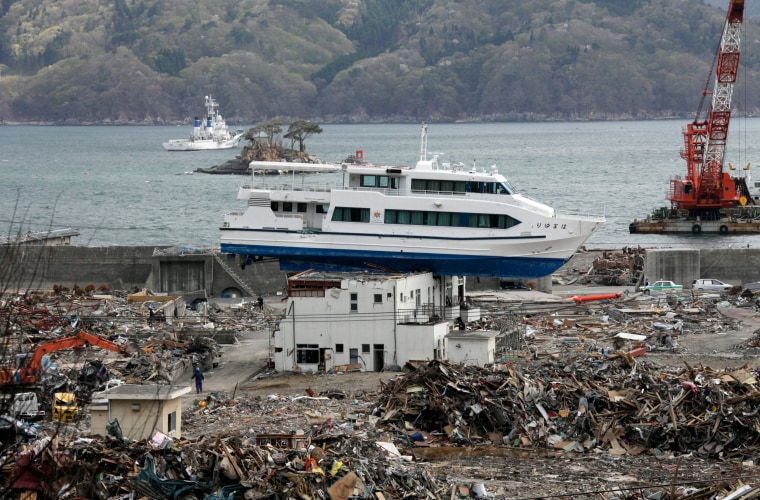 The disasters of five years ago killed more 15,894 people across the region, upended hundreds of thousands of lives and forced whole communities to evacuate and leave everything behind.
All of the survivors have found their own ways to cope with the trauma. Ballard and his 34-year-old colleague, Philip Jellyman, deal with it by taking advantage of monthly permitted visits inside the exclusion zone established around the radioactive plant, and taking pictures of what remains of Futaba — what they call their "hometown."
The language teachers — originally from Hull, England — were evacuated along with the rest of Futaba's residents in the days after the meltdown. The community has moved twice and settled in Iwaki City, around 28 miles south of Fukushima.
Related: Former Executives Charged in Fukushima Meltdown Disaster
On his latest trip back, Ballard walked along the pretty beach and remembered the life he once had.
"I used to come down here almost every day. I love it here, I love the beach. I was going to take a picture of the beach but I never did because there was no urgency," said the former postal worker, who moved to Japan 12 years ago. "There was always tomorrow and suddenly there wasn't tomorrow."
The quake damaged both his and Jellyman's homes, but they worked through the night of the earthquake at a junior high school which had been designated an evacuation center for residents. There were rumors during the night of March 11 that something might be wrong at the nuclear power plant but it wasn't until the next day that the entire town evacuated.
Even as the meltdown was happening, it took a while for the extent of the unfolding disaster to become clear.
"In the following days there were more explosions of reactors almost going off in sequence … even then I wasn't really conscious of what this would mean in the long term," Jellyman said.
Eventually it began to dawn on Futaba's displaced residents that it would be a very long time before they'd be allowed to return home — if ever.
Streets in Futaba have been cleared of debris caused by the initial tremor and tsunami, but much of the town appears totally untouched. Dress shirts are still on the racks at an abandoned clothing store and, at the train station, newspapers for sale are dated March 11, 2011. The clock outside the station is stopped at 2:46 p.m. — the moment the 9.0 magnitude earthquake struck.
While other towns in the 19-mile evacuation zone have seen residents resettle or return for extended periods of time, Futaba is still considered too dangerous. There is no timetable for when its people can come back.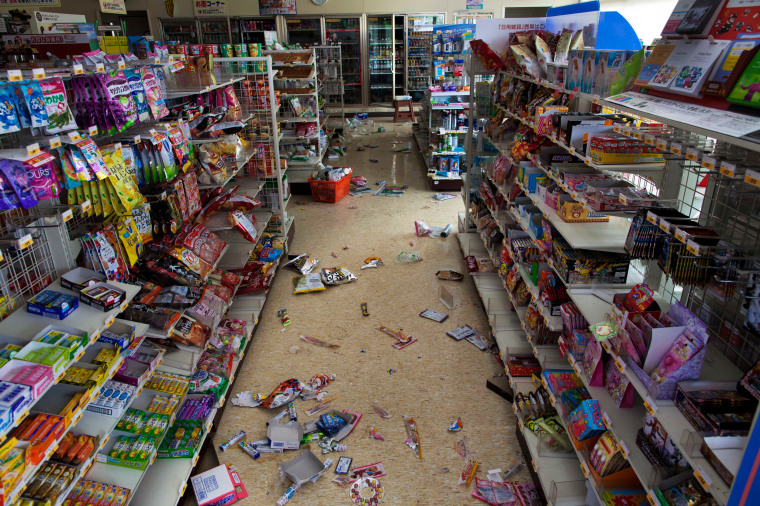 Two years ago Futaba reopened its public school, where Jellyman and Ballard teach, in Iwaki City. They say their 24 students are making progress.
Related: Evacuation Order Lifted for Naraha, Town Near Fukushima Nuke Plant
"They've gotten more confident over the last few years and they seem more settled in their lives," Ballard said.
"The thing I remember a lot about the old Futaba is there was a lot of laughter in the school and this place is the same," he said, talking about Iwaki City. "People like this place, everybody here likes this place. They like their life here and I like my life here too."