There were 144 passengers and six flight crew aboard Germanwings Flight 4U9525, which crashed into the French Alps on Tuesday. Here is a look at some of the lives lost in the tragedy. The victims hailed from at least 13 countries — including three from the U.S.
***
Yvonne Selke and her daughter Emily, from suburban Washington, D.C., were the two Americans aboard the flight. Yvonne Selke worked as a U.S. government contractor, according to The Associated Press, which cited a source close to the family. According to the AP, she was a longtime and highly regarded employee of Booz Allen Hamilton Inc. in Washington, D.C. Selke also worked with the National Geospatial-Intelligence Agency, the Pentagon's satellite mapping office, according to the AP's source.
On Facebook, Drexel University's Gamma Sigma Sigma sorority posted a tribute to Emily Selke, a 2013 graduate and a former vice president of the service sorority's Zeta chapter.
The State Department said it was "deeply saddened" to confirm the deaths of two Americans and said it was in contact with the family.
***
Businessman Eyal Baum, 39, hailed from Hod Hasharon, Israel, but lived in Germany.
"Eyal wanted to come back to Israel sooner than later but we never thought it would be this way," his father Robert Baum told Israeli news site Ynet. "The moment I heard about the crash I checked and found out there were three flights but he was on this terrible flight and ever since my world stopped."
***
Australian nurse Carol Friday, 68, was traveling with her son Greig, 29, an engineer who had planned to move to France to teach English.
The pair were "extraordinary and exceptional people," their family said Wednesday in a statement issued through Australia's foreign ministry. "Our family is in deep disbelief and crippled with sadness."
"They will forever be with us in our hearts, memories and dreams," the statement added.
***
Three generations of one Spanish family — a schoolgirl, her mother and grandmother — died in crash, The Associated Press reported. The girl was a student at Santa Isabel school in Sant Cugat, near Barcelona — a school for children between the ages of 10 and 11. Town officials did not provide the family's names, according to the AP.
"The students are very affected. The teachers are trying to help them any way they can," a woman who answered the phone at the school told the AP.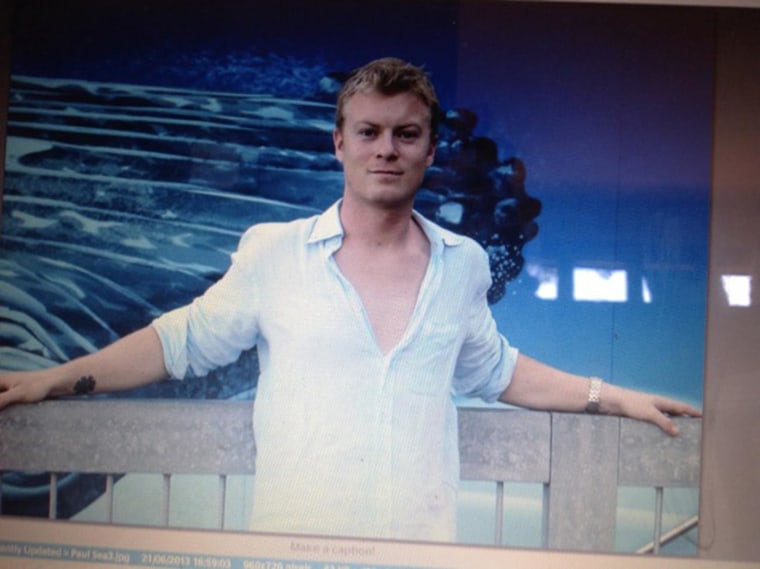 ***
Briton Paul Andrew Bramley, 28, was a student of hospitality and hotel management in Switzerland on his way home to visit his family after a break in Barcelona, the U.K.'s foreign office said in a statement.
"Paul was a kind, caring and loving son," his mother Carol Bramley said in the statement. "He was the best son, he was my world."
***
Argentinian couple Gabriela Maumus and Gabriel Greco, both 28, were on vacation in Europe, according to Clarin newspaper.
Maumus, a "passionate" musician, was due to return home by Sunday for a gig with her band APZOO, the newspaper reported. Her father, a volunteer fireman in the city of General Pacheco, had been informed of the news.
"The family is destroyed," the newspaper quoted a fire department source as saying.
***
Sixteen German high school students from the town of Haltern were on the plane with their teachers, returning from an exchange trip to Spain.
Leonie Kustermeier's cousin, 16-year-old Rabea Scheidler, was one of them.
"I'm really shocked and I can't believe it right now," she told NBC News outside of a growing memorial at the Joseph-Konig high school in Haltern. "I still think she will come to school tomorrow."
***
Mexican Daniela Ayon was a yoga teacher and the youngest of three daughters, El Universal newspaper reported.
"I still can't believe that my daughter is dead," her mother Gladys Fazo told the newspaper. "I am going to remember her like my radiant sun of every morning, like she used to say of me."
Fellow Mexican Dora Isela was also on the plane, the newspaper reported, citing a government statement. She had a PhD in food engineering and worked at food hygiene company Itram Higiene, it added.
***
German opera singers Oleg Bryjak and Maria Radner had just performed in a production of Wagner's Siegfried at the Gran Teatre del Liceu in Barcelona.
"Our sincere condolences to family and friends of all victims," Barcelona's Gran Teatre said in a statement.
Stephen Harrison, the artistic administrator for Dusseldorf Opera, said "you could cut the air with a knife" after he told his company about the loss of Bryjak.
"The company is in shock," he told NBC News. "No one really feels like performing."
He described Bryjak — who had been with the organization for 20 years — as an immeasurable talent and "larger than life" character with a wonderful sense of humor.
"His heart was as big as his girth was wide," Harrison said. "Everyone is going to miss him tremendously."
***
Marina Bandres, 37, a native of the small Spanish town of Jaca, and her baby boy also were on the plane, according to a statement issued by the British government on behalf of her husband Pawel Pracz. Bandres, who lived in the U.K., had been attending a funeral in Jaca for her uncle.
"I'm with my closest family in Manchester, and in close contact with our family in Spain at this very difficult time," said Pracz, who worked with Bandres in film and video. "We are devastated."
Spain also lost Ariadna Falguera, who worked in fashion and was the wife of prominent Catalan historian and politician Orio Junquera, according to El Pais newspaper. The couple have a young daughter, the newspaper said.
"We feel immeasurable pain because of this this airplane accident," Junquera said on Twitter.
***
Japanese national Junichi Sato, 42, was traveling on a business trip for his Tokyo-based employer, Seika Corp. A spokesman for the machinery company told NBC News that officials had been trying to call him on his cellphone since news of the accident emerged.
- Carlo Angerer, F. Brinley Bruton, Alastair Jamieson and Katy Tur
The Associated Press contributed to this report.