A GM engineer who approved a change to faulty ignition switches in models that have now been recalled also appears to have signed off on not issuing a new number for that changed part, according to an internal company document made public on Friday. Auto safety experts say that a new part number could have alerted dealers and other knowledgeable observers to the change.
The document detailing the approval, an internal GM email thread from last fall, was included in a trove of 64 separate document files, including internal GM correspondence released late Friday by House investigators looking into the faulty ignition switch -- blamed for causing at 32 crashes and 13 deaths by the automaker's count.
Regulators, watchdogs and plaintiff attorneys have seized on the fact that GM did not issue a new part number when it altered the ignition switch in 2006 as an indication that someone may have been trying to fix and hide the problem at the same time.
In the email correspondence, Brian Stouffer, a GM field performance assessment engineer tasked with a GM internal investigation last year of its handling of the ignition switch problem, sought answers to the question of when, how and why the ignition switch design changed around 2006. That investigation led GM to inform the National Highway and Traffic Safety Agency in February of the ignition switch problem.
He specifically asked Delphi, GM's ignition switch supplier, for information about the change to the length of the ignition switch part – known as a "detent plunger" – and received this reply, according to the document:
"Ray DeGiorgio … agree (sic) to implement change without changing GM p/n (part number)," it said. "He provides his approval with GM 3660 to implement both changes."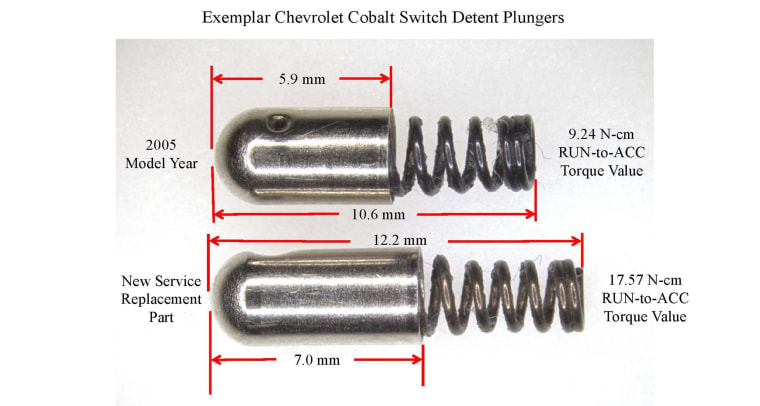 Raymond DeGiorgio, the GM lead design engineer for the ignition switches, testified last year in a lawsuit filed by the family of a Georgia woman killed in the crash of her Chevy Cobalt that he was not aware of the change to the ignition switch part and didn't remember approving it.
But GM has since acknowledged in a public chronology that one of its engineers approved such a change by signing an authorization document in April 2006. NBC News reported on March 31 that a document approving the change appears to have been signed by DeGiorgio.
DeGiorgio was placed on paid leave by GM this week pending an internal investigation of the matter.
In February GM recalled 1.6 million Chevy Cobalts, Pontiacs and Saturns from model years 2003 to 2007, saying their ignition switches could be accidentally turned from "run" to the "accessory" position while the cars were being driven, shutting down the power brakes, power steering and airbags. GM's own figures have linked ignition problems to a dozen deaths.
Prior to the recall, the parents of Brooke Melton, a Georgia woman who died in the 2010 crash of her Cobalt, had sued GM, alleging that their daughter's death had been caused by ignition problems.
According to black box data from her car, her ignition had shut off, turning off the power-steering system and the anti-lock brakes. Melton then lost control of her car and skidded into oncoming traffic.
During depositions for their suit last year, the Meltons learned from GM engineers that the company had been aware of potential problems with its ignition systems before Brooke purchased her car in 2005.
The Meltons' lawyers also found evidence that GM had altered the design of ignition switches after Brooke purchased her Cobalt, but had done so without notifying federal regulators or car owners or changing the part number. The change, which apparently occurred in 2006, increased the size of the detent plunger and spring, a pair of parts that hold the ignition in position – a change that an engineer hired by the lawyers said seemed intended to increase the "torque force" holding the ignition and key in place.
DeGiorgio couldn't be reached for comment Friday by NBC News.
GM, which has now expanded its ignition recall to 2.6 million vehicles, declined to comment on the document, citing its pending investigation.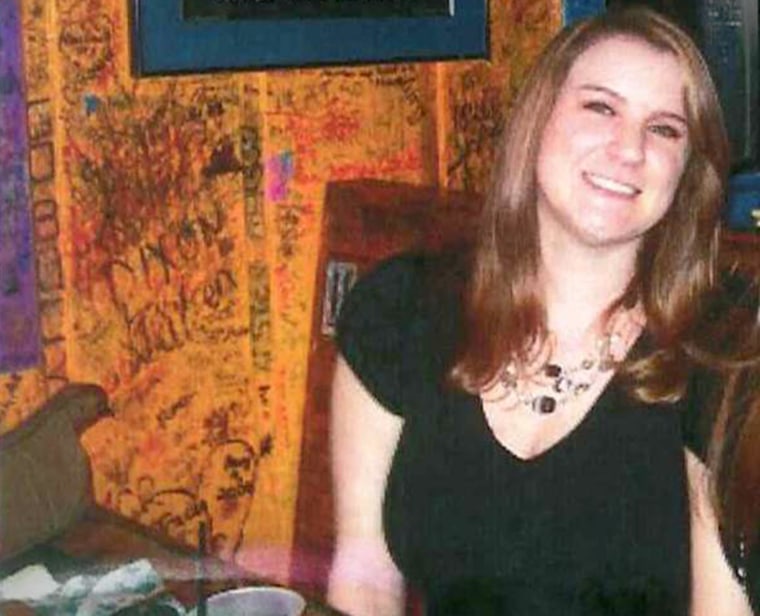 Brooke Melton's father and mother, Ken and Beth Melton, who have now settled their suit with GM for an undisclosed sum, told NBC News in an interview last month that they're angry that GM waited until 2014 to disseminate information that was available "so long ago."
"Our daughter might still be here today," said Melton.