PARIS — Actress Catherine Deneuve joined 99 other French women claiming that men are being unfairly targeted by sexual misconduct allegations, adding that the #MeToo campaign amounted to "puritanism" and was fueled by a "hatred of men."
In the aftermath of accusations against Hollywood film producer Harvey Weinstein, many women took to social media to share their stories of being sexually harassed or assaulted, using the #MeToo hashtag worldwide as well as #balancetonporc — or #SquealOnYourPig — in France.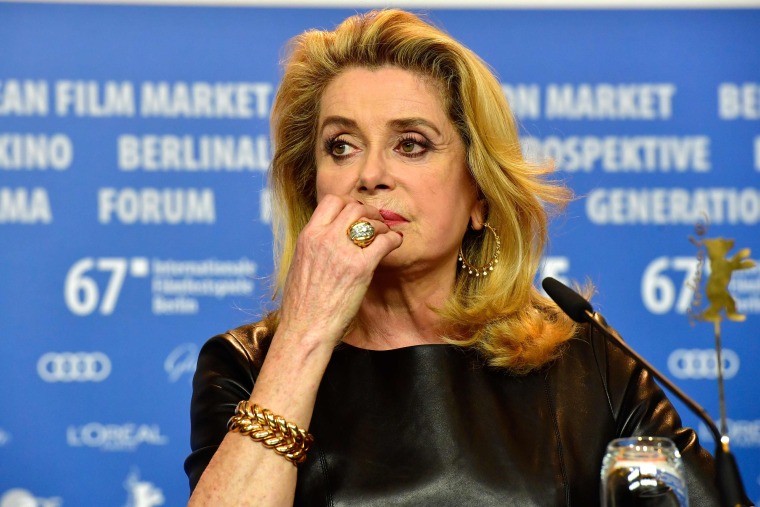 The 74-year-old Deneuve, who is one of France's most famous screen stars, was among those warning that the "legitimate protest against sexual violence" stemming from Weinstein scandal had gone too far.
"This urge to send men to the slaughterhouse, instead of helping women be more autonomous, helps the enemies of sexual freedom," the 100 performers, scholars and others said in a column published Tuesday by Le Monde daily.
The man's right to "pester" a woman was an essential part of sexual freedom, they said in the open letter, describing the campaign as "puritanism."
Marlene Schiappa, the French minister tasked with cracking down on violence against women, has said that the Weinstein scandal forced a rethink of attitudes toward sexual harassment in France, a country that cherishes its self-image as the land of seduction and romance.
"We defend a right to pester, which is vital to sexual freedom"
Schiappa kicked off nationwide consultations on a law that is due to include steps to fight sexual harassment on the streets as well as extend the statute of limitation for rape of minors.
In late October, protesters in Paris disrupted the opening of a retrospective of Roman Polanski's work following new rape allegations against the French-Polish film director.
But for Deneuve and the other signatories of the letter, including writers and journalists, this went too far.
"This vigilante (online) justice has punished men in their jobs, forced some to resign, when all they did was touch a knee, try to steal a kiss, talk about 'intimate' matters in a work dinner," they wrote. "We defend a right to pester, which is vital to sexual freedom."
Weinstein has denied engaging in non-consensual sex, and no criminal charges have been brought against him.
In a text published on the Franceinfotv website Wednesday, feminist Caroline De Haas and more than 30 activists strongly criticized the letter signed by Deneuve.
They said "it's a bit like the awkward work colleague or annoying uncle who doesn't understand what's happening."
French defenders of seduction have previously warned against a backlash that could demonize romance.
"France is a country of men who love women," Guillaume Bigot, who has written about the Weinstein fallout in France, recently told the Associated Press. "Seduction is a profound part of our national identity ... the culture of the 'French lover' and the 'French kiss' is in danger because of political correctness."