Movie mogul Harvey Weinstein was charged Friday with rape and a criminal sexual act in connection with accusations by two women — after being marched out of a New York City police station in handcuffs before a jeering crowd.
Weinstein's lawyer said the disgraced producer denies allegations he forced himself on women and may even testify before the grand jury in his own defense.
"Mr. Weinstein did not invent the casting couch in Hollywood," attorney Benjamin Brafman said after the arraignment in Manhattan Criminal Court. "Bad behavior is not on trial in this case."
The court appearance and so-called perp walk before dozens of cameras — gray pavement taking the place of a red carpet — opened a new chapter in the downfall of a man whose behavior sparked the #MeToo movement.
"This defendant used his position, money and power to lure young women into situations where he could violate them sexually," prosecutor Joan Illuzzi said in court, adding that a monthslong investigation into Weinstein was still active.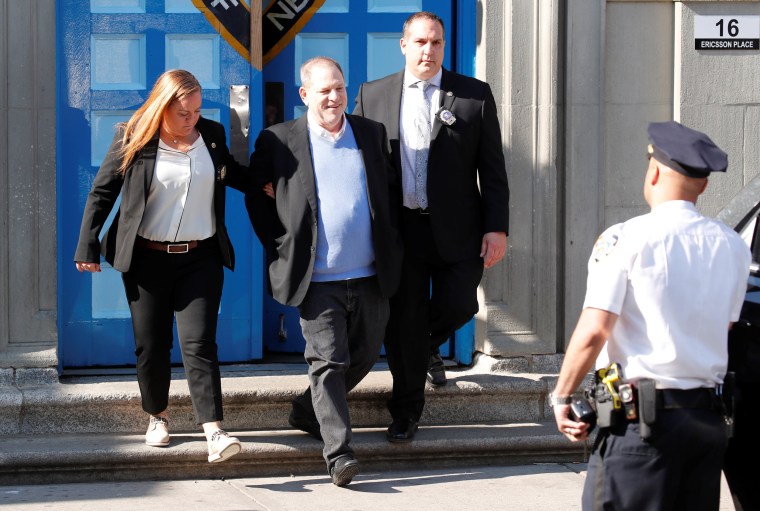 Weinstein did not speak during his arraignment on three felony counts: first-degree rape, third-degree rape and first-degree criminal sexual act tied to alleged incidents in 2004 and 2013.
He was released on $1 million bail, in accordance with an agreement worked out with prosecutors beforehand, and he will have to wear an ankle monitor and stay away from his accusers.
"The NYPD thanks these brave survivors for their courage to come forward and seek justice," police said in a statement.
The NYPD did not identify the women, but sources told NBC News that one of them is Lucia Evans, who has said Weinstein forced her to perform oral sex after luring her to his Tribeca office in 2004.
"I said, over and over, 'I don't want to do this, stop, don't,'" Evans told the New Yorker in October. "I tried to get away, but maybe I didn't try hard enough. I didn't want to kick him or fight him."
The rape charge is connected to a woman who has not been publicly named but who told police that in 2013 Weinstein attacked her at a Manhattan address that is the site of the DoubleTree Hotel, according to a criminal complaint.
Once one of the most powerful men in Hollywood, Weinstein turned himself in at the 1st Precinct just before 7:30 a.m. to be fingerprinted and photographed.
Reporters and onlookers flanked the producer as he got out of a black SUV, surrounded by detectives and ignoring shouted questions.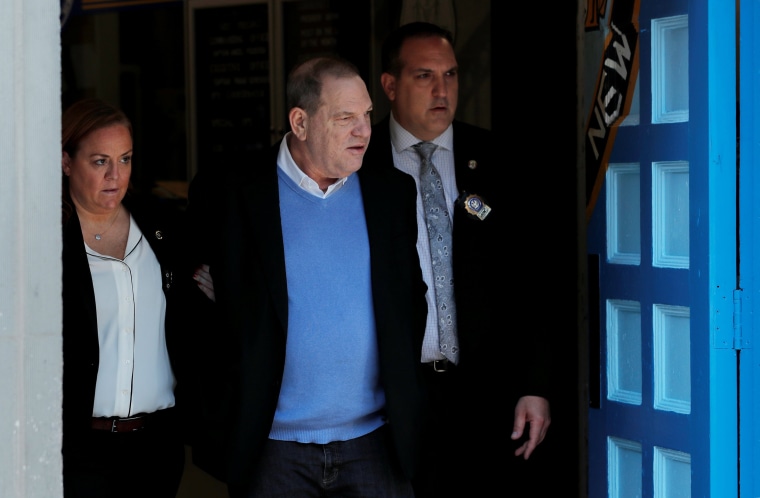 He wore a blue sweater, dark blazer and a weak smile as he took his first steps toward the stationhouse, but looked somber as he strode through the door. He carried several books, including "Elia Kazan: A Biography" and "Something Wonderful: Rodgers and Hammerstein's Broadway Revolution."
He left the stationhouse at about 8:45 a.m., hands cuffed behind his back, and another small smile on his face as spectators yelled at him. He entered the courthouse about 10 minutes later and was whisked away in a car when the arraignment was over.
"To see him in cuffs... that's a very good feeling," actress Rose McGowan, who says Weinstein raped her, told Megyn Kelly on the "Today" show.
Other accusers took to social media to celebrate his arrest.
"Today, Harvey Weinstein will take his first step on his inevitable descent to hell," actress Asia Argento said. "We, the women, finally have real hope for justice."
The New York case brought by the Manhattan district attorney isn't Weinstein's only legal trouble. In February, the LAPD forwarded three accusations to prosecutors to review and decide whether to bring charges.
Before he resigned as New York's attorney general amid sexual misconduct allegations of his own, Eric Schneiderman filed suit against Weinstein, and the producer faces lawsuits from accusers.
Dozens of women have accused Weinstein of a wide range of misconduct, ranging from harassment to rape, over decades. The accusers run the gamut from office workers to some of the biggest names in show business, including Uma Thurman, Salma Hayek, Lupita Nyong'o, Angelina Jolie, Ashley Judd and Rosanna Arquette.