New York's Metropolitan Opera suspended its famed longtime conductor James Levine on Sunday while it investigates allegations of sexual misconduct.
In a statement, the opera's general manager, Peter Gelb, said Levine wouldn't be involved in performances or other activities during the investigation.
"While we await the results of the investigation, based on these new news reports, the Met has made the decision to act now," Gelb said, adding that the opera's board and executive committee fully supported the suspension.
"This is a tragedy for anyone whose life has been affected," he said.
Gelb told NBC News on Sunday that the opera company first became aware of the allegations when Illinois police opened an investigation in October 2016.
"At the time [Levine] said that the charges were completely false, and we didn't hear anything further from the police," Gelb said in a written statement. "We need to determine if these charges are true and, if they are, take appropriate action. We will now be conducting our own investigation with outside resources."
The opera's announcement followed a report in the New York Post that Levine was accused in a police report of molesting a young man beginning when the man was 15 years old and that the sexual abuse continued for years.
The man, identified Sunday by The Times as Ashok Pai, detailed the allegations to the Lake Forest, Illinois, Police Department in 2016, according to the Post, which first reported the accusation. Lake Forest is where the boy lived when the alleged abuse began and near the site of the Ravinia Music Festival, north of Chicago, where Levine, now 74, was a conductor during summers from 1971 until 1993, according to the festival's website.
A copy of the police report was obtained by the New York Post and The New York Times.
Related: Since Weinstein, here's the list of men accused of sexual misconduct
Pai told police that he first met the conductor attending the festival as a young boy and continued to have harmless encounters with him for several years, according to the Post. Then, in 1985, Levine became physical with the boy in a car after dropping him off at home, the New York Post reported.
"I began seeing a 41-year-old man when I was 15, without really understanding I was really 'seeing' him," Pai, now 48, said in a written statement to police. "It nearly destroyed my family and almost led me to suicide. I felt alone and afraid. He was trying to seduce me. I couldn't see this. Now I can."
A relative of Pai's told The Times that the alleged victim first complained of the sexual abuse privately in 1993.
Levine's manager at Columbia Artists Management Inc. didn't immediately respond to a request for comment.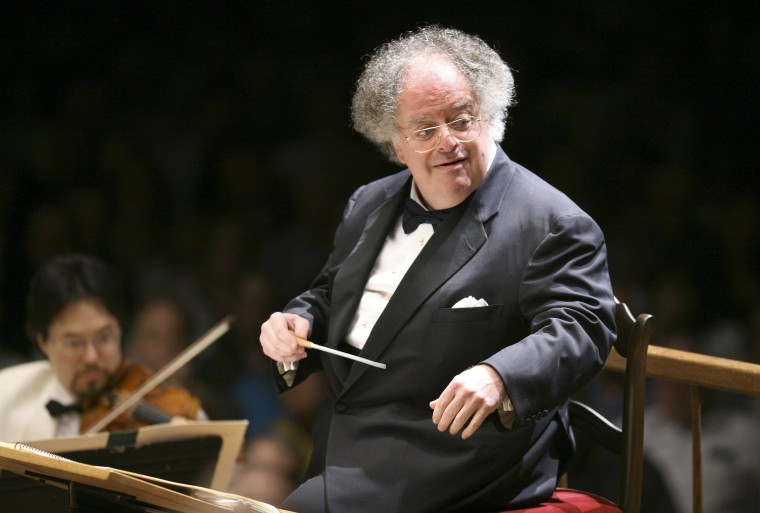 On Sunday, The Times identified two other men who it said alleged that they'd had sexual encounters with Levine beginning in the summer of 1968, when they were teens at a music school in Michigan. Levine, then 25, was a teacher at Meadow Brook School of Music and assistant conductor at the Cleveland Orchestra.
One of the men, James Lestock, told The Times that during a discussion in his dorm room Levine asked him to remove his clothes.
"This would be natural and honest and expand my outlook on the world," Lestock recalled Levine's having said, according to The Times. "My initial response included the word 'no.' I was not interested in that. But he ignored that, and pursued the point, and convinced me to let him masturbate me."
A few years later, The Times reported, Lestock joined the Cleveland Orchestra, where, he said, Levine asked members to put on blindfolds and masturbate one another. Once, Lestock told The Times, Levine told him that he should "expand" his "range of emotions" by allowing Levine to pinch him sharply on his legs.
"Once I started to break down and cry, he continued to try to hurt me," Lestock said, adding that he felt trapped at the orchestra.
Related: Playwright Israel Horovitz accused of sexual assault, harassment by several women
"If I had left the group at the point, I would have had no career, no income, no friends, and have been totally alone in the world," he said.
The Times found that Levine had been accused of unspecified allegations in 1979. The opera's former executive director, Anthony Bliss, sent a letter to a board member saying that after extensive conversations with Levine and his manager, he believed there was "no truth" to the allegations.
"Scurrilous rumors have been circulating for some months and have often been accompanied by other charges which we know for a fact are untrue," the letter said.
Levine, who first became musical director of the Met in 1976, continued to work there as recently as Saturday night, when he completed his run conducting Giuseppe Verdi's "Requiem." Levine was next scheduled to conduct Giacomo Puccini's "Tosca," on New Year's Eve.
The conductor, known for his wild hair and revered for his musical talent, has won 10 Grammys and been nominated 37 times. He was honored by the Kennedy Center in 2002, along with Paul Simon, Chita Rivera, Elizabeth Taylor and James Earl Jones. He was also the conductor in Disney's "Fantasia 2000."