The lawyer for actress Paz de la Huerta accused the Manhattan district attorney's office Friday of dragging its feet on indicting disgraced Hollywood honcho Harvey Weinstein for rape.
Carrie Goldberg said she fears this could be a repeat of what happened two years ago when Weinstein escaped charges after Italian model Ambra Battilana Gutierrez accused him of groping her and captured him on tape saying "I won't do it again."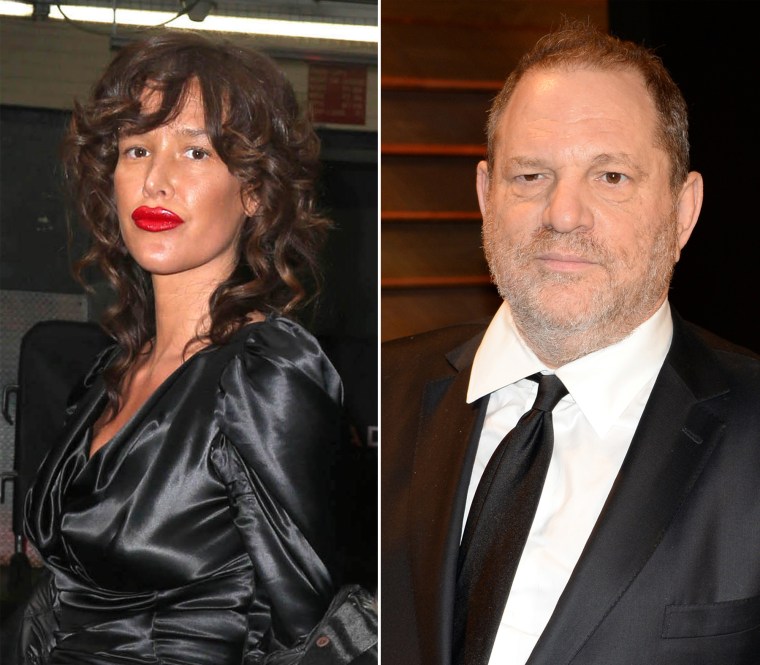 "We are very concerned about the unbelievable similarities here with what went down in 2015 when prosecutors dropped a strong case against Weinstein," Goldberg said in a statement. "We are deeply concerned about the foot-dragging in convening a grand jury."
Goldberg said they are throwing "down the gauntlet on behalf of our client" and are urging District Attorney Cyrus Vance Jr. to "convene a grand jury by the end of next week." De la Huerta claims Weinstein raped her twice in 2010.
Related: Since Weinstein, here's a list of men accused of misconduct
"The NYPD detectives agree that there is probable cause to arrest," she said. "They have copious evidence, yet once again, they aren't arresting."
While not mentioning Vance by name, Goldberg singled him out for stinging criticism.
"We have a DA who consistently refuses to prosecute powerful sexual predators," she said. "We have a DA who receives campaign donations from Harvey Weinstein and his attorneys…the DA must stop being complicit in Harvey Weinstein escaping punishment."
Goldberg was referring to reports that Weinstein lawyer David Bois gave Vance a $10,000 campaign contribution after he decided there was not enough evidence to prosecute the producer for allegedly groping Gutierrez.
A spokeswoman for the DA's office denied allegations that the probe has stalled.
"This remains very much an active investigation," she said. "We'll decline further comment."
A senior NYPD official told NBC News that they have not been told to put the kibosh on the case but admitted "there are considerable issues with the case."
"The case was weak from the beginning and she was not steadfast," the officials said, referring to de la Huerta. "There are also time gaps that are unexplained and it seems like there is no reasonable expectation of moving forward."
That is a markedly different tone from last month when NYPD Chief of Detectives Robert Boyce said the allegations against Weinstein are "credible."
"We have an actual case here," Boyce said.
Weinstein has apologized for his treatment of women over the years but he has insisted through his spokesperson that any allegations of nonconsensual sex are "unequivocally denied."
Reports that Weinstein allegedly harassed or assaulted dozens of women over the decades have triggered a deluge of accusations of sexual misconduct against other powerful men, including "Today" anchor Matt Lauer, who was fired this weekby NBC News.
Weinstein's lawyer Benjamin Brafman declined comment.
De la Huerta, a model and actress best known for her role as Lucy Danziger in "Boardwalk Empire," told Vanity Fair Weinstein sexually assaulted her on two occasions — about a month apart — in her New York City apartment.
"He's like a pig," she told the magazine. "He raped me."
NBC News has confirmed that police in Los Angeles and London are also investigating sexual misconduct or sexual assault allegations against Weinstein.