The message of the #MeToo movement came out in bits and pieces through much of Sunday night's Oscar telecast, but it began an emotional crescendo with a montage of activists, introduced by three women who gave prominence to the movement with their sexual misconduct accusations against producer Harvey Weinstein.
"This year, many spoke their truths," said actress Annabella Sciorra, one of the hosts of the montage, "and the journey ahead is long. But, slowly, a new path has emerged."
Ashley Judd, one of the first to publicly accuse Weinstein of abuse, spoke next to a worldwide television audience that in years past has been estimated at 1 billion. "The changes we are witnessing are being driven by the sound of powerful new voices," said Judd, "of different voices, of our voices, together in a mighty chorus that is finally saying 'times up.'"
The third presenter was actress Salma Hayek, who wrote a New York Times op-ed piece accusing Weinstein of being her "monster," too. Hayek said she was so moved by the Oscar tribute to women that she was shaking. She said many of the women in the movement had to break through "the biased perceptions against their gender their race and ethnicity to tell their stories."
The video that followed featured a group of Hollywood actresses, directors and others marking the watershed exposure of misconduct that began in 2017.
Said actress Mira Sorvino, another of Weinstein's accusers: "Everyone is getting a voice to express something that has been happening forever, not only in Hollywood, but in every walk of life."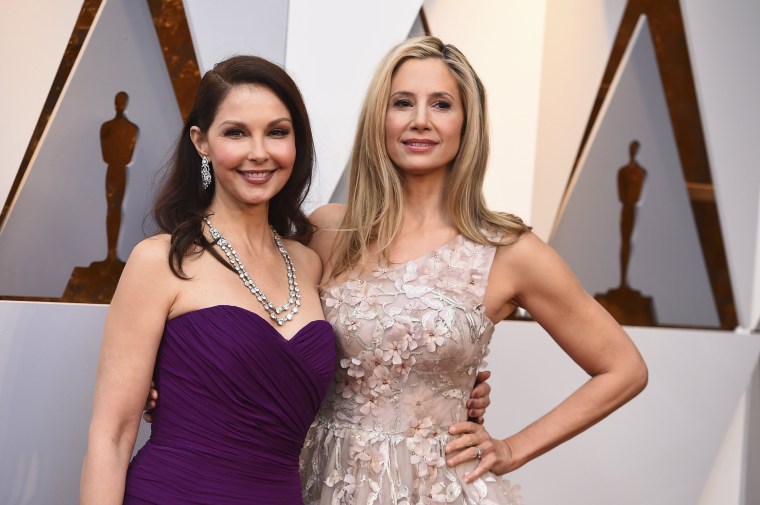 Comedian Sarah Silverman said that some people were fearing change. "Some people, in their hearts, they're threatened or they're scared," she said. "And there's nothing to be scared of. It's just equality."
Geena Davis, the co-star of "Thelma and Louise," a film that was supposed to mark another breakthrough for women, struck a cautionary note. She told the audience that the 1991 film had the press saying "this changes everything" and predicting "we are going to see so many more movies starring female characters." But Davis added that while a major breakthrough did not occur, she believes "this is now that moment."
The reckoning day for men who have overstepped their bounds had not gone unnoticed early in the evening. It was one of the most discussed topics on the red carpet and the subject of more than one quip by host Jimmy Kimmel.
Photos: Stars shine at Oscars as show faces scrutiny after #MeToo
In a nod to "The Shape of Water" director Guillermo del Toro, Kimmel said: "Thanks to Guillermo, we will remember this as the year men screwed up so badly that women started dating fish."
The empowerment theme picked up steam after the video montage. Jennifer Lawrence, introducing the Best Actress award, said: "It's a new day in Hollywood, with new challenges ahead for all of us. But none of us will ever forget those who came before us, those who blazed a trail for my generation and for those to come."
Frances McDormand, accepting the Best Actress award for "Three Billboards Outside Ebbing, Missouri," made it clear that what's more important is what happens after the awards program fades into memory. McDormand insisted that all the women nominated in all categories stand and join her for a moment of recognition.
Then she had a specific demand of those who still hold much of the money and power in Hollywood, namely men. She said that after the night of festivities, the men should sit down and do business with the women of Hollywood.
"OK, look around, everybody," McDormand said. "We all have stories to tell and projects we need financed."