The teenage boy who managed to fly from California to Hawaii the landing gear of a jumbo jet may have been attempting to find family in Africa, according to a local report.
Police sources in Maui told NBC affiliate KHNL that the 15-year boy was trying to make his way to the continent to find family members, but wound up in Hawaii when he boarded the first plane he saw in the middle of the night at San Jose's airport.
The boy from Santa Clara, Calif., first hopped a fence Sunday at about 1 a.m. local time near a fuel farm at Mineta San Jose International Airport, officials said.
About 12 minutes later, video shows him climbing into the wheel well of Hawaiian Airlines Flight 45. He must have slept or hid in the plane for a few hours before it actually departed.
The 767 landed at Kahului Airport on Maui at 10:30 a.m. local time (4:30 p.m. ET) Sunday.
About 45 minutes later, the boy can be seen on video at that airport climbing out of the left main landing gear wheel — disoriented but in good condition, despite having been unconscious with little oxygen for most of the 5½-hour flight.
Airline workers saw him on the tarmac immediately and called authorities.
Initial reports said that the teen ran away from home after an argument with his father, but NBC Bay Area reports that his sister has denied that account, albeit in a brief interview.
She answered with a simple "no," when asked whether her brother ran away because of an argument, KNTV reported. She also her brother was "OK" physically following the death-defying trip.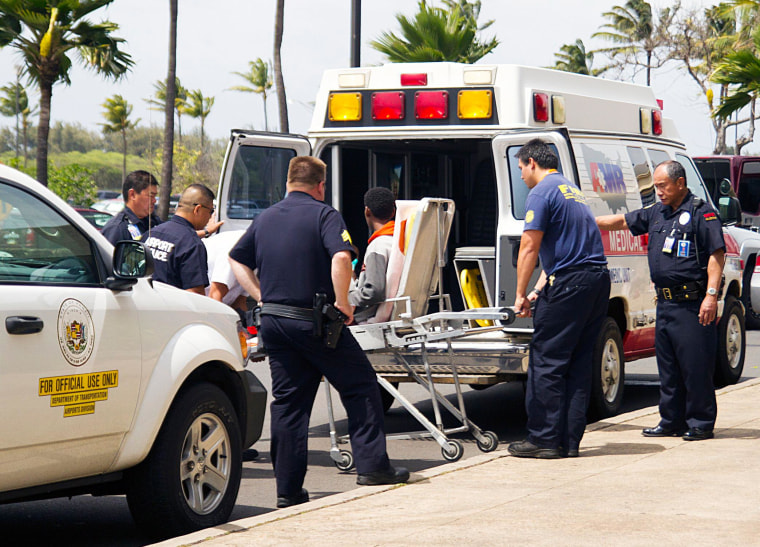 — Hasani Gittens