A Louisiana State University fraternity chapter has been formally suspended four days after the organization launched an investigation into the suspected hazing death of a student.
Preliminary results from an autopsy showed that prospective Phi Delta Theta member Maxwell Gruver, 18, had a "highly elevated" blood alcohol level and the chemical found in marijuana in his system when he died Thursday. The autopsy did not state the cause of death.
Following Gruver's death on Tuesday, Phi Delta Theta General Headquarters announced it had "formally suspended and removed the charter from its Louisiana Beta Chapter at Louisiana State University."
"We continue to keep the entire Gruver family in our thoughts and prayers during this very difficult time," Bob Biggs, executive vice president and CEO of Phi Delta Theta, said in a statement. "This is a very tragic situation that should have never happened."
Related: Hazing in America
Prior to the suspension and removal of Phi Delta Theta, all Greek life activities at LSU had been suspended.
The decision was made to shutter the fraternity after the Phi Delta Theta General Headquarters found that some of its members had violated risk management policies, including the organization's alcohol-free housing policy.
The organization has had an alcohol-free housing policy since 2000, and has a blanket anti-hazing policy.
However, violations among numerous chapters have been reported, including allegations of hazing.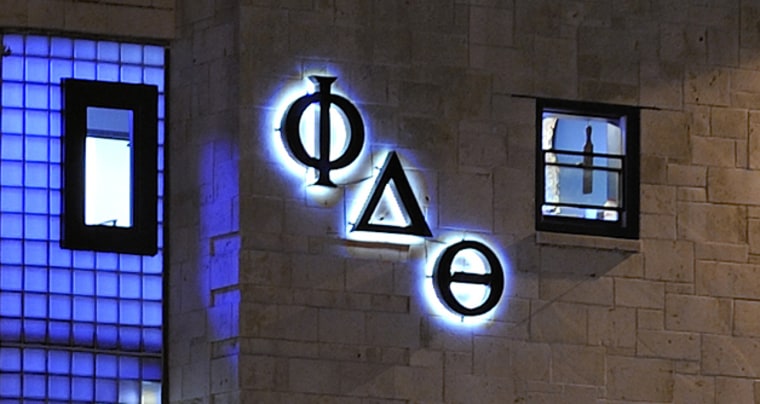 The organization said that despite its decision to remove the chapter at LSU, it will continue to support the ongoing investigation launched by the school and law enforcement into Gruver's death. In the statement, the Phi Delta Theta General Headquarters said it encourages authorities to prosecute those involved in Gruver's death to the fullest extent of the law.
The fraternity is also conducting an internal investigation and will be reviewing its health and safety policies and educational programs.
"This tragedy furthers our belief that one of the biggest problems on college campuses today is the abuse and misuse of alcohol," Biggs said, adding that Gruver's death "serves as a stark reminder of why we need to continue to educate our undergraduates on the dangers of alcohol, hazing, and be constantly vigilant to ensure our risk management policies are fully implemented."