A grand jury report on Friday blamed Penn State University for allowing a lack of oversight, shoddy record-keeping and an accepted culture of underage drinking and hazing to flourish for years before culminating in the February death of a fraternity pledge.
The long-awaited 236-page report said school administrators "displayed a shocking apathy to the potential danger associated with doing nothing."
Timothy Piazza, 19, was furnished alcohol during a pledge event at the Beta Theta Pi house, fell down basement steps and was left to languish for nearly 12 hours before members called for help, prosecutors said.
"If it takes eliminating these dens of depravity that won't reform their ways, do it," Centre County District Attorney Stacy Parks Miller said at a news conference in which she laid out the grand jury's findings.
Read the grand jury's report here
"No fraternity's existence is worth more than the life of a Tim Piazza," she added.
The report, based on a 10-month investigation, relied on testimony and emails from former students and university employees, and was also critical of the school's student-run Interfraternity Council, or IFC — tasked with self-monitoring the 49 Greek-letter chapters.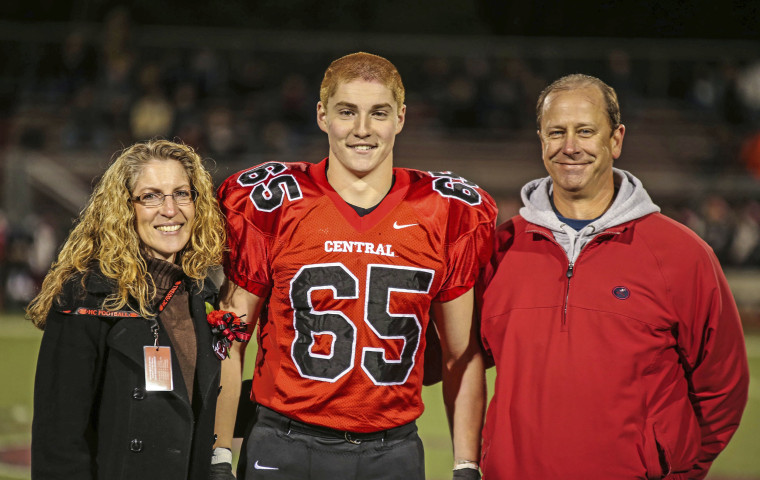 The report noted a "complicated marriage" between fraternities and Penn State because fraternity membership dues are used to pay certain employees' salaries and the fees for a security firm hired to check on fraternity parties.
The grand jury heard testimony from IFC members who admitted that sometimes, at their discretion, the security firm's checklists would not be passed on to the university's Office of Student Conduct. One of the security firm's workers said they were basically hired as nothing more than "glorified babysitters."
Related: Why did no one call 911 after pledge Timothy Piazza got hurt?
The report also said Beta Theta Pi had problems with alleged hazing and underage drinking since at least 10 years ago. Penn State officials were subsequently made aware of it in 2008, Miller said, but nothing was done except to shut it down for a year.
One email sent by a Beta member to a school official acknowledged that the fraternity needs to "change the direction of fraternity life to more about brotherhood and less about night club," the report added.
Miller, meanwhile, suggested that Penn State's hands were tied precisely because the school — like other universities — counts on "wealthy donors who are past fraternity members" for financial contributions.
Penn State President Eric Barron said in response Friday that the university's Greek Response team will review the grand jury's findings.
But the school "strongly disagrees with many characterizations of the University and our record of action as presented by the District Attorney ... we remain deeply committed to turning the pain and anguish of this tragedy into reforms that continue to improve the safety and well-being of our students," he said in a statement.
The university shut down the Beta chapter permanently after an internal investigation into Piazza's death and the Beta Theta Pi International Fraternity suspended the group. The international's leaders said they have "clearly and consistently expressed its position that it does not tolerate hazing or alcohol abuse."
Penn State also ended the self-governance model and seized disciplinary control over all Greek fraternities and sororities on campus, including instituting a zero tolerance for hazing.
The grand jury's report comes a month after new and additional charges were filed against 17 people linked to Beta Theta Pi after other more stringent charges were dismissed in September. In total, 26 people face criminal charges in connection with Piazza's death, and 14 of them have already been ordered to stand trial on the lesser charges.
Related: Colleges are suspending Greek life. Don't expect the ban to last
The ex-Beta members have denied all charges.
The grand jury's report also made several recommendations for the school and state lawmakers to institute to help put an end to hazing and underage alcohol consumption.
Those include the passing of "Tim's Law," which would create a tiered system of criminal punishment for hazing — as much as a first-degree felony charge if a person dies.
Another suggestion is for fraternity members and pledges to be required to sign a "pledges bill of rights," making them aware that hazing is unacceptable and that there are consequences.
Piazza family attorney Tom Kline, said Friday that if the grand jury's recommendations are taken seriously, "we believe you have a very good prescription for the future."
Penn State acknowledged as well that the problems of hazing and alcohol use "will require the concerted action of everyone if we are to create sustainable change."