On the last night of his life, Louisiana State University student Maxwell Gruver was pelted with hot sauce and mustard and ordered to recite the Greek alphabet as part of his initiation into the Phi Delta Theta fraternity — and forced to chug hard liquor if he messed up.
And when the 18-year-old freshman died later at a Baton Rouge hospital, he had a blood alcohol level of .495 — more than six times the legal intoxication level in most states.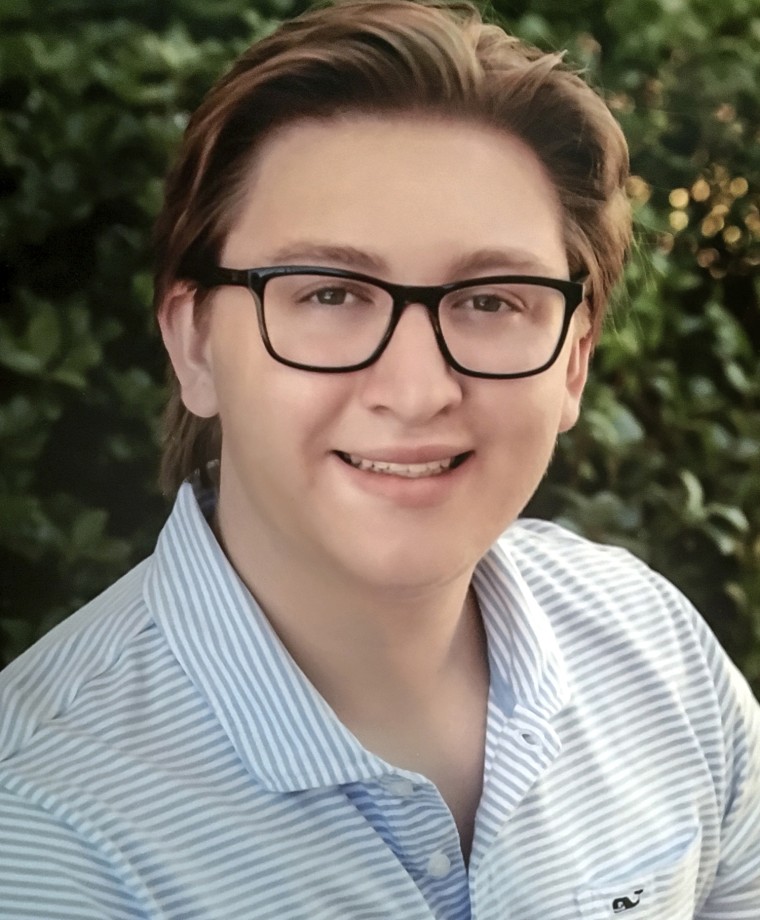 Those grim details about Gruver's death were laid out in arrest warrants released Wednesday as 10 current and former LSU students were formally charged with hazing — and one of them, Matthew Alexander Naquin, 19, was charged with negligent homicide.
One of the pledges "stated he could hear Gruver messing up the Greek alphabet and Naquin tell him to drink," the arrest warrant for Naquin, who lives in Boerne, Texas, states.
Eight of those charged are enrolled in LSU and are active members of Phi Delta Theta, a police spokesman said. The two others — Patrick Forde, 20, of Westwood, Massachusetts, and Sean Paul Gott, 21, of Lafayette, Louisiana — are not enrolled at LSU but have ties to the fraternity.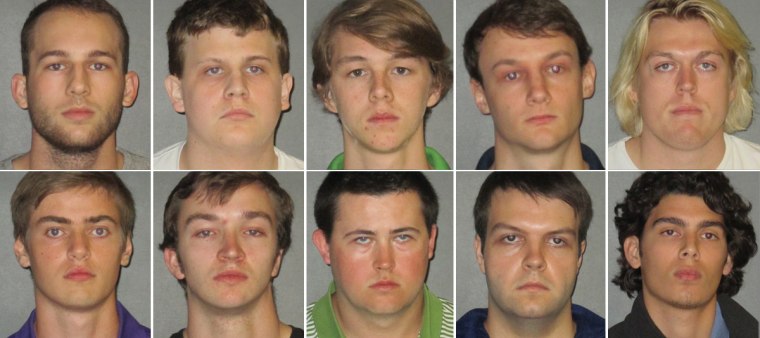 The arrests came almost a month after Gruver, a prospective Phi Delta Theta member from Roswell, Georgia, died after what police called a "potential hazing incident."
Gruver and the other pledges had gotten a group text on Sept. 13 saying a "Bible study" would take place that evening at a chapter house where they would be grilled about the fraternity and forced to do "wall sits" and "planks" and take slugs of "Diesel" if they gave the wrong answer, according to the arrest warrants.
An autopsy revealed that Gruver died of "acute alcohol intoxication with aspiration."
"This is a very serious matter involving allegations of dangerous behavior and a gross disregard for the health and safety of a fellow student," said Linda Southall of the East Baton Rouge District Attorney's Office.
Police identified the other suspects as: Zachary Castillo, 19, of Gretna, Lousiana; Elliott Eaton, 20, of New Orleans; Zachary Hall, 21, of Charlotte, North Carolina; Hudson Kirkpatrick, 19, of Baton Rouge; Sean Pennison, 21, of Mandeville, Louisiana; Nicholas Taulli, 19, of Cypress, Texas; and Ryan Isto, 18, who is from Canada.
All were booked at the East Baton Rouge Parish Prison and ordered held on $5,000 bail, the spokesman said. Naquin's bail was set at $10,000.
If convicted of hazing, which is a misdemeanor, the suspects face a maximum of 30 days in jail and expulsion from LSU.
Gruver's father, Stephen Gruver, declined to comment on the arrests after NBC News reached him at his suburban Atlanta home.
In a statement, Phi Delta Theta said the accused students had been kicked out of the fraternity.
"Actions such as those described in the charges filed today are completely inconsistent with the values of Phi Delta Theta and in full violation of our established and communicated risk management policies," it said. "After completing our initial investigation into the events around September 13 and reviewing the charges brought today by local police, Phi Delta Theta has formally removed the membership of those charged in this incident. This action effectively severs ties with those alleged to be involved."
Earlier, LSU President F. King Alexander said the arrests "underscore that the ramifications of hazing can be devastating."
"Maxwell Gruver's family will mourn his loss for the rest of their lives, and several other students are now facing serious consequences — all due to a series of poor decisions," Alexander said in a statement.
Following Gruver's death, all Greek activities at the Baton Rouge-based university were suspended and Phi Delta Theta shuttered the LSU chapter after determining that some of its members had violated the organization's alcohol-free housing policy.
Although Phi Delta Theta claims to also have a blanket anti-hazing policy, NBC News reported that dozens of chapters have been disciplined for breaking that and other rules since 2000. Other chapters have also stirred up controversy with sexually or racially insensitive stunts.