Colleges and universities around the country are battling underground or "rogue" off-campus groups that act as a substitute for traditional Greek life but often without any oversight.
The problems the groups pose surfaced last month when American University in Washington, D.C., expelled 18 students associated with a so-called underground fraternity, Epsilon Iota (EI), in a move that experts on hazing said was unusual if not unprecedented.
"This group has perpetuated and systematically presented a threat to the safety and well-being of our students," Fanta Aw, the university's interim vice president of campus life, said in a statement.
Interactive: Where Hazing Is a Crime in the U.S.
American said misconduct findings ranged from "physical violence, hazing and underage drinking, to providing assistance to and perpetuating the activities of an unrecognized group engaged in prohibited conduct."
Hank Nuwer, a journalism professor at Franklin College in Indiana who has written several books on hazing, said the expulsions were rare.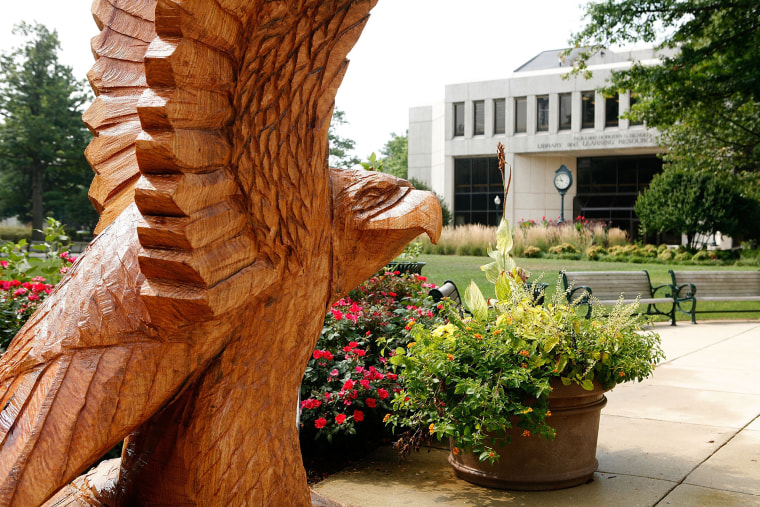 "I think it's unheard of," he said. "I really can't tell you any other one that has done that."
He said universities usually make such a move only after an "immediate crisis," such as the death of a student.
Recent deaths linked to hazing have renewed attention on traditional fraternities and sororities. In February, Timothy Piazza, a pledge at Penn State University, died after an alcohol-fueled party, and last week a freshman at Louisiana State University died in what authorities called a "potential hazing incident."
But problems surrounding hazing in off-campus groups present another challenge. Nuwer said there are two main types of underground groups: those that began as sanctioned organizations but lost that status after "running afoul of the university" and those created by students who hadn't previously had a relationship with a Greek letter organization.
Emily Pualwan, executive director of HazingPrevention.org, a nonprofit that works to prevent hazing, said no formal database tracked "either underground groups or those who have lost their sanction and continue to operate."
"Many are discovered when an incident occurs and it is reported in the news, or after a death," she said.
The very nature of these unsanctioned groups can make them especially troublesome for universities, said Norm Pollard, dean of students at Alfred University in upstate New York and a board member at HazingPrevention.org.
"What's really problematic is they have no affiliation with an external oversight group, so they don't have a structure of accountability," he said.
The national fraternity Alpha Tau Omega suspended its Epsilon Iota Chapter at American University in 2000 over violations of hazing and alcohol rules, the university said. American formally withdrew recognition of the fraternity in 2001.
But former members of the fraternity created EI in 2002 — and since then, the university has received reports linking members to reports of rape, sexual assault, hazing, drug use and underage drinking, it said.
Related: Judge in Penn State Hazing Death Dismisses Felony Charges
"With underground groups, it's typically purely social," Pollard said. "It's a secret organization without adult oversight, involvement without assistance of the university or college office of Greek life, so they're engaging in a lot of extreme behavior without very much regulation, unfortunately.
"When fraternities and sororities work well, it's a great learning opportunity," he added. "Social experience and leadership and those things are lacking when they go rogue on their own."
American has been warning students about EI since its inception and even cautions incoming freshmen in its summer orientation programs.
But universities have struggled to discipline students in these groups because they aren't officially recognized, often operate off campus and can be secretive in their membership and activities, Pollard said.
And students have a right to free association, so schools often can't discipline members until a specific complaint is filed, Nuwer said.
Related: Do Penn State's Reforms After Hazing Death Go Far Enough?
For example, the alcohol-related death of freshman Everett Glenn led Lafayette College in Easton, Pennsylvania, to ban students from joining unrecognized fraternities and sororities.
And in 2014, Amherst College in Massachusetts banned students from participating in underground groups after allegations surfaced that the school had mishandled a high-profile sexual assault case. Amherst did away with its fraternity system in 1984, but underground groups appeared in its wake and were allowed to exist off campus.
While these groups aren't subject to direct oversight, students at most schools are still governed by a code of conduct determined by the administration. Once a complaint is filed, colleges can take steps to amend their policies to include off-campus organizations.
In 2016, American University amended its student code to prohibit "providing assistance to or in any way perpetuating the activities of an Underground Group that violates the Code and/or other university policies."
The University of Pennsylvania said this year that it would identify off-campus groups, update anti-hazing regulations to include unregistered groups and require those groups to provide the school with contact information of its leaders and membership rosters. The move followed an incident in which an underground fraternity sent a sexually suggestive invitation to an off-campus party to freshmen women, according to The Philadelphia Inquirer.
Part of the guidelines call for making it clear "that hazing is prohibited in any organization, regardless of whether the group is registered with the University" and regardless of where the event takes place.
Nuwer added that beyond underground groups, hazing in sanctioned "model" fraternities and sororities left students especially at risk.
Related: Why Did No One Call 911 After Pledge Timothy Piazza Got Hurt?
"The chapters that lie, like in Penn State with Beta Theta Phi that had a great reputation, are more dangerous than the underground, where everybody knows they're bad," he said, because they are "doing illegal things behind closed doors but are doing so under a cloak of respectability."
Following the death of Piazza, 19, after a pledge event at a fraternity house, Penn State President Eric Barron said: "All indicators suggested Beta Theta Phi was a model fraternity."
Seventy-seven percent of fraternity and sorority members said they know someone who has admitted to hazing, someone who has been hazed, or both, according to an NBC News|SurveyMonkey poll. And 55 percent of those who were members of fraternities or sororities said they had experienced hazing themselves.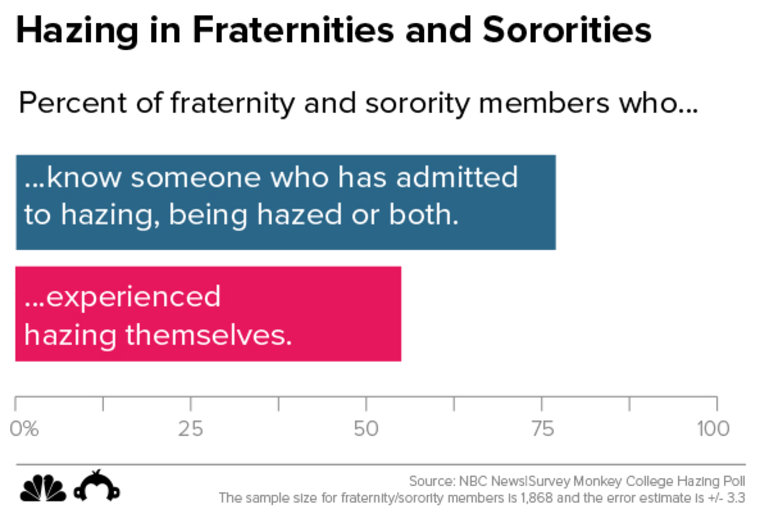 Piazza's death led to a series of changes. Penn State shut down the Beta chapter, which was an officially recognized group, and the Beta Theta Pi International Fraternity suspended the group.
Nuwer, who tracks hazing-related deaths, said his research showed that there has been at least one death a year in U.S. schools from 1961 to 2017.
"I really don't see an end in sight at this stage," he said.
With universities cracking down on both rogue and recognized groups and with new students coming in every year, Pollard said, continual monitoring and enforcement are necessary for lasting change.
"Students are coming sometimes from a hazing experience in high school, so there's a level of familiarity that they may have," Nuwer said. "Then they get to college and introduce alcohol, and hazing can turn deadly."
The NBC News|SurveyMonkey poll was conducted online from Sept. 5 through 11 among a national sample of 10,408 adults. Respondents for this non-probability survey were selected from the nearly 3 million people who take surveys on the SurveyMonkey platform every day. Results have an error estimate of plus or minus 1.4 percentage points. For full results and methodology, click here.