MIAMI, Florida - As I sat in the audience waiting for Journey to Mutum: A Cultural Encounter with the Yawanawá of the Brazilian Amazon, I expected to be intrigued, but not transformed.
Like many Latino Americans, I had all but lost the connection to any of my Indigenous traditions, favoring the more European or African side of my cultural personality. But their beautifully painted faces, gorgeous beaded cuffs and stunning feathered head piece were like nothing I had ever seen before. Before I knew it, I found myself yelping the traditional "Yoohoo" as I jumped to my feet to join their friendship circle.
By the end of the performance I felt as though I'd been the one to travel 23 hours on motorized canoes, trucks and planes to be a part of their tribe. I was profoundly and primally moved, feeling connected to everything and everyone around me. Apparently this is a typical response.
Anne Marie Miller, President and CEO of Indigenous Celebration always hoped to find the connection between North America and South America. And when she learned about the Yawanawá and their work to forge unity through meaningful cultural immersion, she knew she could learn a lot from them.
RELATED: Little Coverage, Attention to U.S. Indigenous Latinos
"I was deeply touched by their music," Miller said. "The music can really transport you. It's just a very powerful form of their expression. Upon visiting that tribe, I learned that this culture is really in danger. It's in danger of extinction within our generation. And this experience of this tribe is not unique; it's happening in tribes everywhere."
What most of us don't realize is that our survival very much depends on these ancient tribes. It's estimated that by 2020, half of the Amazon will have been decimated.
Studies show that nobody knows how to care for the Amazon like the tribes that have lived in it for millennia. But they're disappearing as quickly as the Amazon, which is why the Yawanawá have traveled to bring their message of hope and resilience to our continent. But the fact that they're willing to reach out to us is more extraordinary than it looks.
RELATED: With Migration, Indigenous Languages Going Extinct
After a century of enslavement by the rubber barons and abuse at the hands of Christian Missionaries, the Yawanawá tribe was almost wiped out. When priests sent Baraci Brasil, a young Yawanawá, to Rio Branca to study, he learned about Indigenous land rights and returned to Mutum to reclaim all 360 miles of Yawanawá territory for his tribe.
In 1991 Brasil managed to banish the last of missionaries and taught neighboring tribes how to reclaim their land. But he soon realized lasting damage had been done. An entire generation was lost and did not speak the Yawanawá language fluently. A handful of elders took action to teach their youngest tribe members how to survive in the Amazon independently of the outside world; much of the youth had become dependent on modern technology.
This is when the Yawanawá realized they needed to find a balance between their indigenous culture and modern society.
Jordao Souza 'Pekuti' is the only Yawanawá initiated into the tribe. He understands both the impulse to retreat and the importance of reaching out.
RELATED: Eat Healthier By Looking to Our Indigenous Ancestors, Say Latina Authors
With traditional Yawanawá headers made of macaw feathers and covered in their traditional body paint, Pekuti explained. "Based on the past relationships with white people, many Brazilian tribes started closing themselves off, they did not want contact with the outside world at all."
"They were shrinking till they were gone," Pekuti continued. "But the Yawanawá were pioneers in opening themselves to alliances with the white people seeking a better understanding. This is how I got to know them."
With a 5-city tour as well as the sales of their traditional beaded accessories the Yawanawá hope to raise money to establish their Tradition School of Mutum, which would be open to anybody from around the world that wants to learn their ways.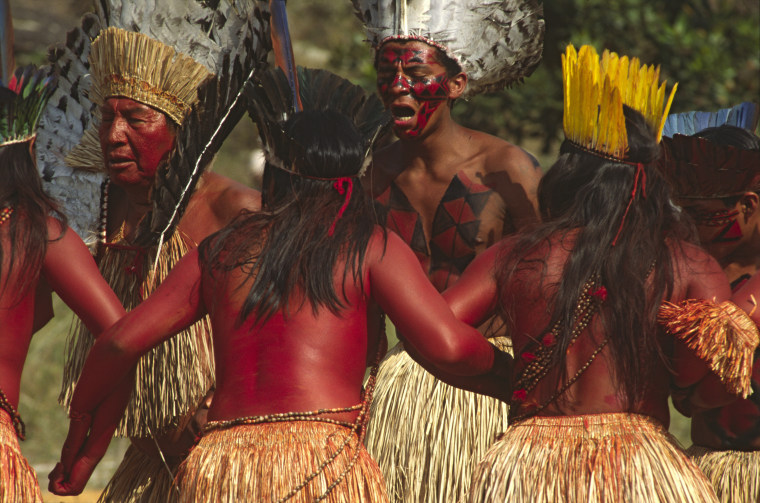 By inviting people to participate in their ceremonies, they hope to build a bridge between not only our continents, but our consciousnesses. They're the embodiment of "We're all in this together."
And the message is resonating. After their first performance I asked Stephanie Ansin, Artistic Director of Miami Theater Center why she invited them to kick off their five-city tour in Miami.
"Miami is part of Latin America," she said. "We just had 300 randomly chosen high school students in this audience. We asked for 6 questions after the show. Four of the questions were asked in Portuguese," she said. Portugese is Brazil's main language.
"That was completely a reflection of our community," said Ansin. "Their gesture of celebration, support, appreciation and exchange, is crucial for the health of every person on this planet and relevant to our community."
RELATED: Two-Thirds of Latinos Consider Hispanic Their Race: Pew Report
Executive Director of MTC Elaiza Irizarry knew American Latinos would appreciate their message.
"I think we know more about the tribes than Americans know about their tribes because we learned that in the school. I think we have information, a culture. And we respect them."
But she was equally proud of the the greater possibilities of the encounter.
"It's bringing something that belonged to all of us in Latin America to this country. And you saw today, the Seminoles, the Lakota, and the Oneida/Ojibwe tribe joined us today. They were sharing the same feeling, the same connection. They are the owners of the earth you know, they are the mother -it is what it is."
Video by NBC News's Natalie Valdés