An acclaimed Mexican-American leader who foresaw the potential power of the Latino vote decades ago is the focus of a documentary airing Monday night on PBS as part of its Election 2016 programming.
"Willie Velásquez: Your Vote Is Your Voice" tells the story of a grass-roots activist who mobilized Latinos into a movement that permanently altered the American political landscape.
Born William C. Velásquez in San Antonio in 1944, "Willie" Velasquez had a lifetime of involvement with the Latino community. As a young man, he was a founding member of the Mexican American Youth Organization (MAYO). After graduating from St. Mary's University, he helped organize strikes for Cesar Chavez' United Farm Workers in South Texas.
His greatest legacy was founding a voter registration group that encouraged Latinos to run for office, litigated 85 successful civil rights lawsuits, and organized hundreds of nonpartisan get-out-the-vote efforts.
Velásquez was on a trajectory towards greater prominence when he died suddenly in 1988, of complications from kidney cancer. He was 44 years old. Then-Massachusetts Governor Michael Dukakis delivered his eulogy, and President Ronald Reagan sent condolences. At a time when there were few nationally-known Latino leaders, Velásquez' death merited mentions in The New York Times and the Los Angeles Times.
Velásquez laid the groundwork for generations of Latinos, especially Mexican-Americans, to become politically active. But today he likely remains unknown to most Americans – including most Hispanics.
In 1974, the idea of Latinos organizing politically was a radical concept — but not to Velásquez. The group fought the remnants of Jim Crow as they got Hispanics registered.
That's a situation that Hector Galán, producer and director of Your Vote Is Your Voice, hopes to change. "I think one reason that Willie is not better known now, is that he was just taking his regional movement national when he died," he said. "Willie really only had a few years in the national arena."
Had Velásquez lived longer, Galán believes he would have achieved the prominence of figures such as Cesar Chavez and Dolores Huerta.
Galán pointed out that much of the history of the Latino civil rights struggle of the 1960s and 1970s is not well documented. The African-American civil rights movement in the south, he explained, drew many members of the press and volunteers from the northeast, who then returned home to report what they had witnessed.
This largely did not occur with Latinos in the southwest. "In a way, I am happy to re-introduce Willie to America before he is erased or forgotten," he said.
RELATED: 2016 May Not Be the Year of the Latino Vote, But Time is on Its Side
Willie Velásquez: Your Vote Is Your Voice features interviews with people who knew him or were impacted by his work, including former San Antonio mayor Henry Cisneros; Lionel Sosa, founder of one of the largest U.S. Hispanic advertising agencies; HUD Secretary Julián Castro and his mother Rosie Castro, and MSNBC analyst Victoria DeFrancesco Soto.
Willie's sister, Stella Velásquez Cortez, remembers him as a serious-minded child. "He was very observant. He was like an old soul, as a kid," she told NBC News. "When we were walking home from school, he would ask me, 'Who is more important, Truman or Eisenhower?' And this was in first grade!"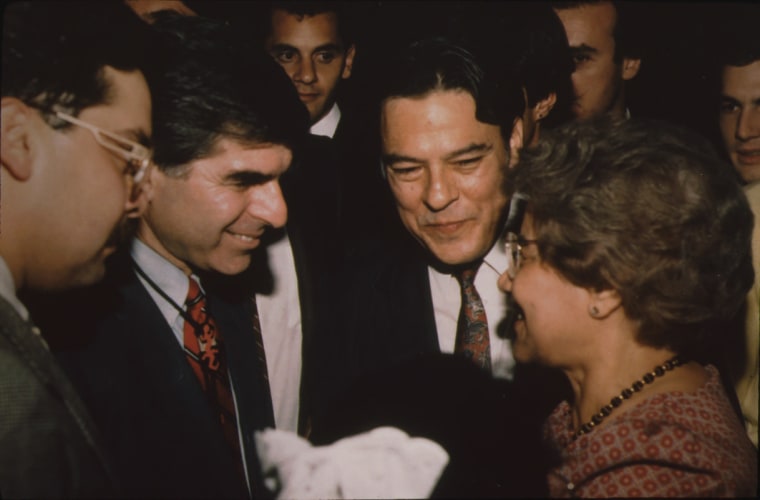 Velásquez Cortez believes that her brother was a born leader. "He always had it in him," she noted. When her brother started college, Velásquez Cortez recounted that he noticed that most of the other students from his former high school were being sent to Vietnam upon graduation. So Velásquez went back to his alma mater and organized a "sit-out" among the students, who demanded college prep courses and better educational resources.
Like many of the youth of his day, Velásquez took part in marches and protests against discrimination and for equal opportunities for Latinos.
But he had an epiphany when he decided that Latinos had to take their political power into their own hands. His rallying cry became Su voto es su voz (Your vote is your voice) and he launched the Southwest Voter Registration and Education Project in 1974.
Back then, the idea of Latinos organizing politically was a radical concept. The group's beginnings were decidedly humble; its first office was a folding table, a chair, and a borrowed rotary phone.
Through the Southwest Voter project, Velásquez set out to register one million new voters. As he recruited volunteers to knock on doors and register people, the group fought the remnants of the Jim Crow laws in the Southwest and mounted legal challenges to gerrymandering, which often denied Latinos their potential political power.
RELATED: For Latinos, 1965 Voting Rights Act Impact Came A Decade Later
"If Cesar Chavez started the Latino civil rights movement, then Willie Velásquez was the father of the Latino voting rights movement," Antonio Gonzalez, president of the Southwest Voter Registration and Education Project, told NBC News.
During Velásquez' early years of organizing, the political landscape was far different from that of today. In 1974, there were only 2.4 million Latino registered voters. Few Latinos in Texas held elected office, even at the lowest level, or in predominantly Mexican-American communities. However, Velásquez' Southwest Voter project helped many Texas towns and counties elect their first Latino school board members, city council members, judges, and state representatives.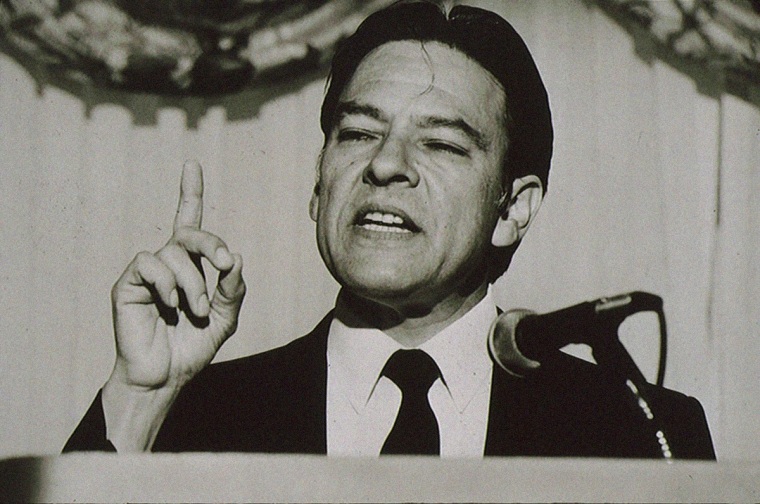 David Montejano, professor at the graduate school of the University of California Berkeley, recalled working with Velásquez on his organizing campaigns. "Once we mobilized in San Antonio, we were involved in exporting these methods elsewhere, sometimes to little towns where we had to work very quietly, almost undercover. We would convene the local community leaders and encourage them to get active in politics," he said. "Then, little by little, we saw things start to change as Mexican-Americans got on the ballot and were elected to county and city offices in these small rural communities."
Montejano laughed when he recalled some aspects of their organizing. "There was no social media. We used a mimeograph machine and ran off flyers," he said. "Then we would hand them out to people, or sit at a table at the grocery store and talk to people. We did picket lines. We personally circulated posters and announcements through the community. That was our social media: us."
RELATED: Politics Starts Locally - The Legacy of the Mothers of East L.A.
Velásquez wanted Latinos to vote, but he also wanted them to be part of the informed electorate. In 1984, he started the Southwest Voter Research Institute, to conduct polls among Latino voters on policy issues. In 1981, he formed the Southwest Council of La Raza, a forerunner of the National Council of La Raza. He taught politics at Harvard University. His nonpartisan Southwest Voter group was advising major candidates including George H.W. Bush and Ted Kennedy.
At the peak of his career, Velásquez discovered he had kidney cancer. Doctors gave him a year to live, but he lasted only a month after his diagnosis. He died on June 16, 1988.
In a cinematic twist, moments before he passed away Velásquez whispered, "Qué bonito es el mundo nuevo," (What a beautiful new world it is). His family and friends have since wondered if he was speaking about this world — or the next. Those words are now on his tombstone.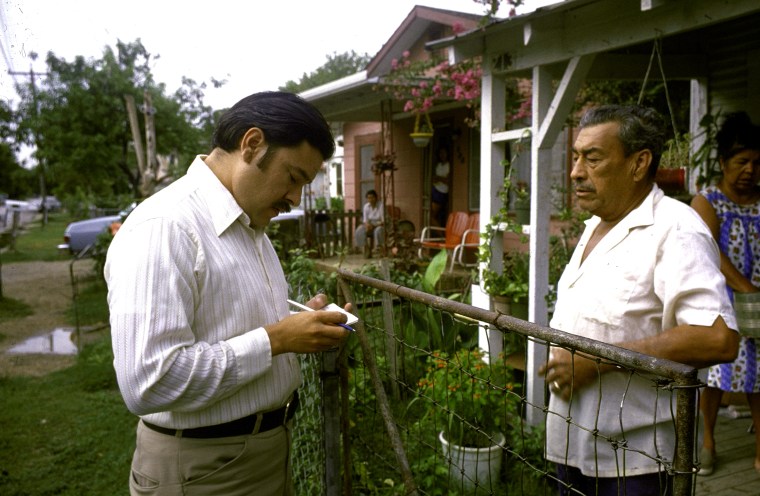 In 1995, Velásquez was posthumously awarded the Presidential Medal of Freedom, the highest honor a civilian can receive, from President Bill Clinton. Velásquez was only the second U.S. Latino to receive this award. "Willie was and is now a name synonymous with democracy in America," Clinton said. "And no person in modern America who has run for public office wherever Hispanic Americans live has failed to feel the hand of Willie Velásquez."
Willie's wife of 18 years, Jane Velásquez, remembers accepting the medal on Willie's behalf. "It was such a great honor, for us to be at the White House. We all met President Clinton, we were so excited, it was like an out-of-body experience" she told NBC News. "It was so nice that Willie received this recognition. I only wished he had received it when he was alive."
Jane Velásquez described Willie as "a man of great integrity" who enjoyed everything from biographies of Winston Churchill to Tejano music. "He was sort of like a renaissance person, he loved to read, he loved the arts, the opera," she said. "And he was very family oriented. He loved his two families – us and his work family."
Even she was not aware, she said, of the full impact of Velásquez' work until after he was gone.
In 2012, Governor Rick Perry designated May 9 (Velásquez' birthday) as "Willie Velásquez Day" in Texas, a day of recognition of his life and legacy. It was first observed in 2014. An effort to erect a statue of Velásquez in San Antonio is ongoing. Juan A. Sepúlveda wrote his biography in 2005.
RELATED: OpEd: Restoring Voting Rights to the Disenfranchised
Willie's sister Stella Velásquez Cortez said that she is excited about the documentary because it will bring her brother's legacy to the attention of a younger generation. "Back when he passed away and it made the news media, it was very gratifying to see how people appreciated what he did," she said. "However, nowadays he (Willie) is forgotten. The younger generation doesn't know about him, and that is sad – especially right now with the way things are in the political arena. His causes, like voter registration, need to be revitalized. Our community needs another champion."
Antonio Gonzalez of Southwest Voter said, "Willie was the fire that burns twice as bright – but only half as long." He noted that his organization and the William C. Velásquez Institute continue to carry on Willie's work, in areas ranging from get-out-the-vote efforts to Cuba policy to climate change.
"Willie's legacy lives on through the people he inspired and led back in the day," Gonzalez said. "Hopefully, this documentary lets us pass on that inspiration and charisma and vision. He showed that if you have a vision and you can organize, then you can materialize it — and that is his story."
The documentary "Willie Velásquez: Your Vote Is Your Voice" airs Monday, Oct. 3 on PBS at 10:30pET, check local PBS listings.