BRONX, NY – She is an actress who has performed for decades on an iconic television program. She is a household face, and an award-winning writer. But this morning, she is traipsing through Crotona Park in The Bronx, a woman in search of a bench. When this proves fruitless, she laughs and sits to chat instead under the shade of a nearby tree.
"I'm sorry, I feel like I've dragged you on a wild-goose chase. There used to be a lot of benches around here and I was actually looking for the bench that I am standing on in one of the pictures of the book," exclaims Sonia Manzano, 65, known for her role as "Maria" on "Sesame Street."
"But things have obviously changed around here," said Manzano. "We used to come to the park every day. My mother worked and my father worked. My cousins lived nearby. So we all used to come to the park and wreak havoc."
Manzano's childhood and adolescence are the focus of her latest book, "Becoming Maria: Love and Chaos in the South Bronx." Her memoir comes on the heels of her July announcement that she would be leaving "Sesame Street" after 44 years. This news was greeted with nostalgia and affection among her many fans; one Washington Post reporter referred to her character as "surely the most loved person on TV."
Manzano's own childhood was far from the comforting world she helped bring to life on the small screen. In kindergarten, one of her favorite games was playing "jumping out a window of a burning apartment." From an early age, she was an eyewitness to such adult problems as alcoholism, drugs, and domestic abuse.
In elementary school, Manzano asked her teacher whether she was "middle class." Her teacher's blunt reply: "No, you are poor, very poor, just like everybody else at this school."
As a child trying to make sense of her life, Manzano turned to television. "I did grow up in this crazy world and I watched television a lot for comfort. And to try to figure things out," she said. "And I used to try to connect the dots. And I used to watch television to get information and try to figure out why we weren't like those people on television."
"And I think that that sensibility stayed with me, and I got on "Sesame Street." And I remembered myself watching television and looking for answers," she continued. "And so, I've always thought there was a kid out there that's just like me, confused, no one's talking to them, and I could offer… an hour of peace and tranquility and order in a world they recognize."
Yet Manzano's childhood did not lack for joy and wonder. In "Becoming Maria," she recounts how her father would serenade the family with old Puerto Rican songs on his guitar, her earnest discussions with childhood friends about "pelo malo" (bad hair), and her discovering – on a New York City subway – the thrill of reading.
One of the hardest things for young Manzano to understand was the complicated relationship between her parents. Her father once beat her mother's head on the radiator, and he would sometimes fly into a rage and destroy the furniture. These episodes would take place and then family life would return to normal, as if they had never occurred, leaving Manzano mystified as to what it all meant.
"Oh, it's been really wonderful," said one of TV's first and most visible Latinas. "I always knew that I had made an impact. But I think now I really know."
Back then, Manzano remembers that the only times she saw Latinos in the media was when her mother took her to the Mexican movies. "And when a black person showed up on television, the neighbors would all say, look, look, look!... like it was such a phenomenon, " she said. "And then, when… you're not reflected in society, you wonder how you're going to contribute to a world that doesn't see you."
Manzano escaped her neighborhood when a teacher recommended that she apply to New York City's famed High School of Performing Arts. She auditioned and was accepted, only to discover that her Bronx public school education had left her ill-prepared for the outside world. "I didn't know what a noun was, I didn't know what an adverb was," she said. "The inner city education was so inferior to the one I had to compete with at that time."
Manzano went on to the prestigious and competitive Carnegie-Mellon University on a scholarship. It was performing in a workshop there that led to her first professional role, in the original off-Broadway production of "Godspell." Then came her tryout for "Sesame Street" in 1971 – an audition she recalls as "twenty minutes" worth of an interview and an improvisation – for the job that changed her life.
Aside from being one of the first and most visible Latinas on television, her character's trajectory would come to mirror her own. Manzano married her husband in 1986; "Maria" got married on-screen in 1988. When Manzano was pregnant, it was written into the show. For a time, her real-life daughter played her daughter on TV. Along the way, besides teaching kids their ABCs and 123s, she helped explain topics from breastfeeding to HIV/AIDS to young viewers.
During her time on "Sesame Street," Manzano also became a writer for the show, winning 15 Daytime Emmy awards for her work. She said that she turned to writing to fulfill her creative energy. In fact, Manzano has another book coming out soon, a children's book entitled "Miracle on 133rd Street."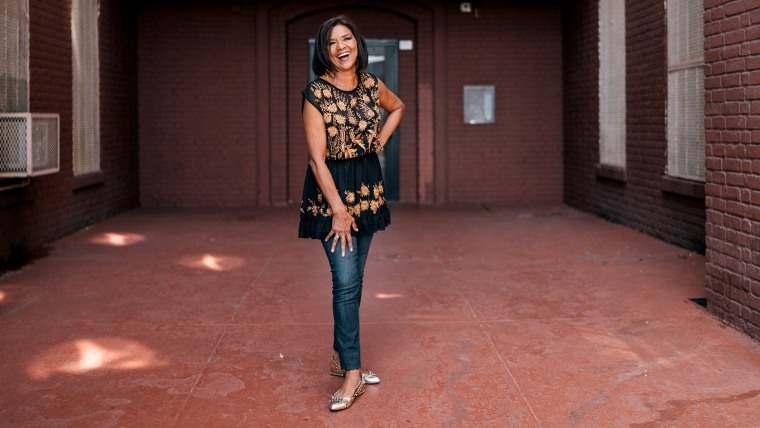 Manzano said she thought for some time about leaving her TV job. "The show produced less and less shows," she said, "and expanded the cast with more and more humans and more and more puppets. So there was less opportunity for me to work."
In the early days of "Sesame Street," she said, they were producing about 160 episodes a year; these days, that number is down to about 20. Still, Manzano did leave the door open to the possibility of making a few guest appearances in the future.
Asked what she thought of the recent announcement that "Sesame Street" would be moving to HBO, Manzano said Sesame Street always reflected the world around it. "I think this move is kind of a mirror of the society we live in. So if I'm going to criticize anything, it's not "Sesame Street."
She said that the move to HBO will allow the show to produce more episodes, adding, "I'd be sadder if it weren't on the air at all."
For Manzano, it has been very gratifying to hear people's reactions to the news that she is retiring from "Sesame Street."
"People have opened their hearts to me and have said that 'if I hadn't seen you, I never would have gone into broadcasting,' 'you were somebody I related to,' 'I felt I was part of the world when I saw you' –even very sad things, (like) 'I was abused and I watched you and I had a moment of comfort because I saw you.'"
"Oh, it's been really wonderful," Manzano said. "I'm not going to be modest. I always knew that I had made an impact. But I think now I really know."