In the weeks leading up to Hispanic Heritage Month, Latina mom and teacher Frances Evans carefully researches and gathers her materials together to teach her students about the culture. Last year, she threw a Hispanic Heritage Month Fiesta to introduce the children to the culture and to famous Latinos. She relied on children's biographies to help her.
"We started our fiesta with story time by reading Tito Puente, Mambo King, Tito Puente, Rey del Mambo," Evans says, "and I gave the kids instruments to play with as I read the story - there's a part that the reader says, 'tum, taca, tum'."
"Tito Puente, Mambo King," by Monica Brown is just one of a small but growing number of Latino biographies for children that have been published in recent years. Brown is a Peruvian-American author and a Professor of English at Northern Arizona University, specializing in U.S. Latino Literature and Multicultural Literature. She's written over a dozen books in the Latino children's literature genre, more than half of which are biographies that include musicians, a soccer legend, activists, and writers. Most of the books have won literary awards, such as "Pablo Neruda: Poet of the People," which won the Américas Award for Children's Literature.
Both Monica Brown and Margarita Engle write biographies to teach children about Hispanic heritage and to highlight the lives of Latino figures who deserve to be better known.
And as an educator, Brown enjoys creating resources that shed light on popular figures giving readers a clearer and more accurate look at history. "I loved writing 'Side by Side: The Story of Dolores Huerta and Cesar Chavez,'" she says, "because I was able to put Dolores Huerta, one of my activist heroes, alongside Cesar Chavez in history, where she belongs."
Brown says she began writing these stories for her own children.
"I wanted my daughters to grow up knowing about Gabriela Mistral," Brown says. Her bilingual book "My Name is Gabriela: The Life of Gabriela Mistral" is one of the first ones she published. It highlights the daughter of a poor single mother who ended up winning the Nobel Prize for her poetry and who helped shape education in Chile and Mexico.
But the stories of lesser-known figures are also beginning to emerge.
Cuban American poet Margarita Engle has written many of them. Her award-winning books include "The Lightning Dreamer" and "The Poet Slave of Cuba."
Engle says that over the centuries, women and minorities have been left out of history books, whether deliberately or by negligence, because they weren't regarded as important. "Even today," Engle says, "it's extremely difficult for me to find publishers for picture book biographies of people who aren't considered 'famous enough.'"
RELATED: Test Yourself! Take Our 1st 2015 Hispanic Heritage Month Quiz
She says that the only way educators and parents can change that is by doing what Evans is doing: teaching and reading these stories out loud. But Engle says that resource materials are needed. So she's doing her part by writing the stories. One of the books she published this year is "Drum Dream Girl" which is based on the true story of Millo Castro Zaldarriaga, a Chinese-African-Cuban, who at the age of 10 in 1932, dared to break Cuba's traditional taboo against female drummers.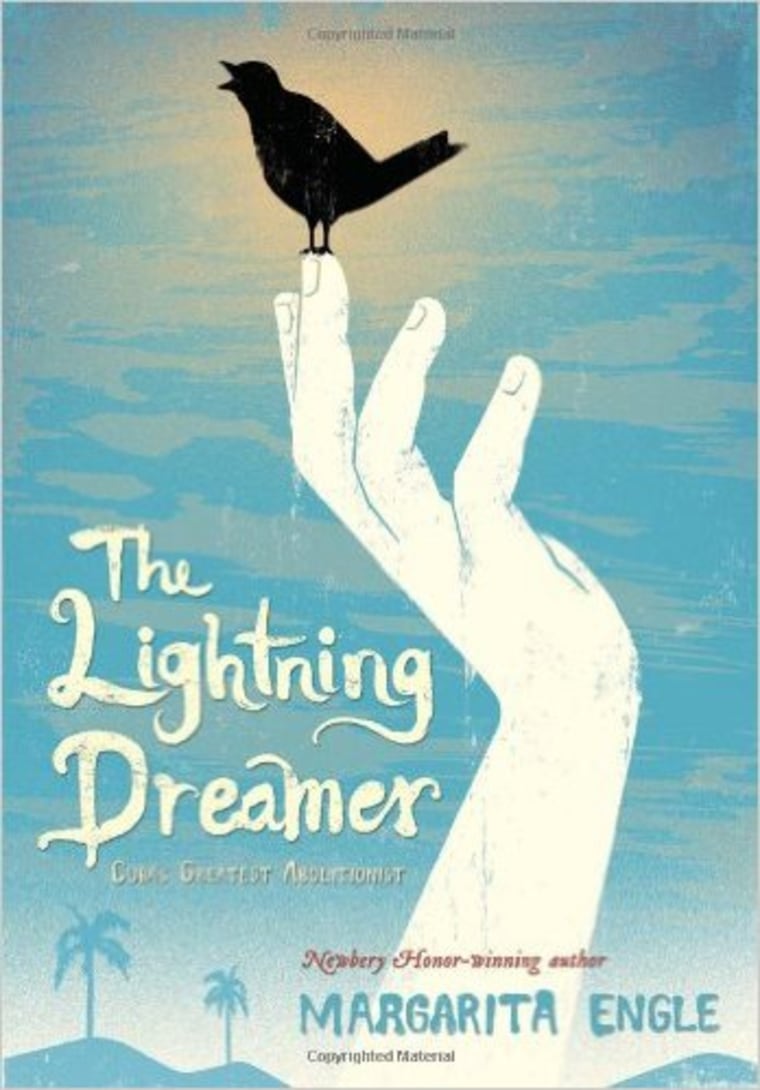 A voracious reader, Engle chooses her subjects after reading about real people whose combination of courage and originality intrigues her. "I absolutely love writing about people who dared to try creative ways of thinking," she says, "such as gender equality, racial equality, and peacemaking in societies where those were not yet accepted goals."
That's why Engle is working on a series of picture books about Latinos whose contributions have had an impact on STEM fields. Her first book in the series, "The Sky Painter: Louis Fuertes, Bird Artist", highlights the story of Fuertes, who is considered to be the father of modern bird art and whose work helped encourage wildlife conservation.
Her next book is currently being illustrated by Sara Palacios, and is scheduled for publication by Atheneum in 2017. "It's about a Cuban-American teenager," Engle says, "whose name you've never heard, even though she deserves to be famous." The rest of the series is still searching for publishers.
Both authors are deeply committed to writing and sharing the stories of influential Hispanics, and feel their work is especially important now.
Brown says, "With all the negative political rhetoric surrounding Latinos and, in particular, Latino immigrants in our current campaign climate, I think we need to acknowledge and celebrate the contributions to this country. Migrant farmworkers, for example, help put food on our table and they deserve to share in the harvest."