AUSTIN --- Like lifeblood itself, even at 87 and after seven decades of delighting his fans, music still courses through Manuel "Cowboy" Donley's veins.
"It keeps me alive," says the Mexican-American singer, multi-instrumentalist, arranger, bandleader and composer.
"It's his elixir," his daughter, Sylvia Donley, says.
Music is a young person's game, and few stay on top forever. But in the twilight of his extraordinary life, at an age when most people are slowed by Father Time, Manuel Donley, a Tejano musical maestro and pioneer, is enjoying a remarkable run these days.
Earlier this month, Donley received the prestigious National Endowment for the Arts' lifetime achievement award in Washington, D.C., one of only 13 U.S. artists in the fields of folk, traditional arts and jazz to be awarded the 2014 National Heritage Fellowship. Donley also performed at a special concert at George Washington University celebrating the honors.
On September 25th, Donley returned to his home in Austin to perform in the campfire-like intimacy of the Cactus Cafe at the University of Texas, his first time to play at the iconic venue which has hosted the likes of younger stars like Lyle Lovett and Alejandro Escovedo. A jubilant standing-room-only crowd cheered Donley, who fed from their energy, smiling broadly, exulting in the applause and thrusting his fist skyward to punctuate the endings of songs.
In the late 1940s, Donley, a Mexican-born 7th-grade dropout who would teach himself to read and write complex musical charts, began fashioning a uniquely Texan and Mexican American sound which came to be known as Tejano.
Earlier in the week, around the kitchen table at his small wood-frame home in the same barrio where he grew up. Donley displayed childlike wonder as he reflected on his remarkable career, which started in East Austin cantinas and clubs.
"Never in my dreams did I ever imagine this could happen," Donley said.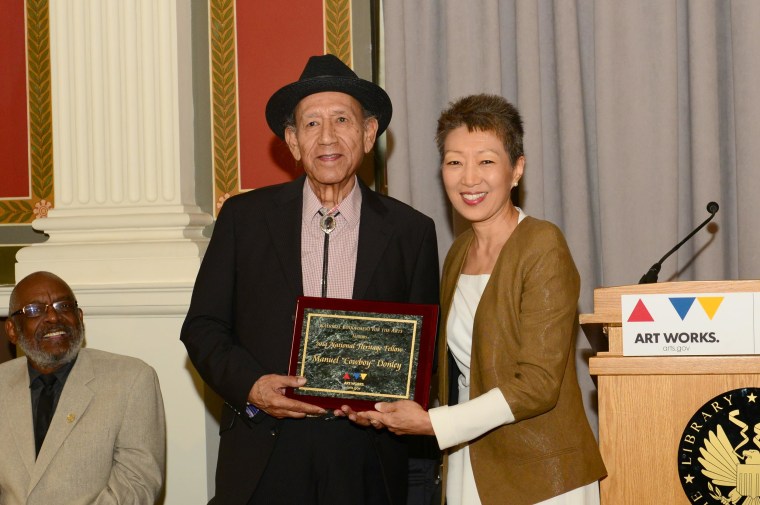 The National Heritage Fellowship honor came with a $25,000 prize. As a youngster, Donley sang in the bars for tips. A penny a song. On his biggest night, he sang 12 tunes. "Twelve pennies," he said. "Man, I thought I was rich."
In the late 1940s, Donley, a Mexican-born 7th-grade dropout who would teach himself to read and write complex musical charts, began fashioning a uniquely Texan and Mexican American sound which came to be known as Tejano. With his band Las Estrellas, Donley plugged guitars to electrical amps and shook up the staid, ranchera- and bolero-heavy repertoires of the popular Mexican American musical groups in favor of a new musical stew of ebullient rock 'n' roll rhythms with dashes of blues, jazz and big band. A key ingredient was to give the old Mexican songs an American "feel." With his full-throated, soaring tenor vocals, Donley was the bandleader and played a mean guitar.
"We were loud. We made noise" Donley exclaims.
The new sound caught on like a brush fire. Fans drove hours to see him play. Donley became a rock star and his contemporaries began copying the hip, brassy Tejano sound.
"He certainly was one of my musical heroes," says Little Joe Hernandez, the 73-year-old multi-Grammy-winning Tejano star. Hernandez would go see Donley perform because he wanted to play the guitar like him.
"It's a long time coming," Hernandez says of Donley's national recognition. "I feel he has not gotten all due him."
Like many who know him, Hernandez heaps praise on Donley the human being, who always welcomed him warmly backstage or after the show. Donley was the rare successful musician who willingly shared his knowledge, Marcelo Tafoya, a radio industry veteran during Donley's heyday, said in a 2010 interview.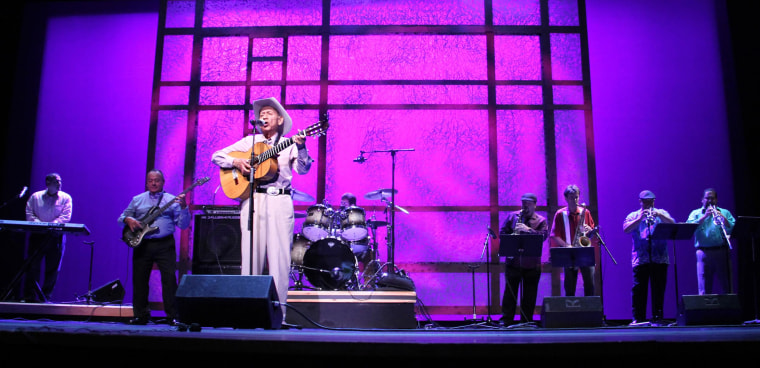 Donley toured Texas and Midwest for two decades, his bands sometimes a dozen players strong and laden with horns, a Tejano signature to this day. He estimates he recorded more than 150 singles on 16 different record labels, among them his 1965 smash, "Flor del Rio," which he played at the NEA concert in Washington and at the Cactus Cafe. He has performed for former Mexican President Vicente Fox and many other VIPs, and in 1986, was inducted into the Tejano Hall of Fame.
Humble almost to a fault and with his easy, grandfatherly manner and age-defying soft features, the wiry Donley is as approachable as he was when Tejano's future royalty closely watched him to see what they could learn. Donley deflects praise and says he merely followed his passion. "I do my best, that's all," he says.
His eyes are cloudy these days, the result of macular degeneration, so he can't see musical charts anymore, and recently he's battled health issues. During a hospital stay in 2012, Donley kept a guitar by his bedside, and Sylvia serenaded him. "Music kept him going," she says.
Donley still performs about twice a week, usually with Sylvia. In 2012 he recorded the critically acclaimed album, "The Brown Recluse Sessions," a compilation of boleros and other Spanish songs sung in the trio romantic style made famous by Los Panchos and other ensembles. Donley may have made an early, loud splash with rock and jazz stylings, but it's the Spanish-language chestnuts, songs like "El Rey," "El Reloj," "Solamente Una Vez," and "Sin Ti" which have stood the test of time and are a mainstay of his shows.
He has no plans to stop anytime soon. The man who once said he would put his ubiquitous guitar down when he was dead now has another thought.
"I'm going to ask to be buried with my guitar," he says with a smile.
Sounds like the making of a song.