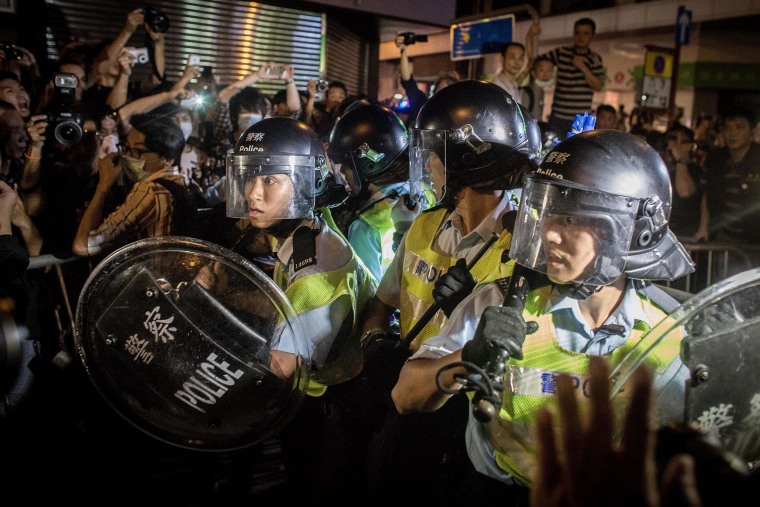 Violent clashes erupted early on Sunday in a Hong Kong protest hotspot as unarmed pro-democracy activists once again confronted riot police despite the confirmation of talks between protest leaders and officials early this week.
Hong Kong's 28,000 strong police force has been struggling to contain a youth-led movement that has shown little sign of waning after three weeks of standoffs in which hundreds of thousands of people have occupied city streets to demand full democracy in the former British colony.
In the densely populated Mong Kok district, police managed to earlier repel protesters from a major intersection but have faced a significant pushback. In the early hours of Sunday, demonstrators launched a fresh midnight assault, suddenly putting on helmets and goggles to ready themselves, before surging forward to grab a line of metal barricades hemming them into a section of road.
Amid screams and cursing, hundreds of officers began whacking the protesters who raised a wall of umbrellas. Pepper spray was used intermittently amid violent scuffles. The police then surged forward with riot shields, forcing protesters back.
"Black Police! Black Police!" the crowds shouted amid the fray. One protester in a white T-shirt and goggles was beaten by a flurry of batons leaving him bleeding from a gash in the head. A senior policeman on the scene, Paul Renouf, said 400 to 500 officers were deployed to force the crowds back from their original position near a key intersection.
The fresh street battles come just hours after Hong Kong's pro-Beijing leader Leung Chun-ying offered talks to student leaders next Tuesday in an attempt to defuse the three-week long protests that have grabbed global headlines with scenes of clashes and tear gas rising between waterfront skyscrapers.
IN-DEPTH
— Reuters