HONG KONG — The youthful but organized pro-democracy "Umbrella Revolution" has startled the world with its good nature — including trash removal, graffiti scrubbing and notes of apology for the urban gridlock.
And singing. Lots of singing.
The teenagers, college students and young professionals occupying 2.3 miles of prime Hong Kong property can be seen collecting garbage — separating items for recycling, naturally — erasing non-peaceful slogans and, in some cases, doing homework to pass the time.
It is perhaps a surprising approach to civil disobedience. But the movement still presents a huge and unprecedented challenge to the authority of mainland China, which recently announced it would vet candidates for the 2017 elections.
"I came out today to support the movement. No student leaders or occupy leaders urged me to come out. I came out on my own," said Pierre Wong, a 36-year-old IT technician.
Activists have been using a Google spreadsheet to organize supplies including water, food — and more umbrellas, to defend against the humid weather and police tear gas.
Among Wednesday's protesters was a secondary school teacher, Alex Ho, who climbed on top of a bus stop to paint over red graffiti that had read: "Dismiss the government."
"This is our responsibility, to try and be a good citizen, not to damage Hong Kong but to try and show peace and love," said the teacher, 34. The cover-up finished, he received applause and a "good job, man!"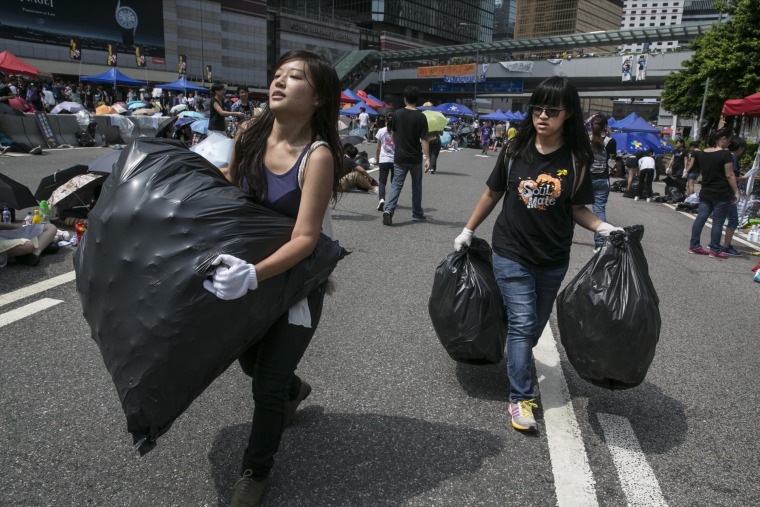 Despite the vast crowds, sitting and standing on the edge of traffic barriers and on roads, not a single person disobeyed the "Keep off the grass" sign at the Cenotaph war memorial.
The movement also has its musical favorites, ranging from Mandarin pop to western Top 40 hits.
The soundtrack of the Umbrella Revolution is headlined by a Cantonese pop ballad entitled "Under a Vast Sky" by the band, Beyond. The song has swept through the city and become something of a rallying anthem.
Whether crowds are morose, jubilant or exhausted from living days on the streets, someone, somewhere is singing the 1993 track — which became a hit in Hong Kong following the early death of the band's lead singer, Wong Ka-kui, just before its official release. Its lyrics — which many have noted have their roots in Wong's dissatisfaction with the Hong Kong music industry — speak to a similar generational dissatisfaction among today's youth.
Among the protesters familiar with the song Wednesday was a group of high school students, aged 15 and 16, belting out a number of Beyond's classics on an acoustic guitar. They were sitting on their first day of the protest movement.
Their biology teacher, Ms. Lai, had bumped into them that morning and was watching over them with a mix of nervousness and approval.
"I want them to be safe and I worry, but I'm so touched by the students when I hear them singing," Lai told NBC News. "They are aware of Hong Kong's future and political situation and they want to be here."
Which isn't to say that she is not also concerned about her students' academic work.
"They have to study their school work when they go back home at the end of the day, but I look at today as one with a valuable lesson about critical thinking," says Lai.
As for the music, count Ms. Lai a fan of her students and the band. "Oh yes, I liked Beyond when I was younger as well!"
Alastair Jamieson of NBC News, and The Associated Press, contributed to this report.