Massive pro-democracy demonstrations in Hong Kong spiraled into chaos this weekend, after tens of thousands of protesters blocked a main road and converged on government offices.
Police wearing gas masks and helmets used batons, tear gas and pepper spray on crowds; dozens were arrested, the Associated Press reported. Some protesters scaled fences and fortified their positions with metal barricades. Others wore plastic wrap and goggles to protect themselves, according to the AP.
"We will fight until the end," a protester, Peter Poon, told Reuters. "We will never give up."
Why are they protesting?
The chaos on the streets can be traced to Great Britain, which ruled the region until 1997. When Hong Kong was given back to China, there was an arrangement: unlike mainland China, Hong Kongers would one day be allowed to elect their own leader. In 2007, Beijing decided that day would be in 2017.
Then, last month, Communist Party leaders announced how the vote would work.
"The public would get to vote, but [Beijing] would control the nomination process," said Richard Bush, the director of the Center for East Asia Policy Studies at the Brookings Institution. Beijing has been unwilling to compromise, Bush said, making the protests "pretty much inevitable."
Another force behind the demonstrations, Bush said, is income inequality. The perception among many young Hong Kong residents is that mainland Chinese are taking their jobs, while they can't afford to buy a home. "There's a profound sense of alienation," he said.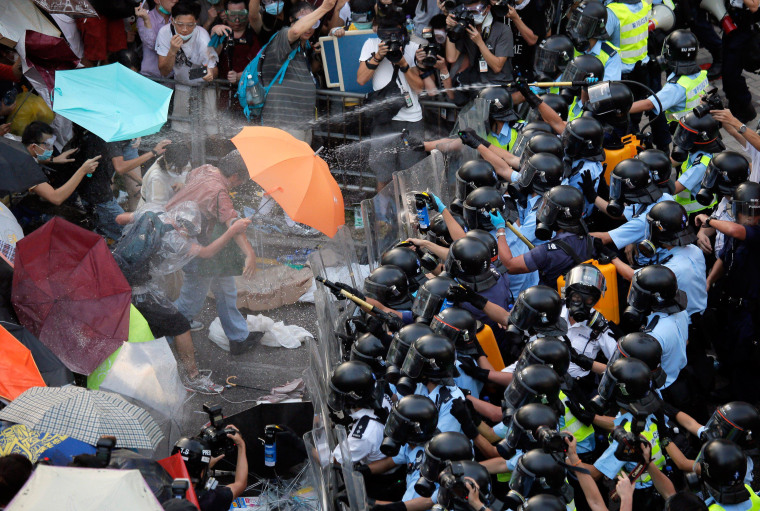 Who are they?
Bush described three factions wrangling for clout within the protests. First, there is the student wing, which carried out a week-long strike that culminated in the weekend's demonstrations. This group is more radical than its counterparts, both in its tactics — like Occupy Wall Street, students have occupied public spaces — and its objectives: students have shown no interest in compromising with Beijing, Bush said, and have instead argued for "a wide open" electoral system. "If you get signatures, you'd be allowed to run," he said.
Then, there is Occupy Central with Love and Peace, which was organized by two university professors and a minister who have called on protesters to use Martin Luther King Jr.-like tactics of non-violent civil disobedience and have, Bush said, hinted at a willingness to deal with Beijing. The third faction is composed of business people, lawyers, politicians and professionals—"moderate democrats," Bush said. They've appeared at protests organized by the other factions, and they've argued for an electoral system that would be somewhat controlled by Bejing, but still competitive. "China refused to consider that approach," he said.
Hong Kong has a rich protest culture, Bush said. But typically, demonstrations are planned. Protesters coordinate with the authorities and with each other. But this weekend was different. "That's all out the window," Bush said. The students acted, so Occupy, which had planned to begin a protest next Wednesday, did too. "Everyone's acting on the fly," he said.
What's Next?
It's unclear what this weekend's disorder will mean for Hong Kong, Bush said. Among protesters, there's been no softening of positions, he said, and Chinese authorities have supported the Hong Kong authorities' crackdown against them, according to Reuters.
For Beijing's 2017 electoral scheme to go into effect, it needs the support of two-thirds of Hong Kong's legislature. In the aftermath of the recent protests, that's unlikely, Bush said, so the old system of a 1,200-person committee of Beijing loyalists choosing Hong Kong's leaders could remain in place.
The central question, Bush said, is whether the protesters will be willing to return to the old regime. "Or will more and more opposition groups be willing and able to act outside the rules?" he said. "Then, what does the government do?"