While most of the efforts to save lives in the midst of Tropical Storm Harvey's watery destruction have been focused on people, a staggering number of pets are also being affected, animal activists say.
With more rain on the way, activists and agencies scrambled Tuesday to rescue pets still trapped by floodwaters as overwhelmed shelters struggled to make room for impacted animals.
Workers with the Humane Society of the United States rescued three dogs from a house in Dickinson, Texas, on Tuesday where floodwaters had reached chest-high, said Deputy Director of Operations Wanda Merling.
One of the dogs, a Rottweiler, had been crawling on top of objects in the home's garage to stay above the water, she said.
"There was a genuine concern that these animals had not survived," said Merling. The rescued animals were "exhausted and hungry" but were "now safe and getting much needed medical attention and love," she added.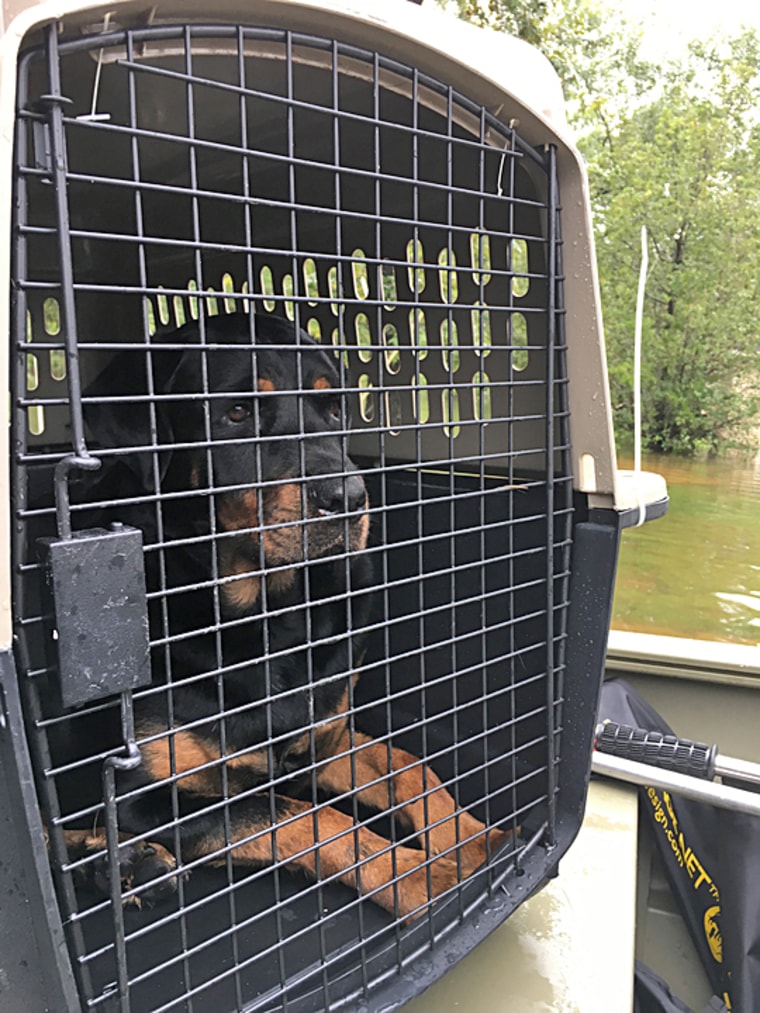 Merling said the team was dealing with a back log of calls from "distraught" owners who had become separated from their pets.
"We're going to be here for a while and we have our team on the ground ready to help in any way that we possibly can," she said, "Time is of the essence."
And firefighters in Houston rescuing people by boat on Sunday spotted two dogs on the roof of a home, said Marty Lancton, union president of the Houston Professional Fire Fighters Association.
Lancton said he and another firefighter approached the dogs in a rescue boat — already crowded with human survivors — when they discovered a sign on the home's front door reading "Help."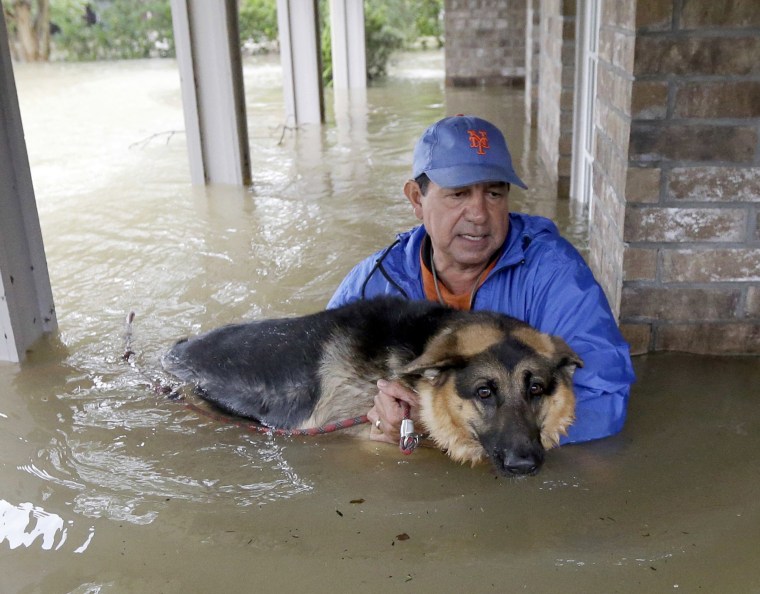 They got the dogs, then found the animals' owner in the garage.
"We got all of them," said Lancton. "I have two Labradors and I'll tell you the thought of having your pet not being rescued I know is a very emotional and difficult thing."
More Photos: Houston Residents Weather Floodwater With Their Pets
He added that firefighters were continuing to work with pet owners in need of help.
"We've had cats, dogs, you name it," he said.
A group of Good Samaritans on Sunday rescued a Houston woman stuck in an attic with 20 dogs in her care, after she refused to abandon the animals when first responders discovered her early that morning.
"I was not going to leave the dogs," Betty Walter told TODAY. "These little pets were depending on me to take care of them."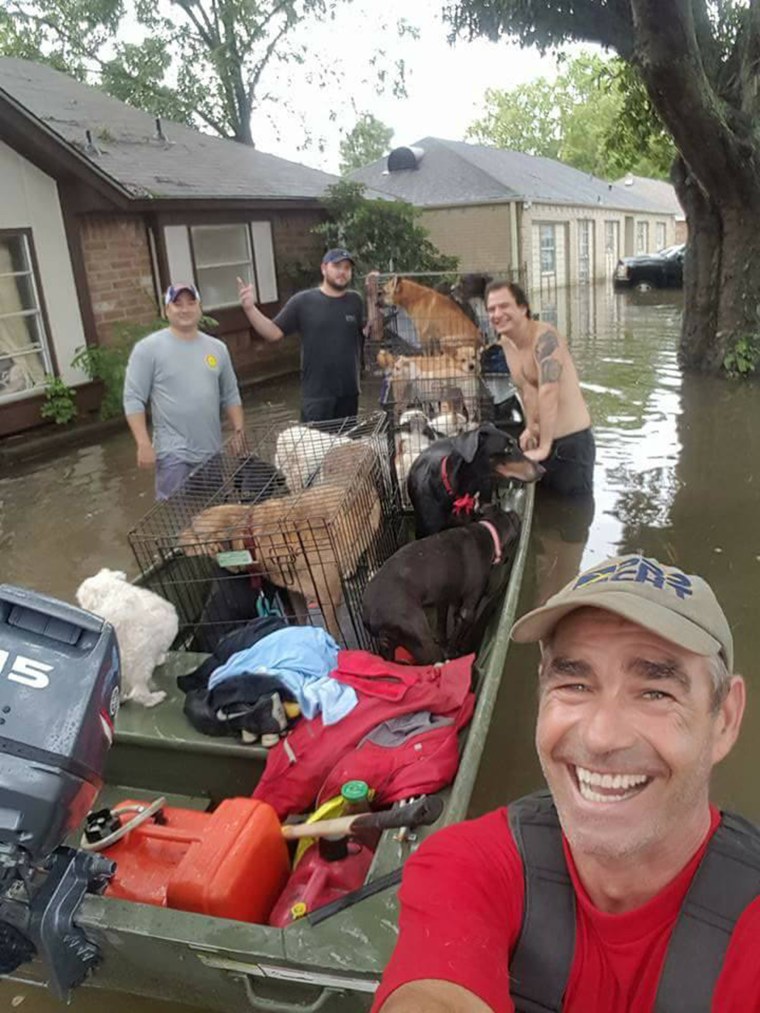 Meanwhile, shelters throughout the state were working to keep up with the sheer number of pets and other animals in need.
"We have animals that are coming in injured, sick, terrified, we have owners who are panicked, dropping off their animals not knowing if they are going to be safe," said Nadine Perez, an animal control officer at Bayou Animal Services in Dickinson.
The shelter would typically have no more than 30 dogs and 60 cats, but is currently housing more than 200 cats and dogs by using a garage as overflow space.
Merling said many local shelters were "overwhelmed, because they're trying to take in animals and they were already at capacity."
In order to make much-needed space for pets impacted by the storm, the Humane Society was partnering with other non-profits to move unclaimed and unidentifiable animals that were already in shelters before the storm to partner organizations in other states, Merling said.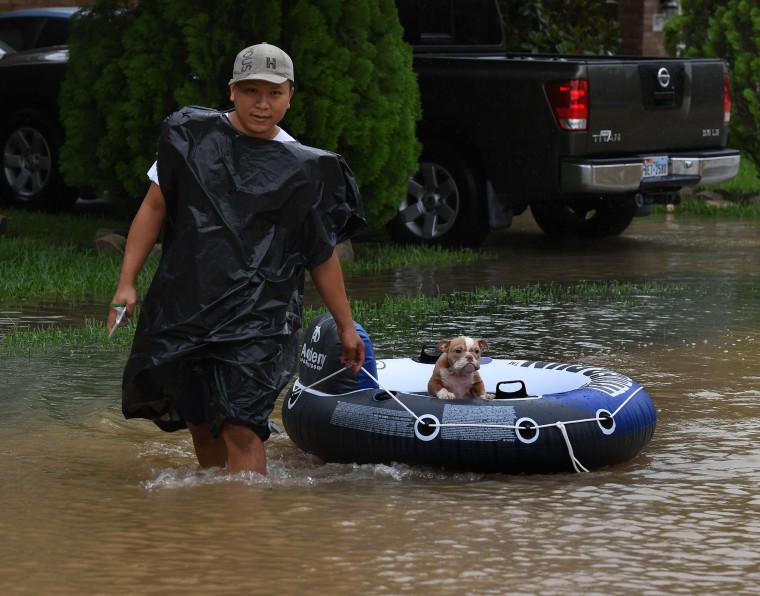 Related: Trump Waves Texas Flag: 'We Love You. You Are Special'
Cindy Smith, the founder of the non-profit Wings of Rescue, said her organization had flown more than 100 pets from Lafayette, Louisiana, to San Diego, California, on Monday by cargo plane. And on Tuesday, the group coordinated with the City of San Antonio Animal Care Services to transport some 100 dogs to New Jersey, she said.
The was group planning another flight of up to 120 dogs and cats to Oregon and Washington state on Wednesday, she said. The animals would all be going to no-kill shelters, she noted.
"These pets are getting a second chance and they're making room for the other ones that need the help," she said.