Rescues continued Saturday in Harvey-ravaged parts of the eastern Texas coast, and while some people have returned to what remains of their homes, the state's governor warned the danger has not yet passed.
At least 42 deaths have been attributed to Harvey, which made landfall a week ago and caused major flooding. In the latest in Port Arthur, where more than 490 people have been rescued in the past 24 hours, police said Saturday they discovered the body of an elderly woman as officers went door-to-door conducting welfare checks.
Meanwhile, some 100,000 homes were estimated to have been affected, and tens of thousands were in shelters across the state, officials said.
The city of Austin said Saturday it was opening a 160,000 square-foot facility mega-shelter to house victims.
"There still remain areas that are deadly dangerous," Texas Gov. Greg Abbott said at a news conference on Friday. "In the Beaumont area, the Neches River continues to rise. It is about 7 feet above the record, and it will continue to remain at or near that high for about the next week."
Earlier Friday on ABC's "Good Morning America," Abbott warned that the recovery effort would take years.
Related: Harvey's Destruction Raises Fears of Homelessness in Survivors
"This going to be a massive, massive cleanup process," Abbott said on the program. "This is going to be a multiyear project for Texas to be able to dig out of this catastrophe," he said.
Harvey, which was a Category 4 hurricane when it hit the Texas Gulf Coast late Aug. 25, could be the costliest natural disaster in the nation's history. Houston, the nation's fourth-largest city, saw major flooding and some parts of the region recorded nearly 50 inches of rain.
In Beaumont, east of Houston, drinking water supplies were cut off when wells and a main pumping station flooded, local and federal officials said. Long lines of people waited for supplies Friday in the city of around 118,000.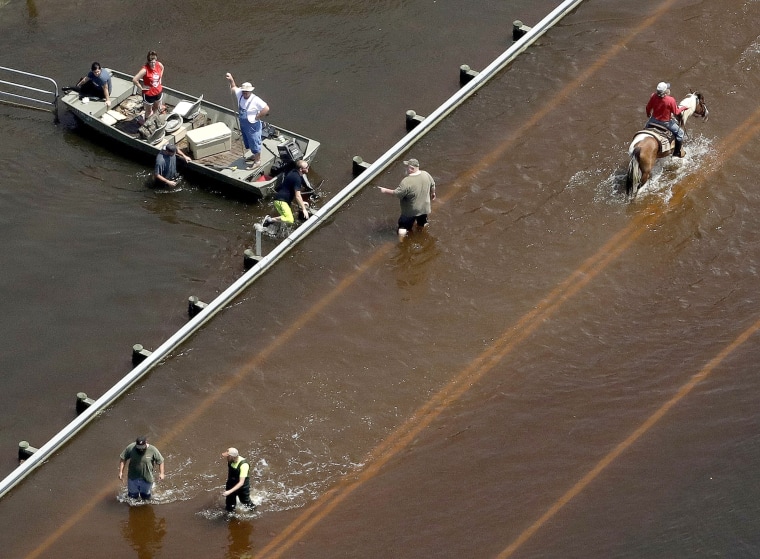 Rescue teams were still going door-to-door in Port Arthur, located south of Beaumont.
The storm's impact on the refinery-rich region was expected to cause gas prices to increase, and Abbott said that fuel was being sent from Oklahoma, Louisiana and New Mexico to Texas, and the state has taken steps to ensure that supply remains.
Also on Friday, two trailers of unstable compounds caught fire at an Arkema chemical plant near Houston that had lost power after Harvey. There were "at least four explosions," officials said. The chemical company said the storm's floodwaters swamped its backup generators and knocked out refrigeration needed to keep containers of organic peroxides from catching fire.
President Donald Trump landed in Houston on Saturday and then was expected to head for Lake Charles, Louisiana, which was also affected by Harvey's flooding rainfall. The president visited Corpus Christi on Tuesday.
The Trump administration in a letter Friday requested $7.85 billion for response and initial recovery efforts related to the storm. A request of at least $5.5 billion in aid had been expected.
In Houston, water from overfilled reservoirs was expected to be released over the next 10 to 15 days, Mayor Sylvester Turner said Friday. He urged people nearby who have water in their homes to leave.
"Things are not going to change over the next 10-15 days so if you are living in these homes west of Gessner [Road] and you have water in your homes today, OK, I'm going to encourage you in the strongest of terms to leave," Sylvester said.
Abbott lauded the first responders who made hundreds of thousands of rescues in the aftermath of Harvey, but he called the response by ordinary Texans who volunteered to help inspiring.
"We should laud and applaud the incredible efforts of our first responders," Abbott said. "But when you look at the average everyday Texan — neighbor helping neighbor, it's been nothing short of remarkable."