At least one person has died and a dozen or so others were injured in the coastal Texas county of Aransas from Hurricane Harvey, local authorities said.
The monster hurricane, which had weakened to a tropical storm by Saturday afternoon, made landfall as a Category 4 hurricane late Friday night near Rockport, a city of about 10,000 people. An estimated 40 percent of the residents did not evacuate, according to officials.
One man died in a fire overnight after rescuers couldn't get to him, Arnasas County Judge Bert Mills confirmed at a press conference Saturday. Mills said 12 to 14 others also sustained minor injuries ranging from cuts and bruises to a broken leg as a result of the storm.
Many structures were damaged in Rockport, although there was no estimate yet of how many. City Manager Kevin Carruth said a tree fell on a mobile home Friday, trapping a family inside, but rescuers had to be pulled due to safety concerns.
Full Coverage: The Latest on Tropical Storm Harvey
Also in Rockport, multiple people at a senior living home were taken to a nearby jail for treatment after a roof caved in, according to The Associated Press.
Elsewhere across Texas, buildings were ripped open, roads were inundated, and more than 338,000 people were in the dark after Harvey smashed into the state.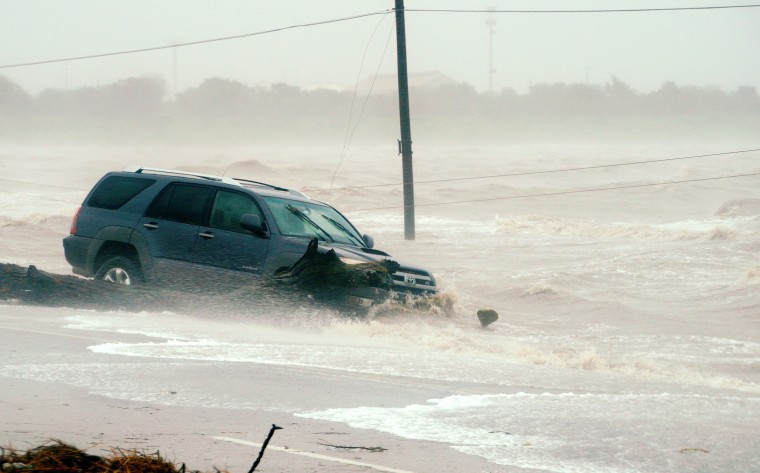 Despite being downgraded to a tropical storm with maximum sustained winds of 70 mph, Harvey still carried with it prolonged rainfall that was expected to cause catastrophic flooding.
"A lot of the damage is yet to come," FEMA Administrator Brock Long told MSNBC. "Rainfall is going to be tremendous inland."
And the slow-moving storm was expected to stick around: In four days, Harvey is only forecast to move 60 miles, lingering over coastal Texas.
For cities like Victoria, that could mean a rain dump of up to 3 and a half feet by Wednesday, said NBC News meteorologist Bill Karins. Surrounding areas were anticipated to receive 2 to 3 feet, according to the National Weather Service.
The "target triangle" of Houston, San Antonio and Corpus Christi was also expected to be hit hard in the coming days.
"Some residents in the target triangle will see water levels higher than at any time in their lives. It is almost guaranteed that we will see more evacuations, rescues and destruction of property in the days ahead," Karins said.
Victoria resident Leslie Warner said she and her son are bracing for the second round after a night of intense rain and "howling" winds. Outside, a huge tree branch appeared to have broken in half and narrowly missed her home.
"I know this sounds really 'quaint' or whatever, but if you do not believe in God ...," she said, pointing at the tree. "I was praying and everybody is praying and praying for you but — that could have hit my house," she said, adding that she was grateful to be spared further damage.
Warner's neighbor said he spent the afternoon pulling branches out of storm drains to help the flow of the runoff from the storm. He said many of his neighbors also chose to stay in the neighborhood instead of evacuate.
The National Weather Service issued flash flood warnings for the Houston area and put the city under a tornado watch Saturday.
And in San Antonio, which welcomed evacuees from coastal areas by the hundreds, rain and wind were picking up.
"We are asking our own residents to keep clear of the streets so we can make sure to get the evacuees in," San Antonio Mayor Ron Nirenberg told MSNBC. "But the conditions are deteriorating."
Parts of Texas had already gotten more than 7 inches of rain. In a press conference Saturday, Gov. Greg Abbott cautioned the worst may still be yet to come.
"We want to do everything we possibly can to keep people out of rising water."
"Our biggest concern is the possibility of 20 to 30 more inches of rain ranging in areas from Corpus Christi over to Houston," he said. "We want to do everything we possibly can to keep people out of rising water."
Abbott said he had issued disaster declarations in about 50 counties Saturday, up from 30 in the original declaration. About 1,300 service members were activated to help with the storm's aftermath, and Abbott said he anticipated activating 500 more.
"There is the potential for very dramatic flooding," Abbott said.
That looked to be the case in Victoria and Houston, where residents were getting heavy rain Saturday afternoon.
The deluge was forecast to continue into Sunday, with San Antonio also primed for heavy rain then. On Monday, as Harvey moves back to the coast, historic flooding is anticipated; by Tuesday and Wednesday, the storm is forecast to move toward Galveston, with historic flash and river flooding possible.
Related: Some Residents of Coastal Texas Torn Between Staying and Leaving
The National Hurricane Center warned of 12-foot storm surges and up to 40 inches of rain in some areas through Wednesday, with "catastrophic flooding expected over the next few days."
As the storm hammered the Texas coast on Saturday, it caused problems on land and in the sea. The Coast Guard said it rescued 15 people after receiving mayday calls near Port Aransas, Texas.
Kevin Oditt, commander of the Coast Guard for the Houston-Galveston area, said ports along the coast will likely remain closed until next week. He added that so far he has not had to supervise any search and rescue missions in his zone.
"Fortunately everyone has stayed off the water and we've not had any search and rescue cases," he said.
Related: Harvey Makes for a Quiet Night in Fire Station 3
Officials were still tallying damage. In Corpus Christi, Mayor Joe McComb said early Saturday that "horrific" winds had caused "a tremendous amount of damage" in the city and surrounding areas.
He said the storm had cut power to the city's water treatment plant, meaning residents needed boil water for drinking — but that's not an option for everyone.
"Many people don't have electricity so that's going to create an issue," he told TODAY. He said power had been cut to his own home overnight.
Sinton, about 30 miles outside of Corpus Christi, was also facing water issues.
"Sinton community please try to refrain from leaving your house. There are a lot of trees down and low power lines. Also city water is out and this means once they find [the] problem and restore it, we will be in a water boil advisory," the Sinton Police Department said in a Facebook post.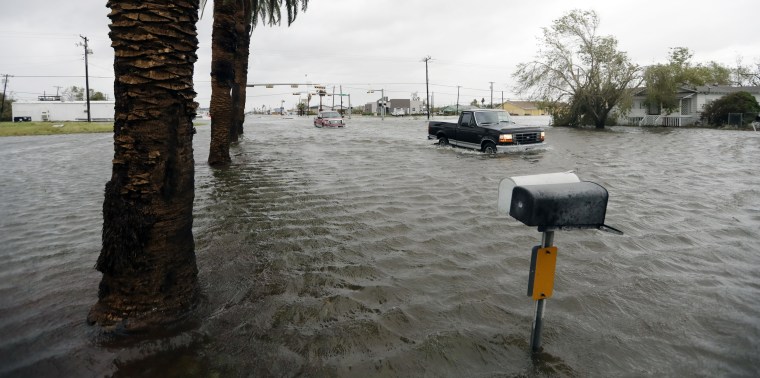 The city of Victoria was also under a water boil advisory.
"At this time, the City's water supply is extremely limited. Please take all measures possible to conserve water," Victoria officials said.
In Needville, a town of about 2,600 outside of Houston, entire fields were flooded with water. Resident Lisa Kerley, who has lived there for 20 years, said she opted not to evacuate.
"I was a little worried about the water because we do flood in this area when it's just a regular rain," she said. "We're good now — but we've got a few more days of rain."
President Donald Trump signed a disaster declaration late Friday "which unleashes the full force of government help," he tweeted. The declaration allows federal funding to help stricken areas.
On Saturday morning, Trump tweeted that he was closely monitoring the storm from Camp David. "We are leaving nothing to chance. City, State and Federal Govs. working great together!" he wrote.
He also praised FEMA Administrator Long for "a great job."
The last time a major hurricane struck Texas was in 2008, when Hurricane Ike hit Galveston as a Category 2 hurricane. Ike caused an estimated $22 billion in damage.
While not directly in its path, New Orleans was preparing for Harvey, too.
New Orleans police superintendent Michael Harrison said the city placed orange and white reflective barricades beneath highway underpasses and low-lying areas to signal areas might be flooded.
"We are committed to the promise of being prepared for this upcoming rain event," Harrison said. "A very intense hurricane is hitting the coast of Texas but we do anticipate that we're going to get rain here in the city of New Orleans."
Phil McCausland reported from Needville, Texas. Saphora Smith reported from London, and Elizabeth Chuck reported from New York.