The U.S. Environmental Protection Agency said Friday that "no high levels of toxic chemical have been detected" at a Texas chemical plant that exploded and again caught fire earlier that day following problems caused by flooding by Hurricane Harvey.
The EPA said an emergency response surveillance aircraft flew through the smoke of the new fire at the Arkema Inc. plant that broke out Friday afternoon.
The chemical plant in Crosby, northeast of Houston, first exploded early Thursday, triggering an intense fire. Residents within a mile-and-a-half of the facility were evacuated on Tuesday over concerns that about an explosion or fire.
"Imagery reviewed in the aircraft clearly shows a strong fire that is west of the building that burned yesterday," the EPA said after Friday's fire. "Preliminary analysis of data is showing that although the fire has extreme intensity generating smoke, no high levels of toxic chemical have been detected."
Related: Harvey-Ravaged Arkema Plant Declines to Detail Chemical Inventory
In Friday's fire, officials said smoke was noticed coming from the chemical plant at around 5:30 p.m. ET, and two trailers of organic peroxides that had lost refrigeration capability caught fire and burned. There were "at least four explosions," officials said.
More fires are expected, the company and the EPA said. There are still six trailers on the site without refrigeration, Arkema executive Richard Rennard said, and materials in those trailers will likely catch fire.
The plant manufactures organic peroxides commonly used in everyday products like kitchen countertops, industrial paints, polystyrene cups and plates, and PVC piping.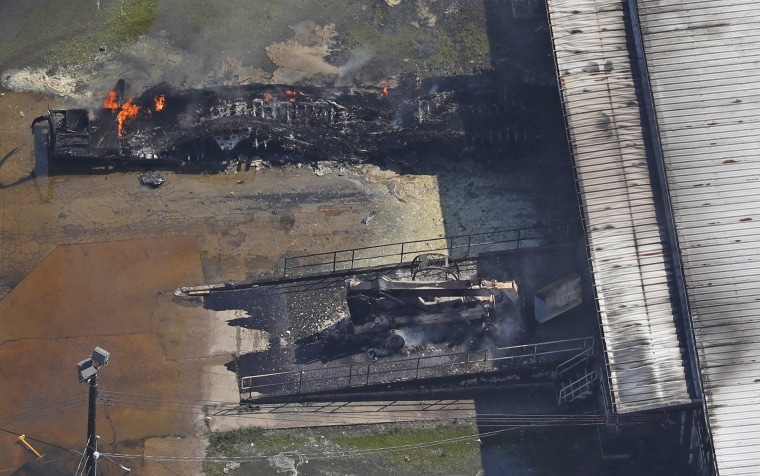 The materials must be kept very cool, otherwise there is "the potential for a chemical reaction leading to a fire and/or explosion within the site confines," Arkema has said.
"This played out like we had expected it to," Rennard said. "With the loss of refrigeration capability, the material inside the containers began to degrade, heated and of course then ultimately caught fire and burned."
Rennard said he does not believe that the chemicals will spread out of the area of the plant. "It's going to burn," he said. "All of it will burn."
The EPA said it is continuing to monitor smoke and air quality. Rennard said the company is also conducting testing looking for hydrocarbons and volatile organic compounds among others and has had no positive tests.
Crosby is town of a little more than 6,000 about 20 miles northeast of Houston. Hurricane Harvey and its aftermath caused major flooding in the region, and the storm and its effects are blamed in at least 41 deaths.
"Everyone in the area should follow the safety instruction of local authorities, specifically staying out of the evacuation zone, and avoiding smoke and flood waters," the EPA said Friday.