The country's biggest fuel transporter said Thursday that it hopes to resume moving fuel through hurricane-devastated Texas to the East Coast by the weekend, raising hopes that a severe national Labor Day gasoline shortage will be averted.
Colonial Pipeline Co. shut down its line carrying diesel and jet fuel from Houston to New York Harbor on Wednesday because of because of damage and refinery outages west of Lake Charles, Louisiana, related to Hurricane Harvey. The company said it would shut down the line that transports 40 percent of the South's gasoline on Thursday.
But in a statement Thursday afternoon, Colonial — the main provider of fuel for major cities like New York, Atlanta, Charlotte, North Carolina, Baltimore and Washington, D.C., pumping as much as 3 million barrels of fuel every day — said it had been able to keep the lines operating "intermittently" east of the flood zones.
The lines from Houston to Louisiana — to which half of the refineries served by Colonial are attached — remained down on Thursday. Colonial estimated that they, too, would be back online by Sunday.
Related: Harvey Could Be One of the Costliest Natural Disasters Ever
Even before the announcement, Harvey had already shut down the nation's largest refinery operations, halting about 20 percent of the country's daily supply of fuel. The U.S. Energy Department said Thursday that it would release a half-million barrels of crude oil from the Strategic Petroleum Reserve to combat fuel shortages and stabilize gas prices, which have risen by an average of 6 cents a gallon since Harvey hit over the weekend, according to AAA.
Andrew Lipow, president of the Houston-based energy consultants Lipow Oil Associates LLC, told CNBC on Thursday: "I'm expecting it to go up at least another 10 to 15 cents a gallon from where it is today."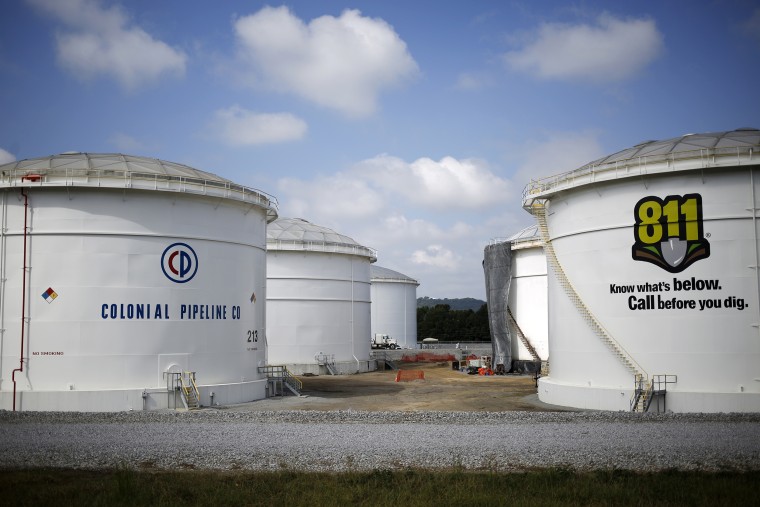 At least one state, North Carolina, has declared a state of emergency because of the Colonial shutdown. Gov. Roy Cooper said the emergency declaration, which waives the maximum hours that fuel truckers can drive in North Carolina, will "make it easier to get gasoline into our state so North Carolinians who need gas can get it."
Sandra Horton, manager of AAA operations in Raleigh, North Carolina, said the past week's price hikes have been "quite a bit of an increase for someone who might be planning their last weekend getaway for the holiday, the last weekend of summer."
"Many may not be able to go with that increase," Horton told NBC station WRAL of Raleigh. "They didn't budget it — it's not something they put in their budget already — so I can see that really impacting a lot of them."
Georgia Gov. Nathan Deal also asked the U.S. Environmental Protection Agency for a waiver to allow his state to similarly relax rules regulating fuel truckers.