Four deaths in Texas are being blamed on Hurricane Harvey and officials fear the toll could rise dramatically once the waters that have crippled the region and hobbled rescue efforts finally recede.
"We know in these kind of events that, sadly, the death toll goes up historically," Houston Police Chief Art Acevedo said. "I'm really worried about how many bodies we're going to find."
---
The Latest on the Storm
Harvey, now a tropical storm with maximum winds of about 45 mph, was around 100 miles east-southeast of Port O'Connor, Texas, at 5 a.m. ET Tuesday and was slowly moving back toward coastal waters.
It is expected to remain offshore in the Gulf of Mexico before turning north, back toward southeast Texas, on Wednesday.
Bands of heavy rain are expected to persist over the next several days, with parts of Texas and Louisiana facing record rainfall through at least Labor Day weekend, forecasters say.
Flash flood warnings remain in effect for parts of the Houston region through Tuesday morning, and more than 260,000 customers are without power.
The Red Cross reported 17,000 people sought refuge in shelters overnight.
Four have been officially reported dead as a result of the storm.
The U.S. Army Corps of Engineers has begun releasing water from both major Houston-area dams — something that has never been done before.
The Woodforest Bridge over Greens Bayou in east Houston has collapsed.
President Donald Trump will tour parts of Texas on Tuesday. He declared a disaster in five parishes ahead of the storm's arrival in Louisiana.
---
As Acevedo spoke, forecasters warned that the massive storm — which has already done billions of dollars in damage in and around the nation's fourth-largest city — was gearing up to hit the Texas coast again sometime later this week.
The Weather Channel warned that "localized storm-total rain amounts of up to 50 inches are not out of the question" by later this week because of the additional 10 to 20 inches expected. "This may end up being one of the worst flood disasters in U.S. history," it added.
"This is a landmark event for Texas," said Brock Long, administrator for the Federal Emergency Management Agency. "Texas has never seen an event like this."
A short time later, the record for total rainfall in the continental U.S. was smashed when 49.2 inches was recorded at an intersection in the Houston suburb of Friendswood. The previous record was 48 inches, according to the National Weather Service.
In hard-hit Houston, Mayor Sylvester Turner reported more than 3,000 people have been rescued since the weekend and 150 remained in "critical" situations.
Meanwhile, 911 operators were struggling to answer the numerous desperate calls for help in a city where major highways were transformed into rivers by the unrelenting downpours and widespread flooding.
The NWS warned that "catastrophic and life-threatening flooding" remained a threat to southeastern Texas and portions of southwestern Louisiana early Tuesday.
In New Orleans, Mayor Mitch Landrieu marked the 12th anniversary of another devastating storm that wrecked his city — Hurricane Katrina — and said they have Houston's back.
"We lost 1,800 fellow Americans, and the devastation we experienced was great," Landrieu. "No city welcomed more New Orleanians following Katrina than Houston, and our hearts break for them as Hurricane Harvey displaces so many of their citizens."
President Donald Trump, who arrived in Texas on Tuesday with first lady Melania Trump, has signed a disaster declaration to speed federal funds to stricken areas.
The latest confirmed casualty of the storm was a 33-year-old man who reportedly "drove around flood barricades" and drowned, said Capt. Bryan Carlisle of the Montgomery County Sheriff's Office, which is about 40 miles north of Houston.
"The sheriff's office and civilians tried to rescue him," Carlisle said. "He drowned before we could get to him and found him deceased."
Earlier, a 60-year-old woman in east Montgomery County was killed when a tree fell on her while she slept, the county sheriff's office said Monday.
Six members of a family trying to flee were swept away in their van on Sunday and remained missing, two relatives told NBC News on Monday. Authorities said they hadn't found a submerged van, but relatives said they fear the six — four children and their great-grandparents — are dead.
The Department of Homeland Security said it was sending reinforcements to Texas to help bolster security forces while Gov. Greg Abbott ordered the entire Texas National Guard — about 12,000 members — to report for duty.
Meanwhile, the U.S. Coast Guard said it was taking more than 1,000 calls per hour and dispatching helicopters and boats from as far away as Maine and California to Texas to help with rescues, Vice Adm. Karl Schultz said.
People were rescued from "pretty much everywhere," said Cmdr. Jim Spitler, commanding officer of Air Station Houston. "Most of them are rooftops, but they've been on top of cars, they've been on bridges, they've been in their attics."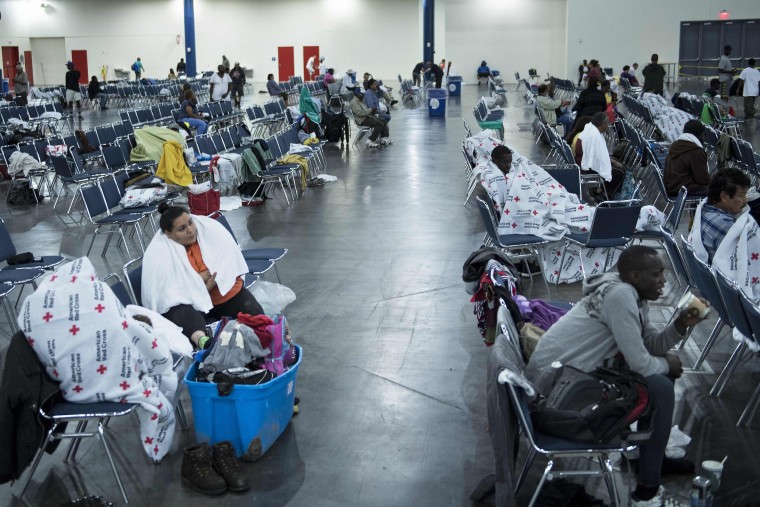 Houston set up its largest shelter inside the George R. Brown Convention Center, which has a capacity for about 5,000 people. As of Monday night, 7,000 people were crowded inside, according to the Associated Press.
Turner categorically denied rampant rumors that immigrants were being ordered to produce valid immigration papers to receive shelter and other aid.
"I and others will be the first ones to stand up with you," Turner told reporters Monday. "If you need help and someone comes and they require help, and then for some reason, then somebody tries to deport them, I will represent them myself, OK?"
The city reinforced the message Monday night, tweeting: "We will not ask for immigration status or papers from anyone at any shelter. This rumor is FALSE!"
The federal bureaus of Customs and Border Protection and Immigration and Customs Enforcement have already said that they won't be conducting "routine noncriminal immigration enforcement operations" at shelters or aid centers.
Officials said 1,400 inmates at two prisons in Richmond were evacuated on Monday night due to rising waters. On Saturday, 4,500 offenders were moved from three other facilities.
North of Houston, which has so far gotten 20 inches of the rain, the city of Dayton was inundated with 39.7 inches of rain by Monday afternoon. "And there's going to be so much more on top of that," said Danielle Banks, a meteorologist for The Weather Channel.
The upper Texas coast could get as much as 20 more inches, taking totals in some areas up to 50 inches — including the Houston/Galveston area, the National Weather Service said.
"Given the completely saturated ground, this rainfall and future expected heavy rainfall will keep the flash flooding threat at the forefront of this storm," the NWS said late Monday. "Historic flooding is likely on many area rivers and bayous."
And even then, "because of the sheer volume of water of Hurricane Harvey, it is going to take weeks to drain through the rivers of Texas," Banks said.
The U.S. Army Corps of Engineers said Monday that it had begun releasing water from both major Houston-area dams — something that has never been done before.
While opening two reservoirs will increase water levels and worsen flooding along Houston's Buffalo Bayou watershed, it's a better alternative than allowing the water to spill over and around the reservoirs into additional neighborhoods, Turner said Monday.
The storm's next target as it tracks north is likely to be Louisiana, the southern part of which is under a flash flood watch through Thursday. As much as 20 inches of rain is possible in southwestern parts of the state.
Trump on Monday declared a disaster in five Louisiana parishes ahead of the storm's arrival, authorizing FEMA to coordinate relief efforts there and allowing the federal government to cover some emergency costs.
For survivors of Hurricane Katrina in 2005, the devastation brought back painful memories.
"We've been watching the weather map, but not necessarily the weather footage, because it is very reminiscent," said Edward L. Spears II, pastor of Faith and Love Church of God in Christ in Fort Worth, who evacuated with his family from New Orleans 12 years ago.
Harvey "is a little too close," he told NBC Dallas-Fort Worth. "In all the languages in all the world and all the dialects, there are no words for what it feels like."
Related: Six Family Members Swept Away in Van Feared Dead
While examples of heroism and neighbors helping each other have abounded since the start of the storm, State Attorney General Ken Paxton warned that another specter was menacing the state — profiteers operating in violation of laws against price gouging.
Paxton told CNBC on Monday that his office had already fielded more than 500 complaints since Harvey arrived — including reports of up to $99 being charged for a case of water, hotels tripling or quadrupling their prices, and price gougers peddling fuel for up to $10 a gallon.
Violators are subject to fines of up to $20,000 per occurrence — or up to $250,000 if the victim is aged 65 or older.