The main pipeline carrying fuel from Texas to the East Coast is temporarily shutting down because of refinery outages related to Hurricane Harvey, the company that runs the pipeline said Wednesday night, dealing a potentially major blow to the already storm-ravaged U.S. fuel system.
Colonial Pipeline Co., the biggest fuel transporter in the United States, said in a brief statement that "storm-related refinery shut-downs and the impact to Colonial's facilities" west of Lake Charles, Louisiana, had led it to close its line carrying diesel and jet fuel late Wednesday. It said it would close its line carrying gasoline on Thursday.
The pipeline transports more than 3 million barrels of diesel, gasoline and jet fuel each day from Houston to New York Harbor, making it the main provider for major cities like New York, Atlanta and Washington, D.C.
The news immediately sent U.S. gasoline prices to a two-year high, Reuters reported Wednesday night.
"Imports can't make up for this," it quoted an East Coast market analyst as saying. "This is going to be the worst thing the U.S. has seen in decades from an energy standpoint."
Related: Harvey Could Be One of the Costliest Natural Disasters Ever
Even before the announcement, Harvey — which was downgraded to a tropical depression Wednesday as it moved farther inland — had already shut down the nation's largest refinery operations, halting about 20 percent of the country's daily supply of fuel. Half of the 26 refineries that connect to Colonial's system are located between Houston and Lake Charles, the company said.
Colonial gave no timetable for bringing the critical conduits back online.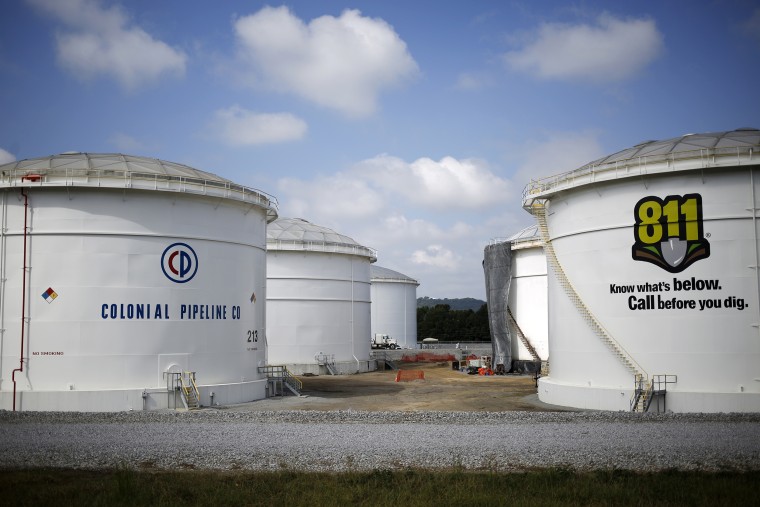 "Once Colonial is able to ensure that its facilities are safe to operate and [its] refiners in Lake Charles and points east have the ability to move product to Colonial, our system will resume operations," it said.
Related: Harvey Releases 2 Million Pounds of Pollutants From Refineries, Plants
Colonial Pipeline is based in the Atlanta suburb of Alpharetta. Josh Carrasco, a spokesman for AAA AutoClub Group, told NBC affiliate WXIA of Atlanta that Labor Day gasoline prices would likely be the highest since 2014.
"At this point, we're at a wait-and-see situation to see how much damage is done to those refineries in the Gulf Coast area," Carrasco said. "And then we'll have more clarity down the road."