CROSBY, Texas — Fears that a chemical plant fire burning outside of Houston on Thursday sent a stream of hazardous black smoke into the sky were minimized as the company and local officials downplayed any widespread threat to public health.
After an aircraft was sent to monitor the aftermath of two explosions at the Arkema Inc. plant in Crosby, the Environmental Protection Agency said the data collected showed there were "no concentrations of concern for toxic materials reported at this time."
Arkema officials warned Thursday morning of the possibility of further blasts, saying eight more containers storing a highly volatile chemical known as organic peroxide is expected to degrade. The organic peroxide produced at the plant is used in products such as kitchen countertops, industrial paints, polystyrene cups and plates, and PVC piping.
"These things can burn very quickly and violently; it would not be unusual for them to explode," Arkema executive Richard Rennard said at a news conference, adding that the explosions were more like popping noises caused when the containers built up with pressure.
The chemical is normally stored at colder temperatures, he added, but Hurricane Harvey led the plant and its backup generators to lose power — now leaving the organic peroxide unstable enough that it can combust.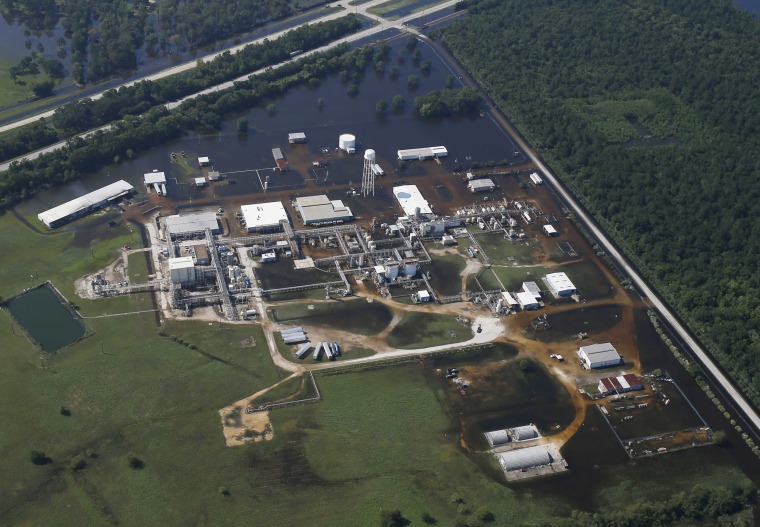 When exactly that would happen again is unclear, but Rennard said the company has a remote monitoring system that provides conditions inside the containers. The fire that was reported around 2 a.m. Thursday local time (3 a.m. ET) sent smoke billowing about 30 to 40 feet into the air, authorities said.
"As agreed with public officials, the best course of action is to let the fire burn itself out," France-based Arkema Group, one of the world's largest chemical companies, said in a statement earlier Thursday.
Joseph Merola, an inorganic chemistry professor at Virginia Tech, said if the chemicals are able to burn out, they shouldn't pose any threat — although those close enough to it might feel an irritation in their eyes and throat.
Related: The Unexpected Health Impacts of a Hurricane
The chemicals "don't have a very long lifetime once they get in the air," Merola said.
"If it burns completely, the actual risk from them is pretty small," he added.
Harris County Fire Marshal spokeswoman Rachel Moreno said 2 tons of organic peroxide was burning.
Residents within a 1.5-mile radius were forced to evacuate Tuesday as a precaution ahead of the rising floodwaters and the risk of explosions at the plant. Rennard said workers won't be able to reach the facility again until the water recedes.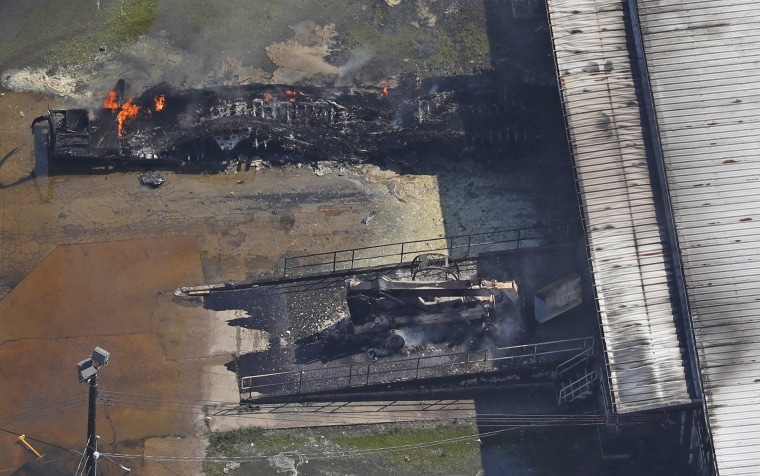 Law enforcement officers have been monitoring the site as well, and Harris County Sheriff Ed Gonzalez said 15 of them went to the hospital after they felt irritation. They were all eventually released. Gonzalez said deputies inhaled a "nontoxic irritant" related to the smoke.
"It's basically like standing over a barbecue pit or something like that, where you get smoke in your eyes," he said at a news conference.
Dr. Donna Seger, a toxicologist at Vanderbilt Medical Center, said only a high concentration of organic peroxide can cause more severe responses, such as burns or allergic reactions.
"Serious health effects are unlikely if you're away from the chemical plant," she said, adding, "This shouldn't cause any long-term effects like cancer."
Related: Chemical Plant in Crosby, Texas, Explodes Twice
Moreno said the 1.5-mile radius was developed in consultation with the Homeland Security Department and other experts.
The EPA's analysis followed comments from Brock Long, administrator of the Federal Emergency Management Agency, who told reporters in Washington, D.C., earlier Thursday that "by all means, the plume is incredibly dangerous." Asked about the discrepancy from local officials, a FEMA spokesman said Brock would defer to those officials closer to the scene.
Arkema had warned earlier this week that the chemicals would erupt in an intense fire resembling a gasoline blaze. There was "no way to prevent" the explosion, CEO Rich Rowe said Wednesday.
Julia Bagg reported from Crosby, Texas, and Erik Ortiz reported from New York.