HOUSTON — Harvey made landfall again early Wednesday, roaring ashore in western Louisiana near the border with Texas as residents in the region brace for as much as 6 to 10 inches of additional rain.
"Ongoing catastrophic and life-threatening flooding will continue in southeastern Texas," the National Hurricane Center warned.
Officials added that while the threat of heavy rains has abated in the Houston and Galveston areas, which were deluged by record rainfall, intense and potentially deadly flooding is still a threat through the end of the week.
The tropical storm, making its third landfall since Friday, was centered about 5 miles west of Cameron, Louisiana — 25 miles west-northwest of Lake Charles, according to a 7 a.m. ET National Hurricane Center advisory.
Officials in Texas on Wednesday also confirmed a 10th storm-related death as authorities continued to make harrowing water rescues — more than 18,600 across the region.
---
Latest from the storm
Tornadoes are possible through the day across parts of Louisiana, Mississippi, southern Alabama, and southeast Arkansas.
Parts of Louisiana have already recorded more than a foot of rain.
Confirmed death toll stands at 10, with many missing feared dead.
At least 18,600 people rescued from water across southeast Texas and at least 286,500 customers remain without power.
Harvey, which is moving north at about 9 mph, is expected to become a tropical depression by Wednesday night.
---
The National Weather Service said less than an inch of rain was expected for Houston on Wednesday and about a 30 percent chance of showers and thunderstorms on Thursday.
The storm became historic Tuesday when the record for rainfall from a tropical cyclone in the continental United States was smashed at 51.88 inches in both Mont Belvieu, 35 miles east of Houston, and Cedar Bayou, east of Highlands, the National Weather Service reported.
Among the latest confirmed victims of the hurricane-turned-tropical storm was veteran Houston police Officer Steve Perez, 60, who drowned while driving to work Sunday.
"The wife told me she asked him not to go in," said an emotional police chief, Art Acevedo. "His response was, 'We've got work to do.'"
Two other deaths were officially attributed to the storm on Tuesday, bringing the confirmed total to nine, seven of them drownings. Among the likely but unconfirmed victims were six members of the Saldivar family who were feared dead after their van was swept into Houston's Greens Bayou.
A 33-year-old man "drove around flood barricades" and drowned in Montgomery County, about 40 miles north of Houston, said sheriff's Capt. Bryan Carlisle.
Related: At Convention Center, Houston Survivors Ponder Life After Storm
In Beaumont, about 75 miles northeast of Houston, a woman died after she and her young daughter left their stranded car, police said. The woman was swept into a canal and was found floating about a half-mile from the car, with her daughter clinging to her, police said. The girl was treated for hypothermia.
And in Friendswood, a suburb south of Houston, police on Tuesday afternoon recovered the body of a man whom they identified as Ruben Jordan, a longtime high school track and football coach.
"Our hearts are heavy with the news of Coach Jordan," the Clear Creek Independent School District tweeted.
Acevedo said Tuesday night that his officers were under a deep strain. In addition to the loss of their colleague, almost 200 officers' homes have been destroyed or damaged, he said.
Harvey is expected to produce additional rainfall accumulations of 3 to 6 inches from southwestern Louisiana and the adjacent border of eastern Texas northeastward into western Kentucky through Friday with isolated amounts of up to 10 inches.
Last Friday night, the storm made landfall twice as a Category 4 hurricane between Port Aransas and Port O'Connor in Texas, and then in Rockport, just north of Corpus Christi.
"The whole problem with Harvey the entire time is that it has basically been stationary, and it continues to be fed by moisture coming off the ocean," said Danielle Banks, a meteorologist for The Weather Channel.
Parts of southwest Louisiana have already recorded more than a foot of rain from Harvey's outer bands, and 5 inches or more are possible through Thursday, said the NWS, which projected tides of up to 2 feet above normal along the coast west of the Mississippi River. A coastal flood advisory is in effect.
The system is expected to sweep southwest to northeast across the state, passing through major cities like New Orleans and Baton Rouge. Flash flood watches spanned the entire state except for the far northeast corner.
Louisiana Gov. John Bel Edwards warned that there could be power outages and that hundreds of trees could topple because the ground is already saturated.
"This storm is going to play out over the next 48 to 72 hours," Edwards said at a news conference on Tuesday. "It has tremendous potential to continue to drop heavy amounts of water."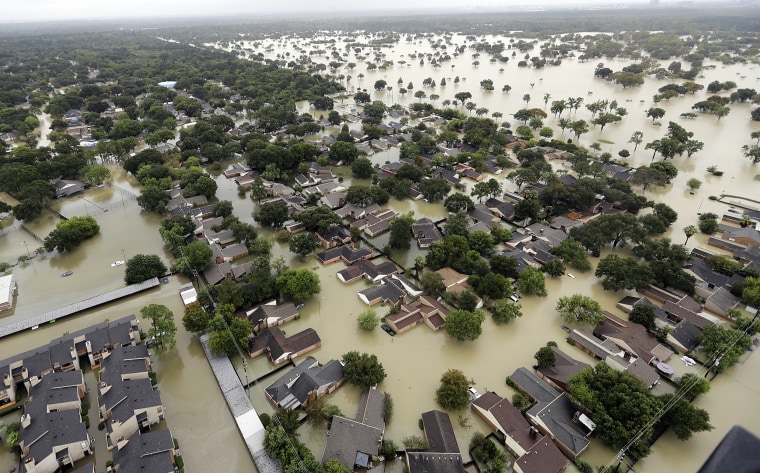 In New Orleans, Mayor Mitch Landrieu marked the 12th anniversary of Hurricane Katrina, which devastated his city — and sparked an exodus of residents to new lives in Houston.
Related: Trump Waves Texas Flag: 'We Love You. You Are Special'
"We lost 1,800 fellow Americans, and the devastation we experienced was great," Landrieu said. "No city welcomed more New Orleanians following Katrina than Houston, and our hearts break for them as Hurricane Harvey displaces so many of their citizens."
Later, when it appeared that New Orleans wasn't directly in Harvey's sights, Landrieu announced that schools and public buildings would be open Wednesday. He said the forecast called for 3 to 5 inches of rain.
"We believe we can handle this," Landrieu said. "We are prepared for whatever comes our way."
Photos: Eerie Aerials Show Houston Drenched in Floodwater
There had been fears that New Orleans wouldn't be able to withstand a huge storm because a large number of the pumps and turbines that keep the low-lying city from being swamped by rainwater weren't working.
President Donald Trump has already declared a disaster in five Louisiana parishes ahead of the storm's arrival, authorizing FEMA to coordinate relief efforts there and allowing the federal government to cover some emergency costs.
At least 18,600 people had been rescued from the water across southeast Texas through Tuesday night, according to reports from local law enforcement and emergency agencies, the Coast Guard and the National Guard. More than 286,500 customers remained without power across the state early Wednesday.
County Judge Ed Emmett, the top official in Harris County, said Tuesday night that NRG Stadium, home to the Houston Texans football team, would also be opened to accommodate as many as 10,000 people and their pets.
Photos: Houston Residents Weather Floodwater With Their Pets
The U.S. Homeland Security Department said it was sending reinforcements to Texas to help bolster security forces, while Gov. Greg Abbott ordered the entire Texas National Guard — about 12,000 members — to report for duty.
Houston's mayor imposed an indefinite overnight curfew on Tuesday night in order to prevent further looting and criminal behavior.
As the Federal Highway Administration made $25 million in emergency funds available to help with road and bridge repairs in Texas, Trump arrived in the state on Tuesday and praised the recovery efforts from the "epic" storm.
The city's major airports both said they would finally reopen in the next couple of days — William P. Hobby on Wednesday morning and George Bush Intercontinental on Thursday afternoon.
Phil McCausland reported from Houston. Alex Johnson reported from Los Angeles. Corky Siemaszko reported from New York.