Five Texas prisons have evacuated nearly 6,000 inmates since Saturday due to catastrophic flooding caused by Hurricane Harvey.
At approximately midnight on Tuesday in Fort Bend County, 1,400 inmates at the Jester 3 and Carol S. Vance prison units began boarding buses to be moved out of affected areas. They will be relocated to other Texas Department of Criminal Justice facilities, Robert Hurst, a TDCJ spokesman told NBC News. Fort Bend County is located just southwest of Houston.
Those inmates join an estimated 4,500 others who were evacuated on Saturday from Terrell, Stringfellow and Ramsey prison units in Brazoria County, which is located south of Houston along the Texas coast.
Officials began the evacuations because the five prisons are at risk of flooding due to their proximity to the rising Brazos River, according to the Facebook post.
As of 10 a.m. on Tuesday, it was not immediately clear if the Jester 3 and Carol S. Vance units had finished being evacuated.
"We're moving them to other facilities where there is not any risk," Hurst said. "At this time there have been no complications and things are going smoothly."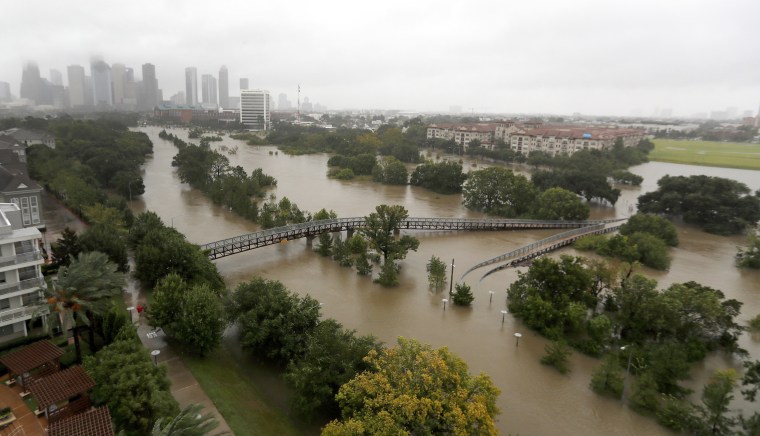 Hurst said there have been no issues with overcrowding as the inmates are moved from areas inundated with rain from Harvey to secure locations.
"We are making sure everybody is safe and that it's a secure operation. We're not taking any risk with what we're having to do but at this time things are going smoothly," Hurst said.
Hurst said the inmates are being transferred to the TDCJ facilities aboard buses used for standard prison situations. The inmates are accompanied by correctional officers during the transport, the TDCJ said on Facebook.
Related: Harvey, Already a 'Landmark Event,' Threatens Round Two
Because of the historic flooding, which has killed at least four people so far and left nearly 300,000 without power, it is not clear when the inmates will be returned to their facilities.
"We've got to wait for the storm to pass and wait for other situations to resolve themselves before we look into that," Hurst said.
On Tuesday, Harris County Sheriff's Office tweeted that their jail hadn't been evacuated. Harris County, which encompasses Houston, has seen some of the most significant flooding from Harvey.
The sheriff's office said that inmates had access to phones in order to check on loved ones.