HOUSTON — People here are desperate to go home. But when they finally do, the homecoming can be awful.
For many of the tens of thousands of residents forced away by Hurricane Harvey, some first glimpses of home have come in the last couple of days — as floodwaters recede and exiles return to dried-out neighborhoods only to find their houses wrecked, possessions ruined, keepsakes scattered, and futures uncertain.
"Forty years of our lives, tossed away," Jerry Shannon said Thursday morning outside his home in Meyerland, a neighborhood of mid-century modern homes where residents were evacuated by boat.
Related: How to Help Storm Victims of Hurricane Harvey
Shannon and his wife, Amy, raised four children there and, as he spoke, she was frantically searching for photographs and pictures in a growing mound of curbside debris. She plucked out a piece of paper, a quarter-century old, with "I Love You" written by one of her kids in red crayon.
"Put this in your pocket," she told him.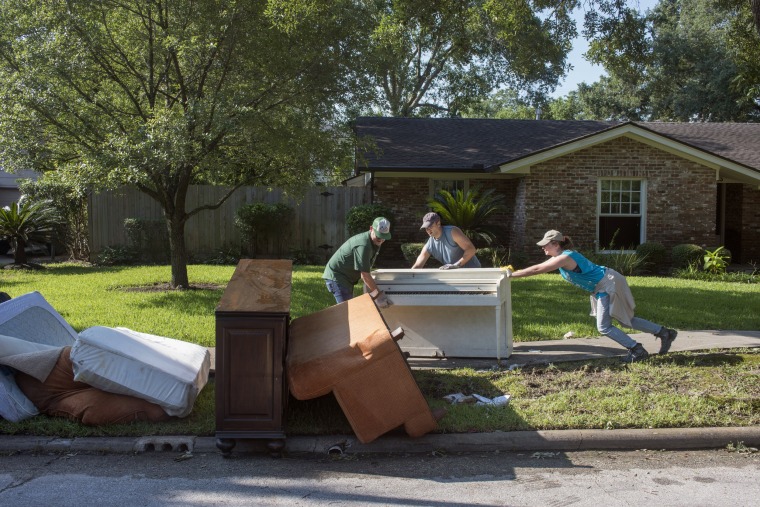 Asked what they planned to do with the house, they hesitated. They were leaning toward renovating and staying. But they kept changing their minds.
"It sucks, but what do you do? You clean up and move forward," Jerry Shannon said.
That was the prevailing attitude among Houstonians who actually had a home to return to. Thousands still remain in shelters, hotels or the homes of family and friends. Many will be forced to find long-term temporary housing, an epic undertaking that the city is only starting to come to terms with.
In Harris County, which includes Houston, there have been 18 confirmed deaths, but officials fear that the count could rise as emergency workers continue recovery operations. At least another 14 have been reported dead elsewhere in Texas, including three in the city of Beaumont.
In total, about 779,000 Texans have been subjected to mandatory evacuations, and another 7,000 in Louisiana. About 200,000 households are without power in Texas, 11,000 in Louisiana. Major disaster declarations have been made in 30 Texas counties and five Louisiana parishes.
And the devastation is not complete.
Now a tropical depression, Harvey was churning towards Tennessee Thursday but floodwaters were rising in the Beaumont area, about 140 miles east of Houston, and rain continued to lash parts of Louisiana.
Related: How Toxic Is the Air in Texas Chemical Plant Explosion?
Outside Beaumont, in the town of Vidor, boat rescuers were working to pull more people from their homes.
"People are desperate," said Steve Clayton, a 58-year-old from Vidor who operated an airboat. "I rescued this man standing in waist deep water with a kid on his shoulders, both of them crying. We then got an 84-year-old lady out who had been standing in water since 11 o'clock the night before."
But they were also contending with a shortage of gasoline. Clayton had to pull his boat out of the water when he ran out of gas. And others are doing the same.
"These guys with boats are begging for fuel, just so they can go help people," Clayton said. "We waited in line for an hour this morning for fuel for our boat. It's terrible."
"Everything is completely underwater," said Logan Cothran, who walked 10 miles home from Beaumont to Vidor after the storm and joined the rescue operations. "It's over the highway and it doesn't look like it's stopping. The current is really strong too, where we have to gun it to get through."
Outside a local Pentecostal church, as they waited for loved ones or for school buses to pick them up, a few victims who had just been fished out of their homes marveled at the movement of the water and how quickly it overcame their houses.
"We woke up Wednesday morning and thought we made it," said Cathy Savage, 62, as she attempted to dry out her socks on the church's fence. "'We weathered it!' The water was just filling the ditch out front but then it really came."
That's because the Army Corps of Engineers had opened a dam on the nearby Neches River, pushing water into her neighborhood. Officials ordered an emergency evacuation.
Savage was waiting to see if a neighbor had managed to recover a small box of hers — the only possession she was able to keep after Hurricane Ike in 2008.
"That's all I have is that little box of pictures," she said, "pictures of my daughters before digital times, their baby pictures and what I could salvage."
Savage blinked quickly, wiped at her eyes, then pulled her still-soaked socks off the church's fence.
"I just don't know if I can do this again," she added. "Maybe this is it. Maybe it's time to go."
Related: The Unexpected Health Impacts of a Hurricane
Many are grappling with similar questions. There is a deep sense of pride that comes from weathering natural disasters, and the resiliency to stay put.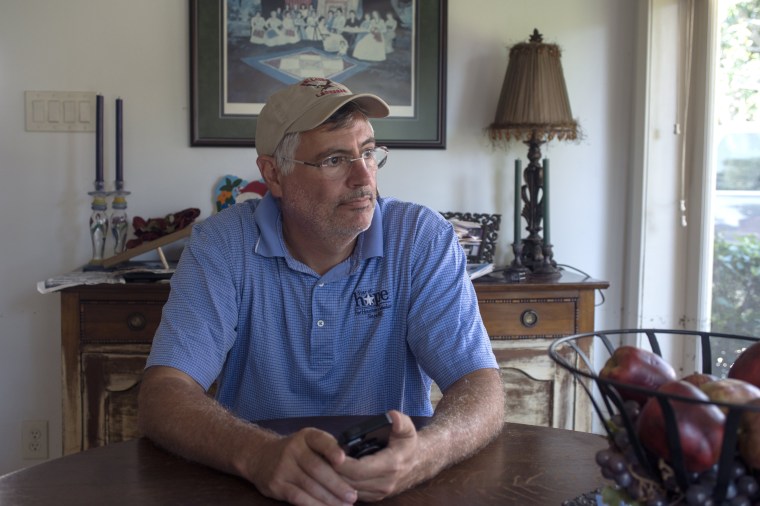 "This just happens," said Rick Christie, a Houston native who has remained in his Meyerland home through the storm, taking refuge, along with his family and some neighbors, in a second-story apartment over his garage. "Why would you want to leave a place you love just because your possessions get ruined?"
He stood at the curb as city sanitation crews loaded household debris into a dumpster truck.
Christie said he planned to tear his house down and built one higher off the ground. "We're going to get through this. We've got a great community, a great neighborhood."
But across the street, Scott Hausman-Weiss wasn't sure he wanted to stay. He moved to Houston in 2011 from Birmingham, Alabama, and Harvey was the third flood to ruin his house since then. He and his wife survived this week's storm by breaking into newly built elevated house next door and calling for a boat rescue.
"We wanted to stay here and salvage our personal items," he said.
Now volunteers were helping him gut his house, tearing out drywall and peeling away the bowed wooden flooring.
On the other side of Harris County, northeast of Houston, Steven Aguilar had finished pulling carpets and furniture, bleaching the floors and picking out venomous spiders from his house in Jacinto City. He inherited the house from his father, and it had only flooded once before, during Tropical Storm Allison in 2001.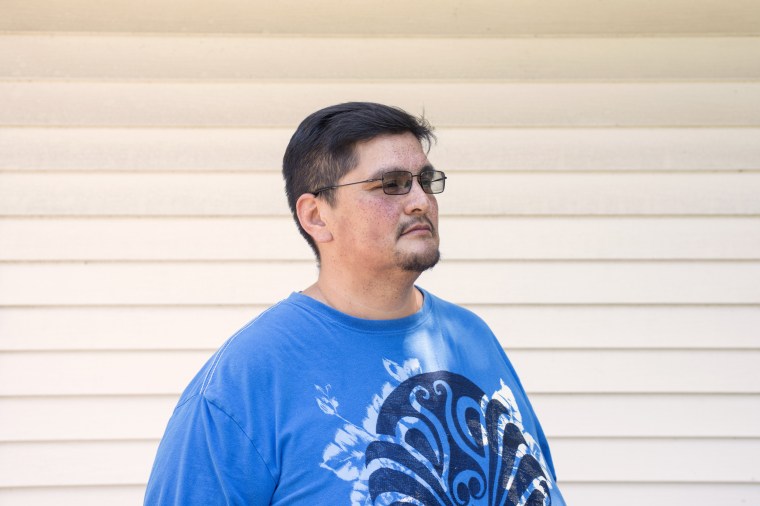 Now Aguilar was thinking of selling the home — it was too risky for his family.
He refuses to leave Houston, though. All he wants is a little higher ground.
"We're not going nowhere," Aguilar said.
Jon Schuppe reported from Houston, Texas. Phil McCausland reported from Vidor, Texas.