When Hurricane Harvey slammed into Houston last week, it hit a city that is much bigger and more diverse than it was in 2000. Those changes made the storm's impacts bigger and more complicated.
Growing immigrant populations and sprawling construction have remade the region and will likely make rebuilding efforts, which were never going to be easy, even more difficult.
Since 2000, Houston and surrounding Harris County have undergone a population explosion. Harris County has climbed from 3.4 million people to 4.6 million in 2016 — a 35 percent increase. As a point of comparison, the population of the United States as a whole has grown by about 15 percent since 2000.
One notable piece of that growth is the refugee population that fled New Orleans after Hurricane Katrina in 2005. About 40,000 of those evacuees stayed in Houston after that disaster.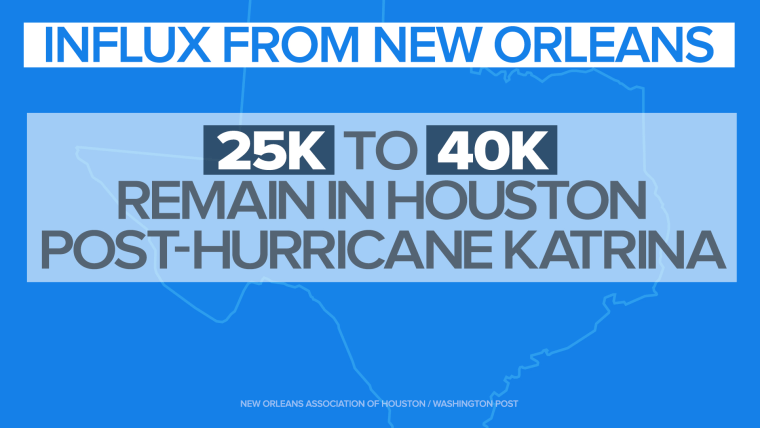 But all that growth also altered the demographic composition of the city.
Harris has long been diverse, but since 2000 the Hispanic population rose from 33 percent of the total to 42 percent and the Asian population climbed from 5 percent to about 7 percent in 2016. In the same period, its white, non-Hispanic population has declined from about 42 percent of the total to just 30 percent in 2016.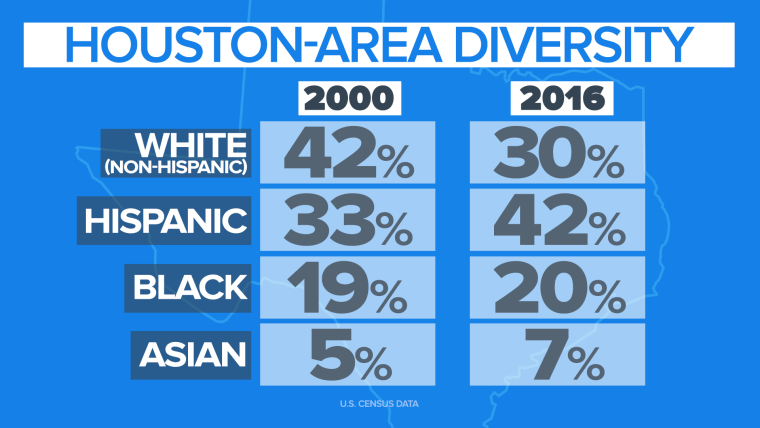 Much of Harris County's population is foreign-born — about 1.1 million people. Roughly 730,000 people are not U.S. citizens, according to Census data. Pew Research estimates that more than a half-million people in the Houston metro area are undocumented immigrants.
Aware of those numbers, this week the Federal Emergency Management Agency and other government bodies told storm victims that officials would not be checking the immigration status of those seeking shelter.
But what happens when it becomes time to rebuild? If those area residents are unable to collect relief aid, what happens to them and their homes? Does that population stay or leave? The social and economic impacts could last for a generation.
Another consequence of all the growth in Harris is more concrete. Literally.
According to the Texas Department of Transportation, Harris County had the most "lane miles" of road (a measure of paved streets) of any county in the state in 2015 — 35,431 lane miles. The next highest was Dallas County, with 23,244 lane miles.
Harris County is bigger geographically than Dallas, but the number is still enormous. Bexar County, which is close in size to Harris, has about half the lane miles of paved roads, 16,981.
The growth can be seen in residential construction as well. According to Census data, 25 percent of all the housing units in Harris County were constructed between 2000 and 2015.
All that development and pavement has led to less exposed ground, meaning the area was less able to absorb the tremendous amount of rain it received this past week, as Chuck Todd discussed with Bill King this week on 1947, the Meet the Press Podcast.
And that changed landscape is a problem for both Harvey and for the future as well. Because of its location and topography, Harris County is prone to flooding. The cover of the county auditor's 2016 annual report features photos from the flood of 2015, which dropped 11 inches on rain on the county.
In an age of heated and divisive politics, issues like population flows and local zoning can often seem like esoteric concerns. But as Texas digs out from a 1,000-year flood, the real-world political impact of those issues is going to be front and center.