With its relentless rain and refusal to go away — having already made three landfalls — Harvey may end up being one of the costliest natural disasters in U.S. history.
But pinning an exact price tag on the storm is more of an art than a science.
Experts have already begun to offer damage estimates, even as the historic floods keep rising. The range, however, is wide: Hannover Re, one of the largest re-insurers in the world, predicted a price tag of $3 billion on insured losses, while Accuweather projected it to have a $190 billion impact on the economy.
Part of the reason for the discrepancy is it's not an apples-to-apples comparison: The "insured losses" category only incorporates what insurance companies will be on the hook for, while the cumulative economic impact is much broader and includes losses for businesses.
Yet, even accounting for those differences, it's still difficult to nail down how much any hurricane, especially one as complex as Harvey, will cost, said Chuck Watson, a geophysical hazards modeler with Enki Research. Watson's firm calculates risks and costs of hurricanes, tsunamis, and other natural disasters. They give a middle-of-the-road estimate for Harvey costs at anywhere from $48 to $75 billion.
"Harvey has just been a miserable storm to try to forecast because the traditional forecast models just don't work for this storm."
"Harvey has just been a miserable storm to try to forecast because the traditional forecast models just don't work for this storm," Watson said. "There's only a couple of computer models in the world that do a halfway decent job, and depending on the assumptions that you use, you can get a wide range."
Related: Flash Floods Hit Beaumont and Port Arthur, Texas, After Harvey Makes Landfall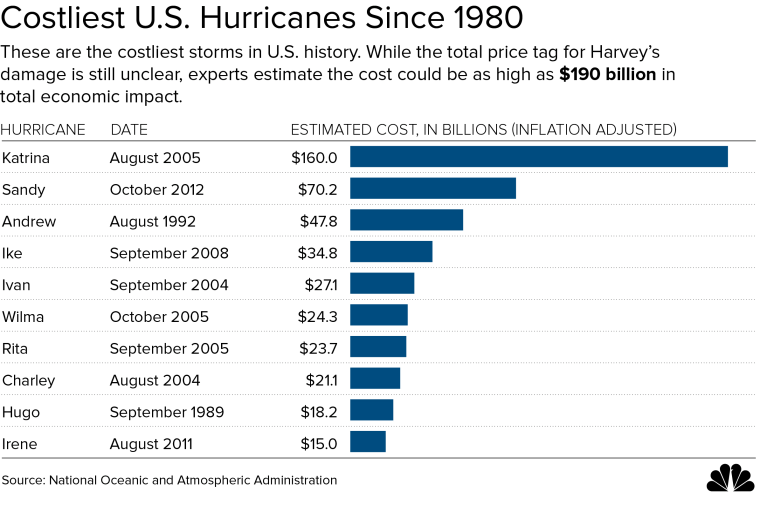 And there are a lot of assumptions to choose from when estimating damage costs. When experts input data into simulation models, they must incorporate everything from the latest path a hurricane is forecast to travel to seemingly minute details such as whether wind-blown trash might clog drain systems, Watson said.
He added: "The problem is with a big system like Harvey, you're so dependent on things you can't predict," like where the rain bands are going to hover and for how long — or how the Corps of Engineers might stave the flow of water after an unprecedented event, such as a reservoir topping a major dam in Houston for the first time ever.
Related: Harvey Tragedy: Van Swept Away With Family Inside Is Found
If Accuweather's eye-popping estimate is correct, Harvey would cost nearly as much to the economy as Hurricanes Katrina and Superstorm Sandy combined.
Dr. Joel Myers, Accuweather's founder and president, said the $190 billion figure was based on "knowing what the effect was from Katrina and Sandy and from dozens of other storms and what their ultimate damage estimates were."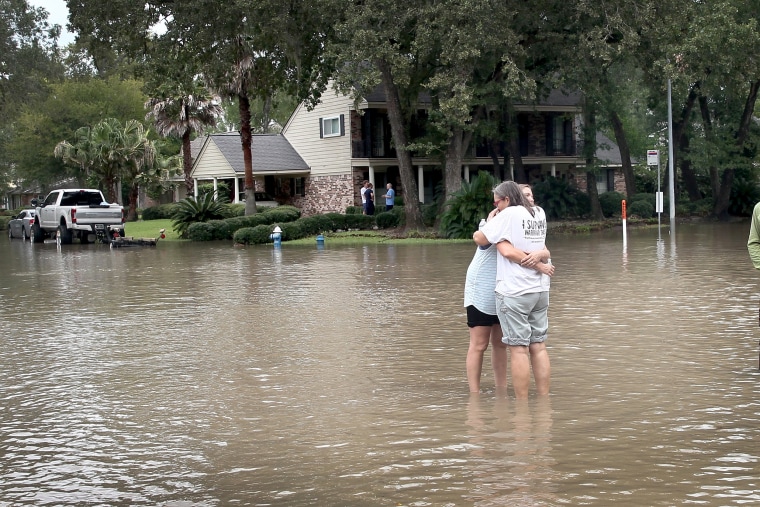 "The damage will be horrendous," Myers told NBC News. "With this storm being so extraordinary, it's going to take weeks and months for parts of Houston to recover."
Dr. Tatyana Deryugina, a professor of finance at the University of Illinois who studies the economic impact of disasters, was hesitant to put a early dollar sign on the damage, but she said there was a good possibility that Harvey would end up being the costliest natural disaster in the U.S.
"Hurricane Harvey is still not done, so I would definitely not be surprised," she said.
The expense will come from both direct damages, like how much destruction floods cause to homes and businesses, and indirect damages, like employees being out of work for months or years if affected areas aren't livable again in the short term, she said.
Related: After Harvey Leaves, Houston Faces Years of Rebuilding
But Hurricane Katrina has shown there's hope for those flooded out of a job.
"People bounced back really quickly. We saw earnings losses in 2005 and 2006, but by 2007, people bounced back, and we see in the long run, thy're doing better than they were before," Deryugina said. "So in that case, the earnings losses were relatively small compared to the direct damages."
Businesses such as the Gulf oil refineries may fare alright in the long run too, according to Watson.
"They'll probably only be offline for a couple of weeks. Once they resume operations, they'll be able to run at full capacity to catch up the backlog," he said. "If you did your calculations today, you'd be looking at it and going, 'There's all these millions of dollars of losses to the energy industry.' But more than likely in a month, that impact won't be that great."
Meanwhile, it's the emotional toll that will be the hardest to quantify, Watson said: "Behind these numbers is a family that lost everything."