CORPUS CHRISTI, Texas — Coastal Texas counties have ordered thousands of residents to leave, oil workers are fleeing the Gulf of Mexico, and at least one college campus has closed as Hurricane Harvey looms.
Forecasters and officials warned the storm, predicted to be the fiercest to hit the United States in 12 years, posed life-threatening risks.
"It's hard to imagine just how horrific and destructive this amount of water will be, but it goes without saying that anyone who has decided to stay in a low-lying area is risking their lives and those lives of first responders," MSNBC meteorologist Bill Karins said Friday.
State transportation officials were considering turning all evacuation routes from coastal areas into one-way roads headed inland, but had not done so as of Friday afternoon. Traffic appeared to be flowing smoothly as of Friday.
Related: Hurricane Harvey Intensifies to Powerful Category 4 Storm
But officials asked drivers to only travel if necessary.
"Expect heavy volumes of traffic in this area. Please avoid non-essential travel around here to help people get to safety," the San Antonio transportation department tweeted.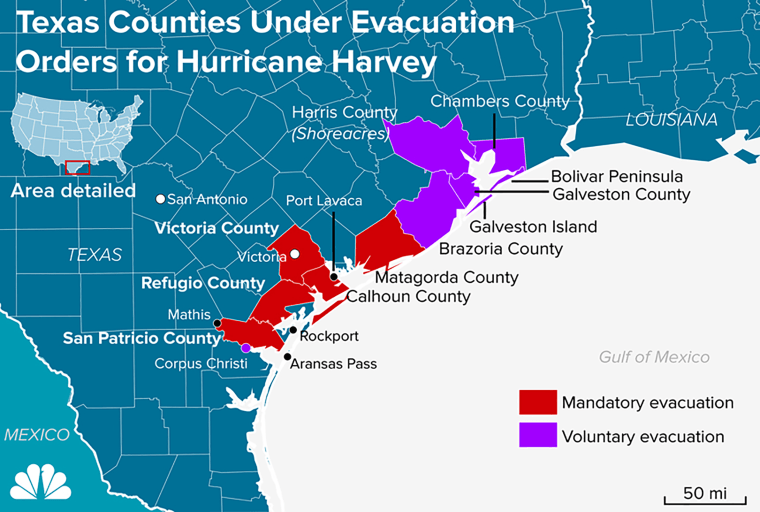 Mandatory evacuations have been issued for the following counties, according to NBC affiliate KPRC in Houston:
Brazoria County: Gulf side of Intracoastal Canal
Calhoun County
Jackson County
Matagorda County: No one allowed to return to FM 2031 (Beach Road in Matagorda) after 10:00 a.m. Friday until evacuation order is set aside
Refugio County
San Patricio County
Victoria County: Curfew in effect from 10 p.m. Friday to 6 a.m. Saturday
Aransas Pass
Ingleside
Mathis
Port Aransas
Port Lavaca
Portland
Robstown
Rockport
Voluntary evacuations were issued for many other counties, including low-lying coastal areas of Brazoria and Galveston counties.
The decision to issue an evacuation, whether voluntary or mandatory, is typically made by a governor or mayor in consultation with state emergency management officials, said Tricia Wachtendorf, director of the Disaster Research Center at the University of Delaware.
Not every state or county follows the same protocol for who makes the call, she said. But in every case, "it's a very difficult decision."
"There's a few things that a decision-maker, regardless of who they are in that line of government, need to take into account," she said. "They're balancing issues of loss of life ... Of course if you push the button too early, that can cause a lot of disruption in the community as well."
Often, an evacuation will start out as voluntary, she said, and then will be upgraded to mandatory as a storm gets closer and forecasters have a more precise idea of how much damage it's predicted to cause.
"There are huge levels of coordination," Wachtendorf said. "The larger the event, the larger the area that's affected, the more complex it is as you're trying to share that information" between FEMA representatives, meteorologists, state and local officials, organizations such as the Red Cross, and more.
Knocking on Doors and Boarding Up Windows
In Port Lavaca, police loaded residents who didn't have cars onto buses, knocking on doors early in the morning to make sure all homes had been checked.
In Corpus Christi, where a voluntary evacuation was issued, Dyandra Ysassi, 28, said she was staying put to work at her job at the Aloft Hotel, about a mile from the coast.
"I don't know what to expect. I'm just going to stay calm," she told NBC News. Ysassi didn't want to abandon her co-workers but her whole family had evacuated to San Antonio.
"They told me they loved me, be careful, just always have your phone on you. Stay safe, stay here, don't drive," she said, adding that it was her first day on the job at the hotel, which opened for the first time Thursday.
Frank Veltri, 82, has lived in Corpus Christi for 40 years. He and his wife live six blocks from the water and opted not to evacuate but, on Friday, he was looking to stay at a hotel further inland.
"Our concern was that if we lose electricity and we didn't have air conditioning or lights, it can be pretty bad. You never know. We thought, stay on the safe side, don't travel 150 miles and worry about congestion on the highway. Maybe a better alternative was to book a safe place in Corpus," he said.
Others in Corpus Christi weren't taking chances. Texas A&M University-Corpus Christi shuttered its campus, delaying students' move-in until at least Sunday afternoon, depending on "on whether or not the campus is subject to any damage or utility outages."
At Driscoll Children's Hospital in Corpus Christi, at least 10 critically ill babies were flown on Thursday more than 400 miles north to Cook Children's Medical Center in Fort Worth.
Related: Tracking Hurricane Harvey — Everything You Need to Know
And in the town of Rockport, about 20 miles outside Corpus Christi, 90 residents of the Park Manor skilled nursing facility were evacuated Thursday night to a sister facility in Bee Cave, near Austin.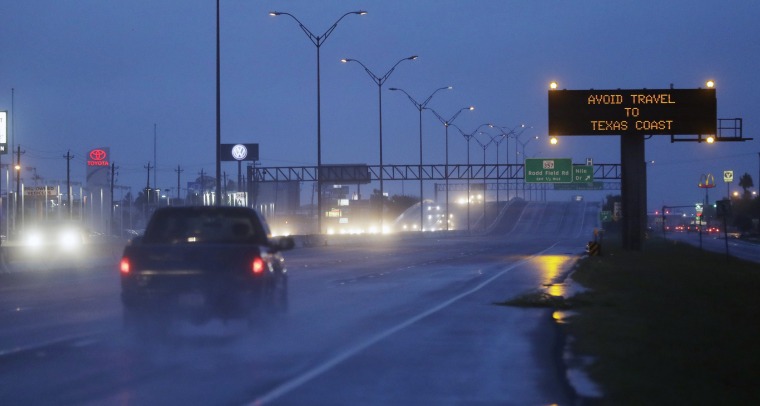 Meanwhile, oil rigs in the Gulf of Mexico, including Royal Dutch Shell, Anadarko Petroleum and Exxon Mobil, curbed production and evacuated personnel on Thursday.
Royal Dutch Shell evacuated its 22-well Perdido oil and gas hub, the deepest floating oil platform on the planet, the company said. It was one of 39 production platforms — more than 5 percent of all manned platforms in the Gulf — that had been evacuated by Thursday afternoon, according to the Bureau of Safety and Environmental Enforcement, an agency of the U.S. Interior Department.
Upgraded to a major Category 4 hurricane on Friday evening, Harvey is expected to make landfall just east of Corpus Christi at around 1 a.m. local time Saturday.
With projected rainfall of up to 3 feet, the hurricane is expected to leave historic flooding in its wake. Eight million people are under hurricane warnings, and about 735,000 are under tropical storm warnings.
"A lot of people are taking this storm for granted, thinking it may not pose much of a danger to them," Texas Gov. Greg Abbott told KPRC. "Please heed warnings and evacuate as soon as possible."
Phil McCausland reported from Corpus Christi, Texas. Elizabeth Chuck reported from New York.