HOUSTON — The rain stopped. The sun came out. But the water kept rising.
More evacuations continued in this city flooded by tropical storm Harvey, which roared ashore as a hurricane late Friday and dumped nearly 50 inches of rain on the region. At least 28 deaths are blamed on the storm, and Texas' governor said Wednesday that around 32,000 people were in shelters.
Residents whose homes had remained dry through multiple past storms woke to blue skies and water lapping at their doorsteps — and creeping higher.
In the Memorial neighborhood of west Houston, the major cause of flooding was an emergency release of water from two crested reservoirs, which in turn pushed the Buffalo Bayou past its brink. It is those reservoirs that have protected the neighborhood since the 1940s. The system worked so well that residents didn't consider themselves at much risk.
"I'm kind of in shock about all this going on," said David Clemensen, 53, as he watched the water rise on his front lawn, wondering if he should flee with his sister and five children.
A Houston Police Department SWAT vehicle rumbled past.
"It's surreal," Clemensen said.
Related: Flash Floods Hit Beaumont and Port Arthur, Texas, After Harvey Makes Landfall
Clemensen said he'd hunkered down through many hurricanes in his house. But never had flood waters climbed so high. "This storm was more than we expected," he said.
The storm could be one of the costliest natural disasters in the nation's history. The recovery effort is expected to take years. But such flooding may become more common, said Shannon Van Zandt, a professor of landscape architecture and urban planning at Texas A&M University who researches disaster resilience.
Rapid development of Houston is expanding the city's flood plain, intensifying the impact of hurricanes, she said.
"People need to recognize that we're going to have more and more of these events and they will continue to be severe in local ways," Van Zandt said.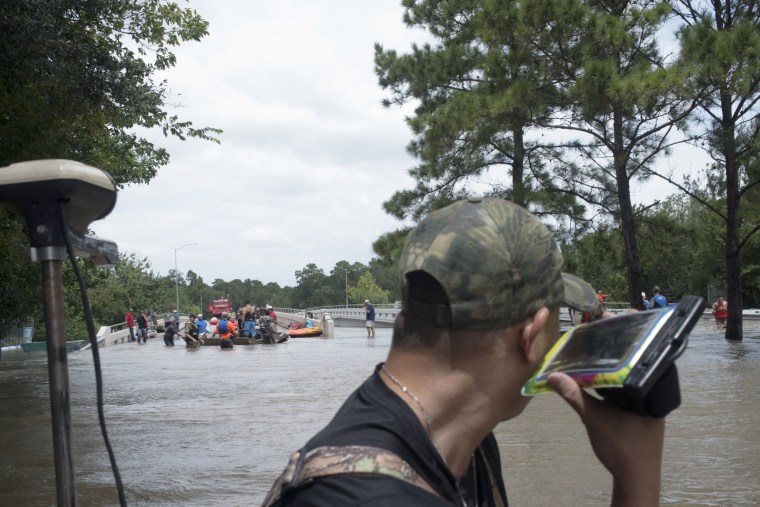 As Wednesday wore on, and the floodwaters rose in Memorial, people who for days had resisted leaving began calling for help. Some used a phone app that mimicked a CB radio, where volunteer rescuers were listening. Within hours, the streets were churning with an array of craft: airboats, pontoon boats, aluminum fishing boats, canoes, kayaks, a jet ski, a monster truck, armored personnel carriers.
"It's a beautiful day for a rescue," said Charles Garfinkel, a petroleum company executive whose own home in Sugar Land had flooded. He was now ferrying people to safety, using the Waze app to navigate streets.
Related: Harvey May Be One of the Costliest Natural Disasters Ever
In shallower water, landscaper Ramiro Santoyo collected boat evacuees and put them into his pickup truck, and drove them to points where they could catch rides elsewhere.
"I have a lot of family in Houston, but they're all safe, so when I saw people were in trouble, I wanted to help," Santoyo said. At one point, three families were packed into his truck, none of whom had seen their homes flood before this week.
Asim Tufail, a civil engineer, had planned to ride out the storm after sending his wife and son to stay with in-laws. The power went out, his food ran out, and finally the water came too close to risk it any longer.
He'd been told that the controlled releases from the reservoir could continue sporadically for another month.
"This is not going to end any time soon," he said.
Santoyo dropped the families off at a gas station several miles away. They shook his hand, took pictures with him, and continued on their way.
Related: Harvey Hitting Motorists in the Pocketbook
In in Nederland, Texas, south of Beaumont, rescues continued and some elderly patients were transported by helicopter, in one case transported for airlift in the back of a pickup truck.
Former Marine and Texan Carl Whitmore was one of those headed to the area to help. Whitmore, 23, of Denton, who just ended his service last August, and a friend went to the region to help and were headed to Port Arthur, Texas, on Wednesday.
"If we have the power, the skill set to save lives then we should, we should be helping as much as possible," Whitmore, who held the rank of corporal with the Marines, said in a phone interview.
Both cities, like much of the region, saw flooding from the tropical storm. At least two people have been confirmed dead in Beaumont, officials said. No deaths were reported in Port Arthur, a city spokesperson said, but the city's 911 center was inundated with calls and the city asked for owners of flat-bottomed boats to help.
"We have no power. We haven't had power — maybe six or seven hours, now," Port Arthur resident Rayshaun Brooks, who was trapped in her home, told MSNBC Wednesday. "We are low on water."
"We're still blessed, we still thank God," Brooks said. "We're here and we're all together."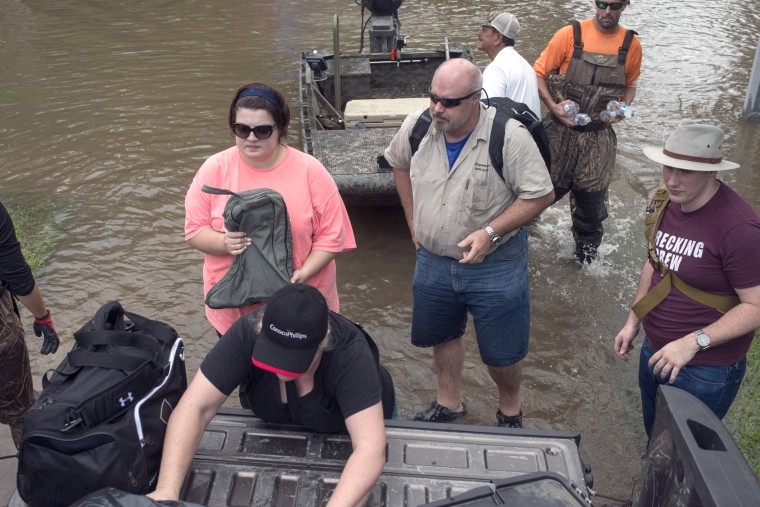 Although the center of the storm, which weakened to a tropical depression Wednesday evening, was 30 miles north-northeast Alexandria, Louisiana, the National Hurricane Center warned that flood-causing rains continued over eastern Texas and western Louisiana.
Flash flood watches extended from southeast Texas to central Kentucky, a region encompassing some 15 million people, forecasters said.
At the Lake Charles Civic Center in Louisiana, which has been turned into a shelter, Lynn Hartzog, 56, was preparing food for those displaced in that state and in Texas. They cooked 15 vats of red beans and rice and were cooking gumbo Wednesday.
"I went through it during Katrina in '05 in Washington Parish, said Hartzog. "I moved here and work at a restaurant, so went to the store here and bought some stuff and am cooking for them."
Around 500 people were staying at the shelter Wednesday, the Red Cross said, and that number was growing. National Guard helicopters were bringing in people displaced by flooding in Texas.
"They're coming in bad. I'm glad I have clothes to give," Hartzog said. "Some of them have had the same clothes on since they been rescued. They don't have anything and are sleeping on cots."
Meycosia Jones, 49, lived in a trailer on the bank of the Calcasieu River when the waters rose and flooded her home. She and her roommate were rescued by sheriff's officials in a truck.
"It came quickly. It came too quickly. It kept raining and raining and the river came into our backyard and flooded the streets," Jones said. "I'm safe. I'm doing okay," she said.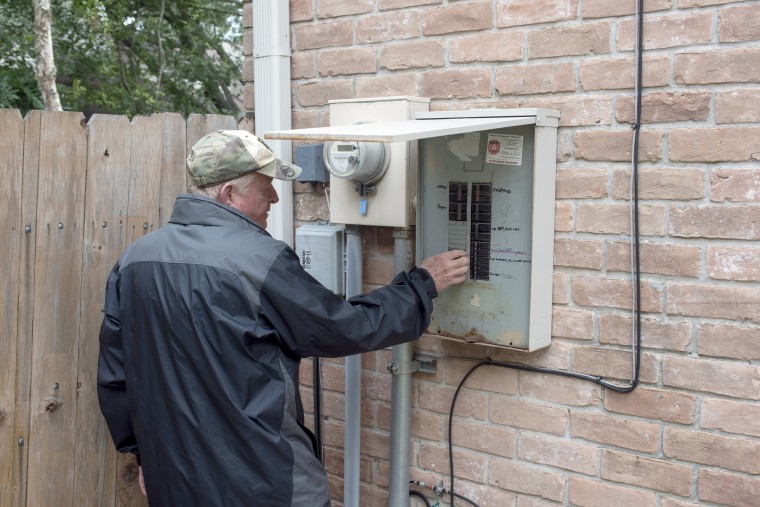 Florida Wildlife Commission agents and soldiers with the Louisiana Army National Guard evacuated eight residents and three employees from the Golden Years retirement home in Orange, Texas, Wednesday. Staff took residents to a small second-story area as the water on the ground floor rose to thigh level.
Related: Animal Lovers, Shelters Scramble to Save Pets in Wake of Harvey
"I was just wondering if it was going to get any higher," said resident Madison Selph, 87. He said he could tell water had stopped rising Wednesday morning by looking at a shed across the parking lot.
Rescuers carried the residents out one-by-one, floating them to high-clearance National Guard trucks on an airboat. Three who were too weak to stand were lifted onto a mattress in the back of a truck. The other five got their pajama bottoms wet as they were helped into a second truck, shivering in the still-gusty wind as they sat on metal benches.
The devastation affected those volunteering as well. Alvis Lyett, 57, of Lake Charles, had been helping fill sandbags across the Texas border, and was staying in the Lake Charles shelter because his home was flooded.
"I'm worried about my sister," Lyett said. "They're in Beaumont and I've been calling her. But they say they don't have no cell reception over there, so maybe … I haven't heard from her since this hurricane came in."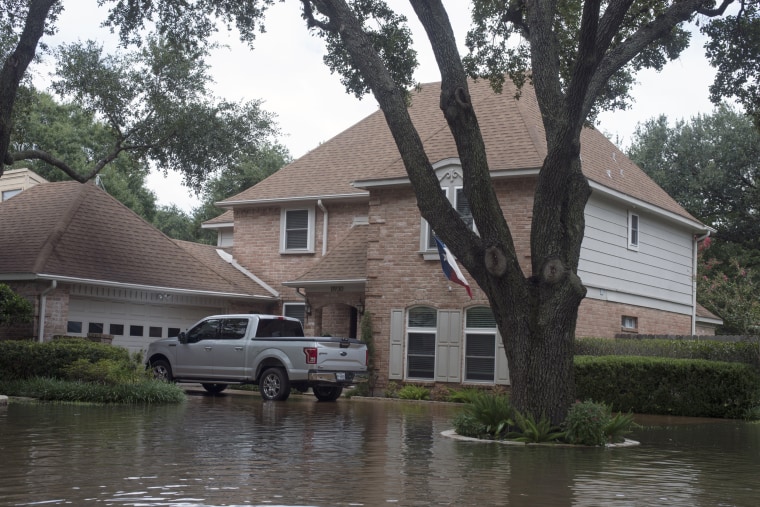 Back in Houston's Memorial neighborhood, the water had gotten so high by mid-afternoon that more emergency personnel had shown up, now calling for a mandatory evacuation of the neighborhood.
Russell Turner and Gail Turner, who'd never abandoned their home before, reluctantly got into a boat with a few garbage bags of clothing and their dog. They had a room at a nearby hotel.
Before leaving, he cut the power to his home and left the rest to chance.
"I have no idea when we will be back," he said.
Jon Schuppe reported from Houston, Texas. Phil McCausland reported from Lake Charles, Louisiana.